Fertiliser e-voucher system to benefit smallhoder maize farmers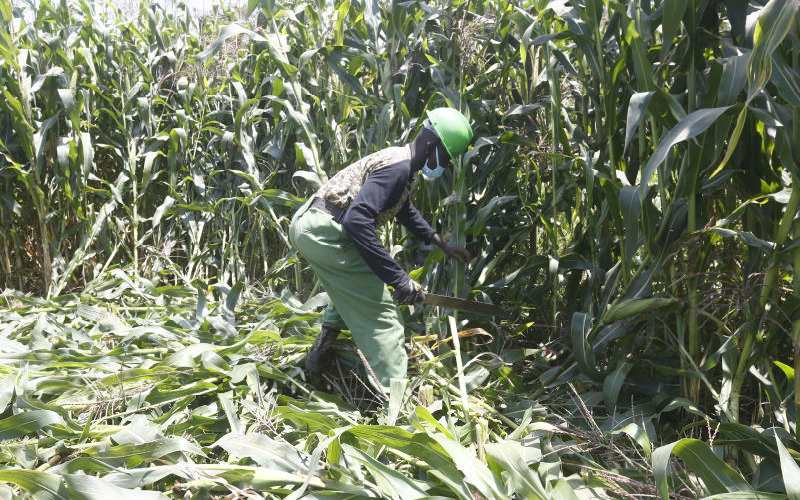 Nandi is among 11 counties set to benefit from subsidised input under a National Value Chain Support Programme (NVCSP) funded by the national government to the tune of Sh3 billion.
The majority of farmers in maize growing regions did not access the fertiliser subsidy for the current crop and the new programme is expected to roll out the affordable input in a newly introduced e-voucher system.
Under the new system, identified and registered small holder farmers will buy e-vouchers and access the input at subsidised rates by redeeming the vouchers at the local agro-dealers outlets.
"In the pilot phase, the NVCSP targets at least 11,000 smallholder maize farmers in Nandi," said county Agricultire executive Dr Kiplimo Lagat.
He said the programme had picked two wards in Nandi – Lelmokwo/Ngechek and Kabisaga wards in Chesumei and Mosop respectively for piloting in the current financial year before being expanded to the other wards.
"Farmers in the two piloting wards willing to be on-board can register and buy e-vouchers from our trained ward agricultural officers before redeeming them later at the registered agro-dealers near them," Dr Lagat said.
He said enrolled farmers will be required to contribute 60 per cent of the cost of desired fertiliser to enjoy an incentive of 40 per cent.
During this year's planting season, fertiliser stockists sold the input at an average of Sh3,000 per 50kg bag. This means farmers could pay as low as Sh1,800 under the e-voucher system that will offer a 40 per cent subsidy.
The Agriculture executive who addressed farmers during the close of a sensitisation seminar for agricultural extension officers, agro-dealers and benefiting farmers from Lelmokwo/Ngechek and Kabisaga wards held at Mosiriot yesterday urged more farmers to register.
The official also told agricultural teams to move with speed in implementing the programme and educating more farmers to be enrolled.
NVCSP is a public private partnership and the national and county governments will work in collaboration with the registered agro-dealers, M-Pesa and KCB in its implementation.
Agricultural officers at the grassroots verifies registered farmers for the purchase of the e-vouchers to benefit from the programme which is meant to benefit those with 20 acres of land and below.
The initiative is expected to end the challenge where brokers and unscrupulous businessmen had in the past abused the government subsidy programme.
Want to get latest farming tips and videos?
Join Us