Relief for sugarcane farmers after resident volunteered to construct roads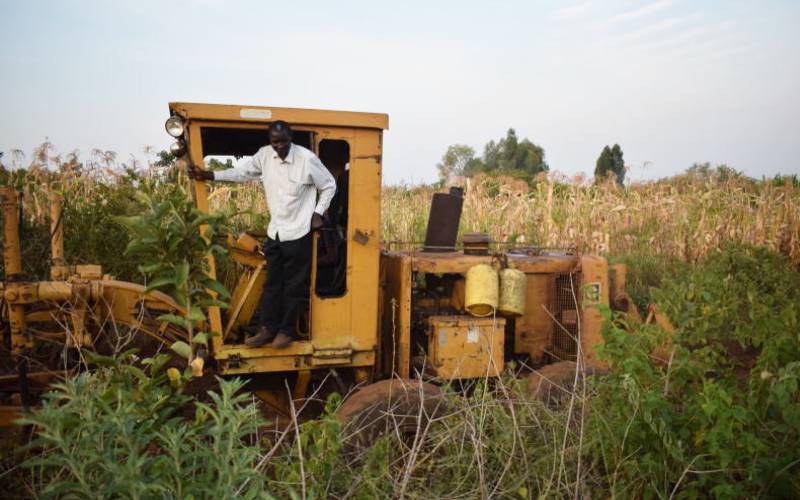 Farmers in Ndhiwa Sub-county can now breathe a sigh of relief after a resident volunteered to construct dilapidated roads in the area.
Ndhiwa is one of the leading constituencies with dilapidated roads in Homa Bay county. The roads have adversely affected sugarcane farmers whose crop cannot be harvested due to impassibility.
The only sugar miller in the county, Sukari Industry Ltd, has not harvested many farmers' sugarcane because its tractors cannot access their farms to lack of passable roads.
This has made sugarcane farmers raise an alarm over the economic tribulations they are undergoing.
But businessman Johnson Oduru has now started an initiative of constructing roads to enable farmers in the area get the value for their sweat.
Oduru who is a resident of Kalamindi village in Kanyadoto ward has begun the initiative that involves use of his grader to construct the murrum roads to enhance accessibility of sugarcane farms and trading centers.
In about three months, Oduru has constructed the 10km Miranga – Osure-Kipingi- Ligega road that connects Kanyadoto and Kanyamwa Kosewe wards. He also done Kalamindi- Kowuonda road (3km), Kitota– Nyakwamba (4km), Nyarongi –Komolo (3km).
Others include Pala Koguta–Pap Kamenya (8km), Malele –Ober (6km), Ratang'a –Ratil (7km),Ratang'a – Randhore (10km), Wachara –Ochiko Ite (3.5km), Kitota – Ruga (3km) and Nyarongi Komolo (3km).
He is planning to construct Amoyo- Maranyona road in Kanyadoto ward among other roads.
Speaking at Kipingi village in West Kanyamwa Location, Oduru said he started the initiative to reduce poverty level in the area.
He said residents requested for his intervention after undergoing various economic problems.
"A number of farmers pleaded with me that their sugarcane is expiring in farms without being harvested because the roads were dilapidated but could hardly be repaired by the relevant authorities. Others are traders who could not access markets easily because of the bad roads," Oduru said.
The businessman said he could not watch area residents suffer.
"I am implementing the projects to create enabling environment for Ndhiwa residents to create wealth," Oduru said.
Ndhiwa constituency is endowed with fertile soils which support propagation of many food and cash crops. The crops include maize, millet, sorghum, beans, peas, potatoes, tobacco and cassava which are grown in large scale.
Area residents expressed optimisms that the initiative will improve their lives.
West Kanyamwa Chief Christopher Milewa said the roads had opened the area for economic development.
"Miranga- Ligega road has been impassable for the last three years but nobody cared until now that Oduru has constructed it," the Milewa said.
Ochungo Alila, a sugarcane farmer at Ligodho village said the roads will enable them to harvest their sugarcane which is taken to Sukari Industry Ltd.
"Our sugarcane are overgrowing and drying in plantations because the nearby roads are impassable. This initiative will enable us to sell our sugarcane," said Alila.
His counterpart, Janes Milewa, from Kipingi village said the initiative had also opened the area for transportation.
"We will no longer carry caskets on our heads because of bad roads. This project will enable vehicles access homes of deceased persons," said Milewa.
Lawrence Omoro, secretary of Kanyadoto Bodaboda riders said will enhance their operations in the area.
"Construction of the roads will also cushion us from the high cost of repairing our motorbikes which get damaged due to the dilapidated road," he said.
"Road network is the genesis of economic prosperity of people in any society. Traders will have efficient movement to various markets in this constituency," said Kevin Omondi, a resident.
Want to get latest farming tips and videos?
Join Us