Mbooni farmers smell the coffee and uproot crop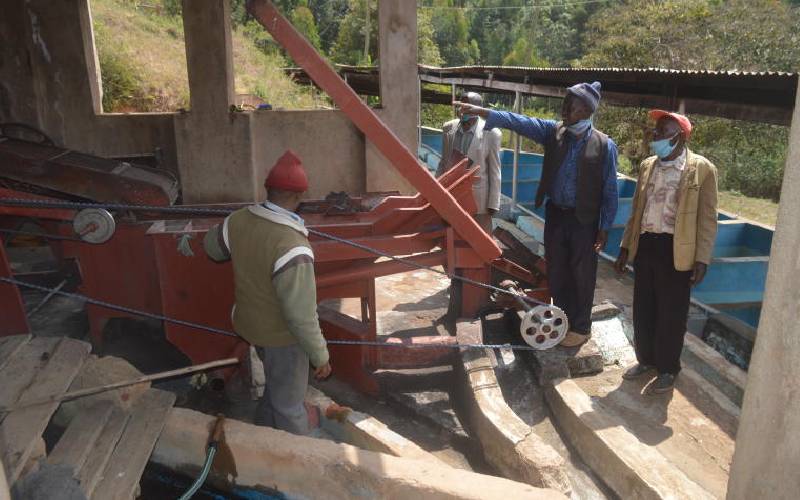 A section of the over 2,000 farmers in Mbooni, Makueni County, has started uprooting their coffee trees to plant alternative crops due to poor pay and embezzlement of funds at Kikima farmers co-operative society.
The farmers complain that the payments per kilogramme have been going down for the last two years. Last year they were only paid Sh26 (early crops) and Sh19 (late crops).
"Two years ago 1kg was sold between Sh60 and Sh70, but the payment has been going down. We want to know exactly the amount the co-operative has been selling our coffee per kilogramme because we have never been told in annual general meetings," said Peter Mutua, Nzaini factory field officer and a farmer.
In Mbooni, there are six factories that process coffee and the co-operative society that markets their produce. However, currently, these factories are rotting away.
Those who have abandoned coffee farming have moved to, among others, macadamia and planting of trees for timber production.
According to Mutua, the co-operative has an overdue loan of Sh28 million with title deeds of all the factories having been taken. They are now on the verge of losing their factories through auctions.
At Nzaini factory, we found employees on strike. They complained that they had not been paid their salaries for coffee processing. Meanwhile, some of the local farmers declared that they will not supply the factories unless the co-operative's management is kicked out.
"We have not been paid for the past year," said Ruth Mukonza, a casual employee at Nzaini factory who doubles as a farmer.
"Last year I had 2,500 kilogrammes but this year I had low production of about 800 kilogrammes. This difference can be attributed to these perennial problems that we have been facing," said Pius Nzioka, a farmer and a Musoa coffee factory field chairperson.
The farmers sought answers on why they are not considered when waivers are given to other farmers.
As part of resolving the cry, Mbooni MCA Alexander Mulemba has requested statements from the Department of Trade and Co-operatives through the Makueni County Assembly.
Mulemba questioned mismanagement of Kikima farmers co-operative society, operations of secret accounts by the society and unnecessary borrowing of monies without consultations, among others.
The county assembly found responses from the concerned department unsatisfactory, and Speaker Douglas Mbilu directed the assembly's Public Accounts Committee to investigate the matter within 14 days.
Want to get latest farming tips and videos?
Join Us