Key materials for a suitable pig housing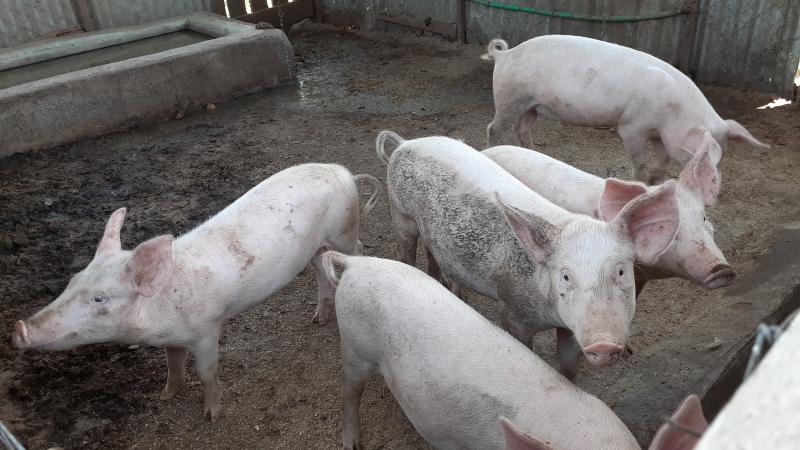 A good pigsty should be comfortable, durable and economical to build. The following are the options available for the key parts of a pigsty.
Roofs
The roof should be light, strong, durable, weather-proof, a bad conductor of heat and free from tendencies to condense moisture inside. They must ensure maximum shade and should extend down almost to ground level. This helps to reduce penetration of oblique sun rays and entry of rain when blown by the wind. Roofs can be made of thatch, aluminum, galvanized iron, tiles, wood or bamboo. Thatch, bamboo and galvanized iron roofs are the most recommended.
Galvanized iron sheets help in water collection during the rainy season.
Floors
The floors should be easy to clean with a shovel and brush or with pressure washers. This helps to easily remove eggs of parasites and prevents spread of infectious parasites. Floors of hardened soil are not suitable since pigs grub the soil. Care should be taken to make the surface of floors non-slippery where concrete or wooden floors are made.
Wooden floors are warm but are to be avoided since they decay, are prone to attack by insects and chewing by pigs. Hardwood must therefore be used, making them very expensive. Concrete floors are tough and long lasting if well-constructed and are easy to clean and reasonably priced. They are also cool, which is beneficial in hot climates. Floors need to have a sufficient slope to allow adequate drainage.
Bedding
The bedding material should be provided for all pigs. The material includes: rice straw, sawdust, dry leaves among others. The material should be changed regularly to keep the pen clean and to avoid build-up of parasites.
Walls
The walls can be constructed of brick, stone, mud or bamboo or any other material suitable for the locality and climate. Stone or brick walls are costly but durable and hygienic. Bamboo and mud walls are economical and useful but are temporary and hard to keep hygienic. Walls supporting the roof and wall partitions with which the pigs come in direct contact must be strong and materials such as brick, stone, or cement concrete may be best at least for the lower parts of the walls.
It is imperative that the walls should be constructed over a strong foundation to avoid toppling over.

Vertical barriers
The partitions should be 90cm from the ground, except for boars, which should be 110cm to stop them from jumping over. Partitions within piggeries which allow different categories of pigs - such as piglets, boars, gilts, nursing sows, and dry sows - to be separated, should be provided with gaps to allow good circulation of air at all times. The spaces between planks must be small at the bottom to prevent pigs from escaping.
The posts must be solid and planks nailed from inside to avoid injuries. These solid partitions should be limited to transverse sections separating different areas of the building but should not be for longitudinal partitions as this would limit air flow at ground level.
For the outer wall special wire netting or gates are used effectively. For the inner walls, if the piggery is two-rowed, a system of rails or flexible wire above the trough is preferable. This allows pigs in pens opposite to see each other. Older gilts and dry sows come on heat faster when they see the boar.
Gates
These should be made of wood or metal. When made of wood, the planks should be reinforced in the shape of a 'Z' on the inside. A width of 60 cm for the gate is sufficient even for the biggest animals. They should be attached with particularly strong fittings to withstand pigs rubbing against them.
Author: Dr. Paul R. N. Kangethe (BVM, UoN)
Email: [email protected]
Want to get latest farming tips and videos?
Join Us