KALRO – Standard Media Group launch strategic partnership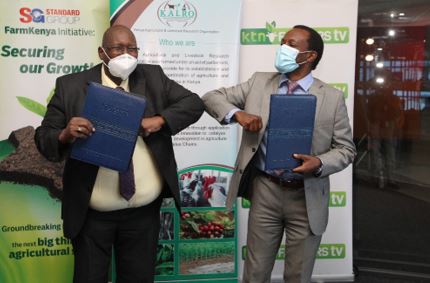 Standard Media group through FarmKenya have launched a strategic partnership with Kenya Agricultural and Livestock Research Organization (KALRO).
This partnership will see the farming community in the country benefit by getting relevant farming information right in their hands. The partnership will see the two organizations combine their unique strengths and resources to ensure farmers are informed of practices that improve their productivity, meet their farming information needs and equip them to feed the ever-increasing Kenyan Population.
KALRO brings over a wealth of agricultural research findings, technologies, new crop varieties, livestock breeds and broad new knowledge to benefit the crop and livestock sector in the country.
Standard Group through FarmKenya will lead this partnership by ensuring that the platforms to carry the vast knowledge are well equipped and reach the farming population across Kenya and beyond.
The comprehensive media platforms under FarmKenya to be used to communicate correct and timely agricultural information from this strategic partnership include: a weekly newspaper pull out on Saturday Standard, Smart Harvest and Technology, a 24-hour Agribusiness TV station (KTN Farmers TV), a weekly radio show on our leading Swahili radio station, Radio Maisha: Maisha Kilimo, Agri-based events such as, Farm Connect and The Annual FarmKenya Mkulima Expo as well as digital platforms (Agri-Advisory Services and Farmers.co.ke website).
Want to get latest farming tips and videos?
Join Us