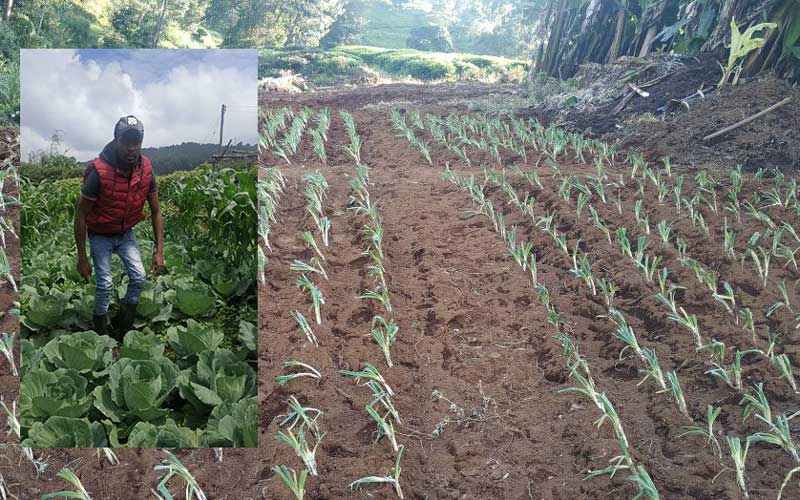 Edwin Ngiri, 27, has been farming most of his life. Growing up, he would help his mother on their farm whose produce helped sustain the family of three: Edwin, his mother and sister. They grew kale, spinach, spring onions, cabbages, courgettes, passion fruits and tree tomatoes.
"I learned horticultural farming skills from my mom. I used to help with her daily farming activities," he says.
His love for farming grew in high school.
"I studied agriculture and, during the holidays, I would put what I heard learnt in school into practice," he added. "I grew vegetables which I later sold."
Edwin would make around Sh1,500 from these sales with which he used for his back-to-school shopping and put some into his savings.
Life changed in 2013 when his mother passed away.
"I was 18 when my mom passed away and my grandmother gave me a piece of land to help cater to my sister and me," he recounts.
It was an eighth of an acre of land on which he continued his farming activities.
Profitable venture
On completing high school, he would visit commercial farmers and agricultural exhibitions to learn essential skills.
Edwin was determined to make money from farming. He turned to the internet to further his knowledge on best practices for farming.
"The internet has helped me learn smart farming practices like the right spacing, land preparation, the process of plant growth and the correct implements to use," he said.
His efforts have borne fruit and he has grown kale, cabbages, spring onions, tree tomatoes, arrowroot, bananas and spinach.
In a month, he makes a profit of about Sh35,000 which, he says, is more than he could earn in an office.
Flexible hours
Before venturing into full time farming, Edwin worked at EABL and Oriflame Kenya as an intern. There, he earned Sh20,000 per month which he found couldn't cater to his needs. Add to that his lifelong desire to be his own boss, Edwin was forced to accept that working in an office wasn't ideal for him.
"I love being flexible and working for myself," he narrates. "I also employ people to help me out on the farm."
Crop management
Before growing any crop, Edwin ensures that he has studied the market nature and the ideal conditions needed to grow it.
"Knowing what to grow at different times of the year and considering the cost of production helps me avoid unnecessary losses," he said.
For instance, courgettes, Edwin advised, do well during the dry seasons. In the rainy season they are more prone to powdery mildew disease. Controlling such diseases is difficult as most chemicals are washed away by the rains.
When growing spinach, mulching helps protect the leaves. When rainwater hits the ground and splashes on the plants, making them prone to disease causing the plants to die.
He advised farmers to apply mulching on their spinach since the plants are prone to diseases when rainwater splashes on the leaves with the soil. This can lead to plants dying off. Mulching helps suppress the weeds, allows good root development and supports natural decomposition of plants remains improving soil fertility.
"I always ensure that I implement the recommended crop spacing for better crop management in matters of weed and pest control," he explained.
Other methods Edwin uses include record-keeping to help him track farming activities and predict yields depending on the number of crops grown. He opts for organic manure instead of fertilisers which, he says, are harmful to the soil and some of the good elements in the soil such as earthworms.
Some crops such as kales, cabbages, spring onions and arrowroots require less capital to start compared to spinach and courgettes.
Covid-19 challenges
Just like any other Kenyan, Edwin's farming activities have faced a major setback due to Covid-19.
"With restrictions of movement, it's hard to get workers and if you do they are demanding more for their labour forcing me to do most of the work," he explains. "Farm inputs such as pesticides and herbicides are out of stock causing losses at the farm.
"We are getting low returns as we are only selling our farm products to the locals," he highlighted.
He said that most farmers have stopped farming to avoid incurring losses. This month, for instance, he earned Sh15,000 only from the sale of his produce.
Even so, Edwin advises fellow farmers to continue adhering to the government's orders of staying at home, washing hands regularly and practising social distancing.