Kirinyaga to build Sh100m tomato factory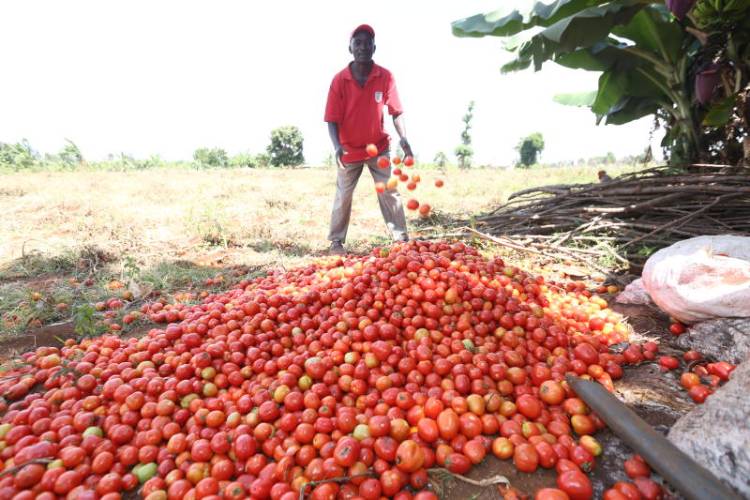 Kirinyaga County plans to build a Sh100 million tomato factory in Kangai.
Kirinyaga Governor Anne Waiguru while on a tour of Kangai ward, said the money is ready and construction of the modern factory will start soon.
Noting the tomato farmers suffer post harvest losses and poor prices season after season, she said the factory will be a game changer.
"At the factory, tomatoes will be processed into juice and other products which will be sold at good prices to ensure that our farmers earn from their efforts," she said.
Waiguru said Kirinyaga is the leading producer of tomatoes in the country and any interventions to help farmers will boost the economy.
"The factory will create employment opportunities to many and have a ripple effect to the county's economy," she said.
Waiguru said the county produces over 50,000 tonnes of tomatoes annually feeding the local markets and other counties. Some of the tomatoes go to waste during high production season due to glut.
The county gave a total of Sh5.38 million to 11 groups to increase tomato productivity through the National Agricultural Rural Inclusive Growth Programme Project funded by World Bank.
The money will fund clean seedling production, development of technologies like proper irrigation techniques and alternative pest control and management systems.
The focus will also be on hydrophonic nursery for supply of high quality tomatoes to farmers and conversion of Kimbimbi forest nursery into hydrophonic nursery.
According to a Agriculture and Food Authority report in 2017, the area under tomatoes in Kenya was 29,294 ha while total national production was 509, 465 metric tonnes. Tomato was mainly produced in Kajiado, Narok and Kirinyaga counties.
Kirinyaga had 2,245 hectares under the crop yielding 46,594 metric tonnes. Some of the challenges tomato farmers face are high cost of inputs and insect pest and diseases. Farmers also face marketing issues during gluts seasons.
Want to get latest farming tips and videos?
Join Us