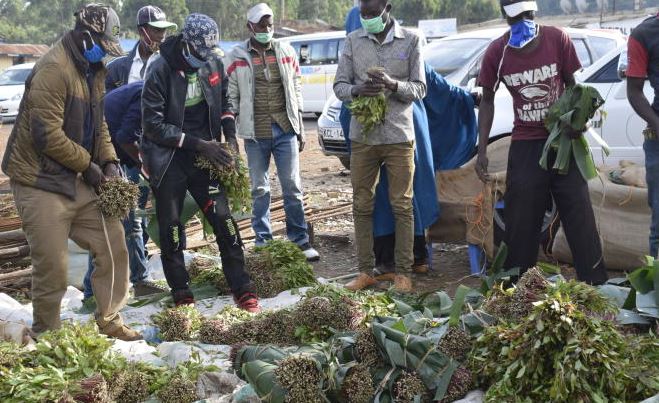 Traders can now breathe a sigh of relief after the government published protocols and guidelines on management of the miraa industry as part of the Covid-19 response.
The guidelines signed by Agriculture CS Peter Munya could not have come at a better time as the khat sector has been facing challenges with several county governments which clamped down the stimulant's trade shortly after the country was placed under curfew.
"The guidelines form a basis on which to ensure the miraa value chain remains safe while at the same time safeguarding all others that interact with us," said Kimathi Munjuri, the chairman of Nyambene Miraa Traders Association.
Social activity
According to the guidelines, farmers, traders, vendors, aggregators and transporters must adhere to government hygiene standards including hand washing, wearing masks and social distancing. The stakeholders must also obtain county government licences and trade in designated areas.
Miraa transporters must avoid contamination of the produce and disinfect their vehicles before and after every trip.
Many county governments still perceive the sector as a threat to the fight against Covid-19 right from the source to the consumption table.
Since miraa consumption is a social activity now largely happening in homes following the closure of social places, health experts fear that it portends a great risk of fuelling the spread of infections.
At collection centres in Igembe and Tigania in Meru which is the main miraa production region and in the larger Mbeere region in Embu which produces Muguka, a variety of khat, traders and farmers alike have widely been ignoring Covid-19 guidelines on social distancing, hand washing and mask wearing.
Infection cases
This is despite the area having close links to coronavirus hotspots in Eastleigh in Nairobi, Mombasa and the larger coast region as well as Northern Kenya counties including Mandera and Wajir where high infection cases have been reported.
Khat traders have since Thursday been struggling to get a landing and distribution space in Nairobi after Eastleigh was placed on a 15-day lockdown by the government.
In Maua, the epicentre of Miraa trade in Meru and surrounding market such as Laare, Mutuati and Muringene, social distancing and wearing of masks oblivious of the heightened danger they are exposed to.
In Embu, there is growing concern that muguka trading could expose the community to risks of Covid-19 infections. Residents fear that transporters of muguka who visit Nairobi and Mombasa and drive back to Embu without being subjected to quarantine or testing could spread the disease.
Muguka is the dominant cash crop for farmers in the semi-arid Mbeere region of the county.