Couple's success tips on sweet potato farming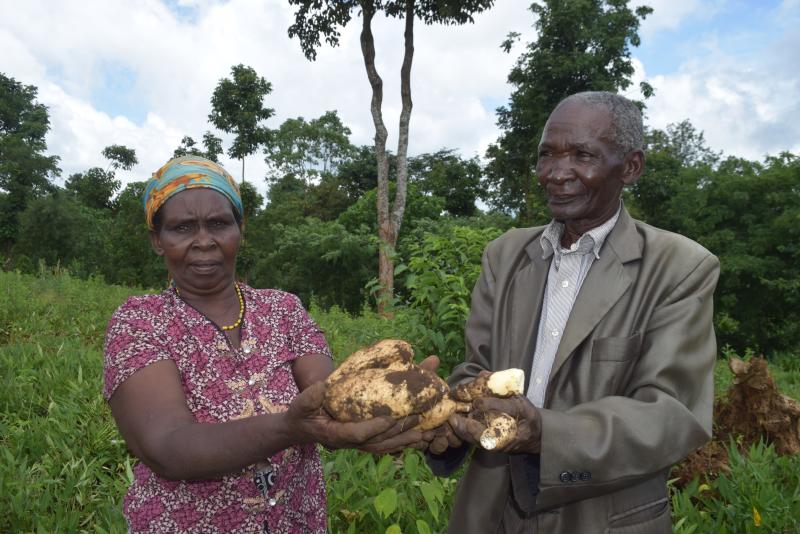 Having grown sweet potatoes for more than a decade, Agostino Kaaru is an expert of sorts.
Together with his wife Mary, they started growing the vines more than 20 years ago on their farm in Nyaki East, Meru County and have gathered vital lessons on successful sweet potato farming.
When they started, pests, weeds and lack of knowledge on good husbandry led to huge losses but through knowledge from successful farmers and training they are now model farmers.
"When we started we made so many mistakes because of ignorance but now we have learnt everything from controlling common pests to harvesting healthy crop," says Kaaru.
Getting customers was also a challenge back then because bread was still a popular option but now with the emergence of lifestyle diseases like cancer, sweet potato is slowly reclaiming its place in the breakfast table, notes the veteran farmer.
Preferred breakfast option
Mr Kaaru, 66, grows the orange flesh sweet potatoes on his three acre farm.
Every season he harvests 2,500 kilos and sells a 50kg bag at Sh2,000 but when the market is flooded, he is forced to sell for as low as Sh500.
For a healthy vine, Kaaru says they remove weeds by hand to avoid damaging the tubers or vines.
"The vines grow along the ground, not vertically. If you are not careful chances are you are going to injure the potatoes and that means you will harvest and sell less. The vines require caution and we have to remove the weeds by hand to avoid injuring the potatoes underneath the soil," he says.
Though he can plant as many as three crops a year he plants only twice a year, to prevent the soil accumulating pests.
"I do not intercrop my sweet potatoes. Sweet potato is the host crop in the three acres. But after harvesting, I switch to maize and beans the next season. This is to reduce chances of infection of the potatoes," he says.
Pests are the biggest threat and he deals with it through crop rotating at least once a year.
Though the sweet potato is listed as a drought tolerant crop, Kaaru says it is important to ensure the soil is kept moist throughout. It should not be watered at the final stages of growth, to prevent the potatoes from breaking.
Kaaru says since the Giaki area enjoys cool weather, suitable for the product, he avoids inter-cropping with maize or other crops that grow vertically.
"The idea is to ensure the sweet potatoes get enough sunlight, and are not crowded," he says.
His farm is fed by a community water project, the 250-member Kioru Multi-purpose Society, where members pay a monthly fee of Sh400 for the service.
Though the leaves are very nutritious as a vegetable, he advises against early plucking because they are important for full maturity of the tubers.
The main challenge he faces is transporting the potatoes to markets, because of the poor state of roads.
"Once harvested the product should reach the markets as soon as possible. But because of the pathetic roads especially in rainy seasons, we end of losing a lot because they rot on farms."
Kaaru cites presence of extended bags which affects profit margins.
"One 50kg bag contains 80kg of potatoes when extended. Losing 30kg from each bag is a lot and that is why we are calling on the state to intervene," he says.