Lessons from 300-acre ultra-modern dairy unit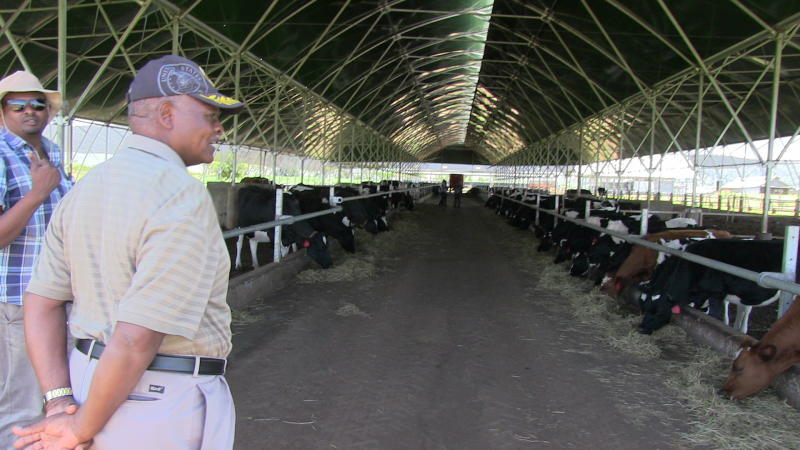 To access former Vice Chief of General Staff (retired) Lt-Gen John Koech's award-winning farm dubbed Chepseon Dairies, is not easy.
After much convincing, he finally grants Smart Harvest access to his farm which clinched Dairy Farm of Distinction in last year's Kenya Diary industry awards.
When the team arrives at the gate to the 300-acre farm in Kericho County, the gateman looks up for this writer's name in the appointment book.
Wheel dip for disinfection
Once everything has been confirmed, our vehicle like all others to the farm, is driven through a wheel dip for disinfection, demonstrating how serious the farm is about hygiene and cleanliness.
Research has shown that majority of infections to the farm are normally brought by outsiders and that explains why the farm is keen to address that.
At the farm's ultra-modern office made of containers and overlooking the scenic Mau forest, Rtd Lt-Gen Koech donning an old army hat, welcomes us to the farm.
"Chepseon Dairies started about 35 years ago with only five Aryshire cows in a different location but when we relocated to Chepseon, we stopped rearing Ayrshire and instead kept Friesian purely for their milk volumes," the former soldier explains.
Besides its vastness, another outstanding aspect of the farm is the magnificent dairy unit shade, where he keeps over 150 cows in four categories; high yielders, low yielders, dry cows and heifers.
"Through consultants, we designed the cow shade made of tarpaulin and steel. On the outer side where the cows sleep, the airflow dries the cow dung turning it into a sort of cushion for the cows to sleep on without getting dirty," he explains.
Next to the "cows bedroom" is the feeding area nicknamed the "dinning area".
"In the middle of the structure is a space where the food TMR mixer can be driven to and fro dispensing the cattle feed.
A squeaky clean milking parlour with eight milking stations is located next to the cow shade.
"To avoid contamination, no human handles the milk. Everything is done automatically. Once the cows' udders are cleaned, the clusters are attached for milking. The milk goes through vacuum pressure into a milk meter for weighing and then into a milk cooler in an adjacent room."
Milking is done at 4am and 4pm and they get between 700-1,200 litres of milk a day.
For maximum yields, when milking, the animals must be calm and comfortable to avoid sparking their stress levels.
"When milking a cow, it must not be stressed. It must be comfortable and in a good mood. That is why the mattress is brought during milking for the cows to stand on," explains Koech.
Modern technology is also applied in the farm with each of the mature cows fitted with a SCR Data Flow 2, tag.
Koech's son Erick Too, who is the dairy unit Information Technology technician and the farm's director, says the SCR DataFlow II System is a complete, integrated, real-time, cow monitoring and milking management solution.
Information is collected by heat and health monitoring tags and by the milking points, and is received by the system.
"If a cow for instance is not ruminating well, the software algorithm will calculate the health index and transmit the data to the veterinary doctor for analysis and immediate action," Too explains.
Too says the software makes records management easier since it contains all the critical data about each cow.
"Since the gadgets collects data and interprets it for us, there is no need to keep huge files which can be tedious."
Because of their delicate nature, 36 calves are kept in a separate dairy unit from birth to up to when they attain 270 kilos through an elaborate feeding programme which takes around nine months.
Because of the topnotch management of the cows, heifers from Chepseon Dairies are on demand in the county and beyond.
"We have for instance partnered with Bles Dairies East Africa Ltd who connect us with dairy farmers looking for between 20-30 heifers. We have so many orders we can't satisfy the demand," says Koech.
Heifers here cost between Sh200,000 to Sh300,000. To maintain the pedigree, the breeder says they source for high quality semen from a consultant in Israel.
Besides, the 150 cows, 39 heifers, Koech owns an additional 29 pedigree bulls.
Not one to leave anything to chance, the former soldier has hired a full time veterinary doctor and 31 farm workers serving various roles.
Want to get latest farming tips and videos?
Join Us