Why I quit my poultry business to rear pigs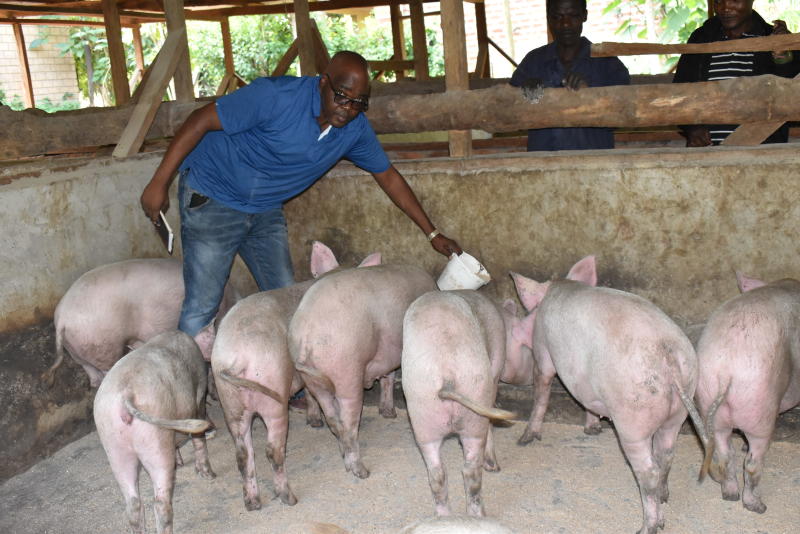 Glen Majanga took early retirement from the Kenya Defence Forces to venture into poultry farming in his rural home at Cheptengwich village, Nandi County.
"In the usual Kenyan style, I saw my neighbours making good money from the poultry business and I was tempted," he says.
He invested heavily in the business and for two consecutive years, he was recording loss after loss. From disease outbreaks to high cost of feeds, he could not cope and within a short while he quit. Afterwards, he secured another job and he was able to save some money which he used to start pig farming.
"I did my research on the ground and established that under my circumstances, pig farming was the most viable."
In 2018, Majanga, 56, reached out to a veterinary officer from Farmers Choice back at home who helped him construct a pigpen with six units at a cost of Sh500,000.
"I bought three gilts (a female pig that hasn't given birth to piglets) at Sh35,000 each and one male pig (boar) at Sh25,000 from Eldoret pig farmer. They were eight months and about to give birth," recalls Mr Majanga.
He notes that pregnancy in pigs lasts for three months, three weeks and three days, adding that a well-fed sow (pregnant pig) produces at least ten piglets (litter) from each pregnancy and may have two litters each year.
After two months, the three female pigs gave birth to 24 piglets, of which he sold 21 pigs after attaining the age of six months to Farmer's choice. He made a profit of Sh180, 000 and retained three of them as parent stock.
"I was impressed and this gave me more drive to invest even more in pig farming. The three pigs that were retained gave birth to 33 piglets and I sold the piglets after six months," says Col. (Rtd) Majanga.
Right feeding
For the two years he has been at it, he discovered that pigs are more resilient to disease attacks and multiply faster compared to poultry. Two years into the business, he is not regretting leaving poultry farming for the lucrative pig business. With profit from pigs, he has managed to educate his children to university level. He has plenty of knowledge on how to succeed in this business.
On feeding, he says when the piglets are below two months, they only depend on the mother's milk, which is nutritious and boosts their immunity. As they mature, the mother's milk is substituted with sow and weaner that costs Sh2, 200 for a 50-kilo bag.
"Sow and weaner is a feed for sow (pig that has given birth) and her weaning piglets. The feeds are well formulated and balanced to provide essential amino acids and nutrients to ensure high growth rate, good health and milk for lactating sows," says Majanga.
To avoid substandard feeds that affect production costs, he advises farmers to always buy the feeds from a dealer with a good track record.
Monitoring of the feeds as the pigs mature is equally critical.
"When a piglet is around eight weeks, it needs between 45-68 grammes of 17-18 per cent protein in a pelleted starter grower feed, per day. At 12 weeks, this goes up to 135 grammes of 15 per cent protein feed mix (finisher pellets) and at 16 weeks, they should consume 225 grammes per day," he advises.
According to Majanga, when the piglets are three months and above, they are introduced to finisher pellets. They are only fed early in the morning and late in the evening. The retired soldier points out that mature pigs should be fed on a variety of feeds like wheat, barley, rice, and corn, adding that the grains are rich in carbohydrates and can be supplemented by soya beans, which are rich in proteins. "For easy digestion, the grains should be cracked, rolled and soaked," he explains.
Majanga says for pigs that are kept indoors, the pigpen should be well aerated and that there should be room for them to express normal behaviour like rooting, wallowing in water/mud and foraging. The only challenge is that the feeds are too expensive. To counter that, he plans to start making his own.
Want to get latest farming tips and videos?
Join Us