Tree tomato:Best return on investment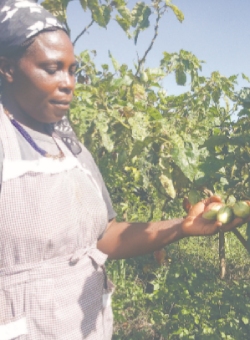 Esther Wanjiku has about 70 tree tomato stems in her farm in Berea, about one-kilometre eastwards from Berea Theological College in Nakuru County.
She started with 20, and now at 70, she says she will soon have 400 mature trees, and expand further because she has found them to be profitable.
She ventured in tree tomato farming in the year 2018 after watching a program on the profitability of tree tomato fruits agribusiness on television.
"I started with 20 trees, and some months later, I added other fifty trees, and since I have been advancing gradually and currently, I have planted more than 400 plants in about a half an acre portion of land," Wanjiku said.
A tree tomato plant takes a year to mature and be fully productive, assuring a farmer quick return.
"When properly attended, one tree tomato plant can produce about two kilograms of fruits per week," said the farmer adding that she usually sells the produce to dealers in Nakuru town at a price of between 70 to 90 Kenyan shillings per kilo.
Therefore, Wanjiku often makes Sh9,800 to Sh12,600 cool cash weekly, and she is hoping to reap much more after the other four hundred plants become productive.
To diversify her agribusiness, she has planted vegetables and beans between the spaces to ensure land utilisation.
Wanjiku prepares her seedlings through knowledge from reading articles, attending agricultural shows, and interacting with other farmers.
Transplanting
After preparing seeds from best choice varieties, Wanjiku makes seedbeds, and after one month, she transplants the seedlings to planting papers and further waits for another one month till the seedling reaches the desired size. When the seedling reaches around the height of 1.5 to 2 feet, she now plants the seedling in a hole of 2 feet cubic square with a spacing of 2 meters from plant to plant and line to line.
"The hole should be properly prepared, and also, the soil should be mixed with plenty of manure to enhance ease of absorption of water and nutrients from the soil by the seedling," she said.
She also added that the plant requires plenty of water to maintain good yields, and she has connected the farm with drip lines as back up for water during the dry season to ensure fruits production consistency.
Tree tomato plants can maintain good production to seven years, and grafted trees may remain productive up to 12 years. Tree tomato farming is straight forward and has fewer challenges, as the farmer stated.
"Once the seedlings are properly prepared and planted, the plant thrives on well with controllable challenges. For example, the frequent challenge that I have seen in my plants is aphids invasions and bright diseases, which I am comfortably able to manage using pesticides and fungicides," she said.
On the issue of the market, the farmer revealed to us that tree tomato fruits are very marketable, and there is always a ready market.
"There is always a ready market for the fruits, and nothing inspires a farmer like a reliable, stable market. The dealer always assures me of the market, and that's why I am inspired to expand my agribusiness to fill the demand," the farmer said.
She is expecting that by the end of this year, she will be able to produce around 800 kilogram weekly, earning her between Sh56,000 to Sh72,000 every week.
In the future, she also has a plan to venture into grafting tree tomato seedlings and selling them to the farmers at an affordable price as she also expands her farm with grafted tree tomato plants.
"With the increased demand for tree tomato fruits, I want to further expand my farm from current half an acre to about an acre with the other half mainly dealing with grafted tree tomato fruits only. When the production increases, I will also try in producing tree tomato fruits juice," said the farmer.
Farmers should embrace new agribusiness venture that is more profitable rather than depending on traditional ways that require more inputs with fewer returns.
Want to get latest farming tips and videos?
Join Us