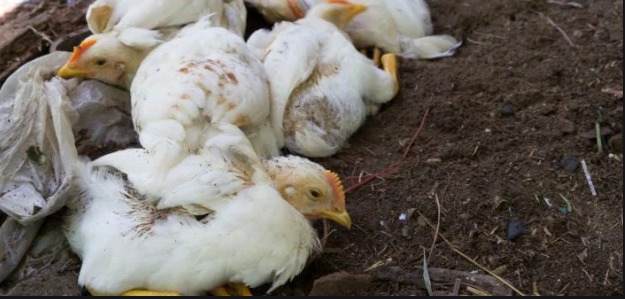 China reported an outbreak of a highly pathogenic strain of H5N1 bird flu at a farm in Shaoyang City that led to the death of over 4,500 chicken last week.
The bird flu has spread to India and Eastern Europe. Smart Harvest tells you how you can prevent your poultry flock from the bird flu virus and more.
Bird flu is a viral infection that affects birds, humans and other animals. The disease can wipe out all your birds and lead to a great loss for commercial poultry farmers. The disease can be transferred from birds to humans. It is transmitted to humans through contact with infected bird faeces, nasal secretions or secretions from the mouth or eyes.
Signs and symptoms
Signs that poultry farmers should look for in their flocks include swollen head, neck and throat discolouration, loss of appetite, respiratory distress, diarrhoea and fewer eggs laid. These signs vary between different species of birds.
Here are measures you can take to regulate the spread of the disease:
Keep poultry indoor
Poultry farmers need to keep the chicken and other birds indoors for their protection. This will save your flock from interacting with migrating wild birds which spread the virus.
Ensure wild birds do not access your bird's food
If the birds cannot go indoors, prevent wild birds accessing your flock houses and most importantly food. Certain birds like geese and ostriches cannot be kept indoor hence you should make sure their feeds and water sources cannot be accessed by wild birds.
Cover your run
Housed birds may contact with wild birds during outdoor runs. Ensure your compound is gated where wild birds cannot access the birds running area.
Proper hygiene
Make sure coop and other housing are kept clean. This will help prevent further spread of the disease. Keep the coop clean and disinfect all birdhouses regularly. Commercial poultry owners are urged to thoroughly clean and disinfect housing at the end of a production cycle.
Limit visitors to your flock
Visitors in your poultry flock houses can be a key factor in the spread of the disease. To prevent this disinfect visitors and vehicles coming into your compound. This is a precaution to avoid the transfer of contaminations by cleansing and disinfection of equipment's, vehicles and footwear. Providing disposable boot covers can help prevent the spread of the disease.
Poultry farmers and backyard flock owners need to implement a stronger biosecurity measure to protect birds.?