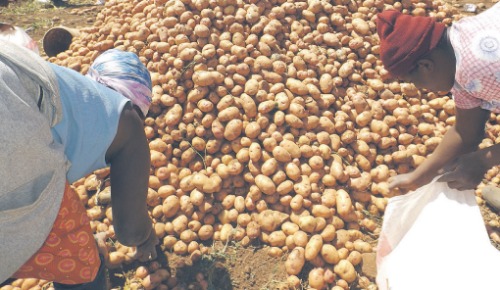 Farmers growing the Shangi potato variety in Nyandarua County are a worried lot because the crop is no longer producing the expected yield. Many farms are wilting dry due to it's high susceptibility to diseases.
Its extinction could mark an end of an era of being the most preferred potato by both farmers and consumers. It is preferred by farmers because it matures fast and by consumers because it cooks fast.
A farmer, James Mugo said he had planted a quarter of an acre but the crop wilted and died before it formed tubers, despite his effort to save it spraying several times and even using urine from rabbits.
"I bought five litres of rabbit urine after being advised that spraying the fluid on the crop would save it from wasting away before it matured. But at the end the entire crop dried up," Mugo said.
The origin of the Shangi, that matures in two months while other mature in three months and cooks within 15 minutes, remains a mystery with potato experts claiming the variety could have been sneaked out of labs in 1960s before it was declared a valid seed. But could it be headed for a mysterious exit?
Nyandarua County Executive for Agriculture, Dr James Karitu says the Shangi is just a victim of the rainy weather that has similarly affected other potato varieties as well.
Dr Karitu said the County expects to record a 20 percent drop in potato production this year due to the excessive rain that has waterlogged farms. The County produces 500,000 metric tons of potatoes annually, he said.
The Executive blames those farmers who are experiencing poor performance of the Shangi variety that is grown by over 90 percent of potato farmers in Nyandarua, saying it is due to recycling the crop instead of getting certified seeds every time they plant.
But farmers claim the potato has become susceptible to diseases so much that its future is not guaranteed.
Dr Karitu said the County has put measures to guarantee the potato subsector a firm future in the County's food security pillar. He said already potato seed multiplication hubs have been established in the County.
He however admitted that there some potato varieties that had become an easy target for early and late blight diseases. He said a national committee and stakeholders is carrying out research to establish the cause of the blight challenge but termed it "not very serious issues in the sector".
Disease challenge
He said among the potato diseases that are a challenge in Nyandarua are the common one like bacterial wilt, blight and PCN (Potato Cysts Nematode) but added the diseases are found in patches and not widespread.
PCN that can wipe out 80 to 100 percent of potatoes if not curbed is common in some European countries but has been reported in some North African countries. It is suspected to have been introduced in Nyandarua when past County administration imported seeds from Europe in a bid to boost potato production.
Dr Karitu doubts if the imported potato seed could have been diseased saying there was no way the importation could have arrived without being vetted by Kenya Plant Health Service (KEPHIS). He however added that administration of Governor Kimemia has no intention of importing potato seeds and instead will use local multiplication to avail certified seeds to farmers.
Crop rotation
"I would urge the farmers to do crop rotation to beat some of the potato diseases in the County. Some of the diseases can remain in the soil for even 30 years," Dr Karitu said.
He said the County is introducing many more new potato varieties as it moves to introduce processing and value addition. He urged farmers to start growing processable varieties.
Shangi might not fall under the processable groups as most processors say it has a lot of waste due to its "many and deep eyes".
The County government is in the verge of establishing a potato processing plant. Last week President Uhuru Kenyatta did ground breaking for a cold storage facility at Rurii near Ol Kalou town. Dr Karitu said this is among early preparations by the County to venture into potato factory.