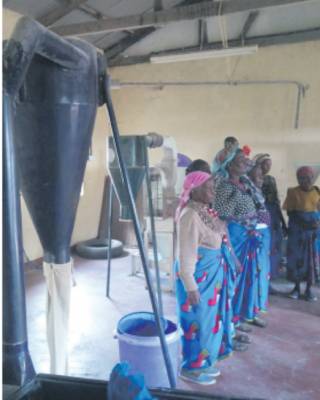 A group of women from the semi-arid Mavuria location of Embu County who joined hands to add value to traditional high-value food crops and are fetching more returns from their produce.
The Mavuria Women Nutribusiness Group cultivates millet, sorghum, sweet potatoes, cowpeas beans and amaranth which they mill to make traditional porridge flour, which is their flagship brand. They also make crisps from mango, cassava and sweet potatoes which they sell while packaged and branded in the local market.
They also produce animal feeds for poultry and other domestic animals. Every other day, the over 50 women go about gnawing and milling grains, chopping mangoes into small pieces, drying them and in the process adding value to many traditional high-value crops. Their porridge, which agricultural officials describe as highly nutritious, is certified by the Kenya Bureau of Standards.
The women started adding value to their produce in 2001 with assistance from United States Agency for International Development (USAID) through Kenya Agricultural and Livestock Research Organisation (Kalro), then Kari, but the initiative later collapsed and was only revived in 2014.
They were assisted with equipment that included solar drier, wet mills, mills, a mixer, and beam weighing machines.
The chairperson, Jane Muchungu, says they were also trained on value addition, packaging and marketing by One Village One Product programme in partnership with Embu County Government.
She says their value addition initiative has helped in reducing post-harvest losses, while encouraging local farmers to embrace in drought-resilient crops rather than maize which in any case fails when rains are insufficient.
Muchungu says they have a capacity of producing 1,000 packets of the flour per month and from the sales, group members are able to improve the livelihood of their family members and have invested more in their farms.
"The porridge flour has become very popular with the locals for its high nutritive value. A mother gave it to a baby with stunted growth who was able to walk after taking three packets of the flour," she said.
She said their product which sells under the name Mamix has also become very popular with people living with HIV/Aids and the aged since they get the required nutrition found from the mix of the traditional high-value crops.
Muchungu said in the beginning they would find it tiresome as they would use the traditional grinding stones to make the flour.
"This has since changed as we now have the machines including a wet miller which directly grids the mixture into porridge locally refereed as kimere," Muchungu said.
Last week, Government spokesman Cyrus Oguna flanked by Mbeere South MP Geoffrey King'ang'i toured the facility. The women told him they face a challenge of expanding to larger markets so they operate below capacity even when they have raw materials and equipment to scale up production to in a big way. Oguna said the government is aware of the challenges that farmers are facing in marketing of their produce and will come up with programmes to address the same.