Farmer's quest to tap into rich avocado export market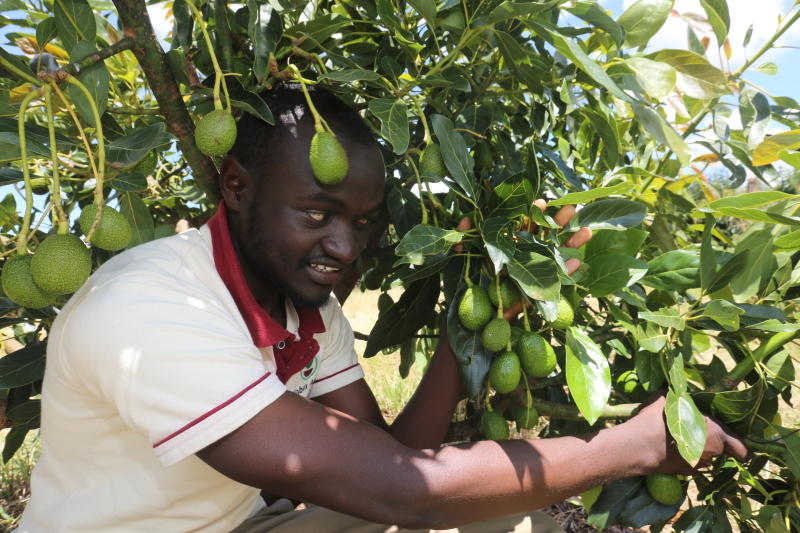 Getting a secure local market for your agricultural produce is no child play with middle men and other bottlenecks at hand. So imagine how tough it is to penetrate through the export market.
One veteran avocado farmer — David Songok — confesses that though the path is narrow, the rewards are numerous.
"To avoid rejection of the fruits, there is a strict template we must follow. Fruits must ripen to a certain degree, trees must not be sprayed with chemicals, I mean there is a lot of dos and don'ts. There are no shortcuts. But the prices are competitive," he says.
International mark
Tired of poor returns from maize growing, after a decade, Songok took a leap of faith – export of avocados. He started planting the crafted Hass and Fuerte avocado varieties in May 2018, and as the small trees turned 16 months, the fruits were already beginning to form, raising hopes of a harvest this year.
He has more than 1,000 trees at his 10 farm in Leseru Farm in Turbo sub-county, Uasin Gishu County and hopes that they will be accepted at the international market.
He was linked to Habex Agro, an international company that connects farmers to European markets.
To meet the international mark, officials from the contracting firm have been walking with him the journey to ensure he does not compromise on quality at any stage. Though it is an engaging task, he is happy that he does not have to deal with middlemen who have flooded the avocado value chain who go around farms collecting the fruits at a cheap price and selling the same at inflated prices to established export companies.
To ensure he does not miss a mark, two officers, an agronomist and a manager from Habex Agro visit the farm regularly to make sure fruits are of the required standard for the export market.
The company has 10-year renewable agreement with more than 1,900 small holder farmers in six counties including Uasin Gishu, Trans Nzoia and Elgeyo Marakwet.
Robert Kirui, Habex Agro agronomic officer, says they walk the journey closely with their contracted farmers to ensure a meticulous tree nurturing process takes place throughout the period so that the fruits are not rejected in the final stage.
He says constant agronomic support is critical for quality fruits. "To avoid disease attacks, a farmer must be very keen with a clear prevention strategy from the nursery stage. Insects like fruit flies and False Codling mites attack avocado and this has led to rejection of many of our fruits in the international markets. We don't want a repeat of the same so we must be vigilant," he says.
Avocado Society of Kenya chief executive Ernest Muthomi says farmers who buy low quality seedlings risk up to 30 per cent loss.
"For lack of knowledge, some farmers buy uncertified seedlings that have viral diseases. It is only after three years when the produce is low that they realise they bought poor quality seedlings," says Muthomi.
Excess use of chemical, according to the experts increases chances of the fruits being rejected.
"Because this is a new crop in the region. We train the farmer from time to time because we want to get it right," he says.
To ensure his avocados are quality, Sonkok ensures they are not attacked by rats that bite the stems of the plants, causing them to wither.
Water is also key for the fruits.
"Avocado requires a lot of water and drip irrigation is the best," the agronomist says.
Kirui says pests and diseases are rare because of the high altitude in Rift valley highlands.Shaban Kurgat, another extension officer at Habex Agro says to avoid their produce being rejected farmers are advised to use organic fertiliser.
Hass and fuerte are the preferred export varieties because they have a natural defense mechanism of producing a fluid that hardens parts of the fruit protecting it from pests.
Want to get latest farming tips and videos?
Join Us