How graduate built kuku business bird by bird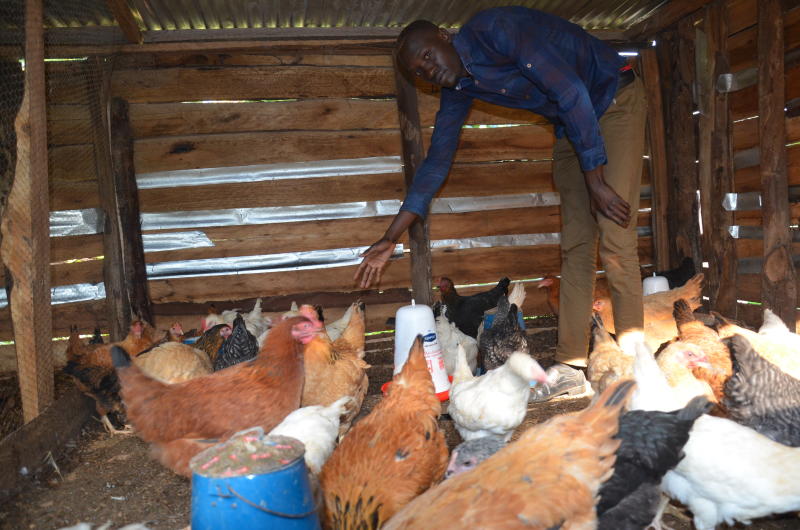 Two years ago, Kevin Kidanda graduated from Masinde Muliro University of Science and Technology.
Like all hopeful graduates, he was sure he would land a job immediately.
But that was not the case. He tarmacked for a year without meaningful employment.
"After sending hundreds of applications and attending interviews in vain, I made the hard decision to quit the search and explore other options," says the 25-year-old with a degree in Journalism.
Early last year, he attended a three day workshop on poultry farming in Kakamega town and thereafter decided to pursue poultry farming at their farm in Shinyalu.
Mr Kidanda sold some trees he had planted when in Form Two and earned Sh30,000 which he used as startup capital.
Startup capital
"I bought 150 day-old chicks, the Kalro Kienyeji improved birds, at Sh100 each totaling to Sh15,000. I used the balance to buy feeds," shares Kidanda.
Fatal blow
He was in for a rude shock. After a week, 60 of the 150 chicks died. However, this didn't dampened his spirit.
"We visited the Kakamega Kalro offices and met poultry experts who taught us better poultry farming practices. The officers also visited our poultry farm and after carrying out investigations, it was discovered the chicks died as a result of excess cold," says Kidanda.
To avoid such blunders, the officers helped him to set up a modern poultry house that was well ventilated. He also covered the floor with wood shavings and bought three energy saving jikos to provide warmth to the chicks.
Then he begun the journey, more cautiously.
"I replaced the chicks that had died after a week with those bought directly from Kalro. I bought 200 chicks at Sh100 each. I now had 290 chicks."
According to the young poultry farmer, in the first seven days, he fed the chicks on starter mash to enhance growth which he substituted with chick mash until they attained the age of eight weeks.
Kidanda said he changed the feeds to growers' mash for another 12 weeks until he started seeing the first eggs. He then substituted it with layers mash.
"The first five months is not a walk in the park. You spend from your pocket. It was tough given that I was unemployed. My parents gave me support by buying feeds for me whenever I ran out of cash," recalls Kidanda.
When finally all the chicks started laying in June last year, he would collect between 250 and 270 eggs daily.
He would sell the eggs and use the proceeds to buy feeds. He sold a crate of eggs at Sh600 since the eggs were fertilized.
Between June – December last year, he collected 38,880 eggs which translates to 1,296 creates.
Given that he sells each crate at Sh600, he made a 'neat' profit.
"I used part of the money in August last year and bought 500 day-old chicks at Sh100 each, the rainbow rooster breed in anticipation of the Christmas holidays. And, 170 were cocks and sold them at Sh1,300 and the hens at Sh700," says
Disease management
"I still have the 290 layers and they are still laying eggs daily. I will dispose them after they have laid eggs for 18 months. I will then increase the flock to 2,000 birds to meet the growing demand for eggs and meat from Kienyeji improved chicken," he says.
According to Kidanda, he used part of the money to also venture into pig farming with the intention of starting a pork butchery in March. He now has 15 pigs.
To keep diseases at bay, he follows a keen vaccination schedule.
When the birds are day old, they are administered with Marex vaccine followed by Gumboro at day 7 and the Newcastle vaccine at day 14. He repeats the Gumboro vaccine at day 21 and then Newcastle at day 28 followed by Fowl Typhoid vaccine when the birds are 12 weeks.
Kidanda gives his birds sukuma wiki, pawpaw, amaranth and pumpkin leaves to make their meat tastier and for the eggs to intensify the yellow pigmentation.
Want to get latest farming tips and videos?
Join Us