Why couple stuck with coffee despite thorns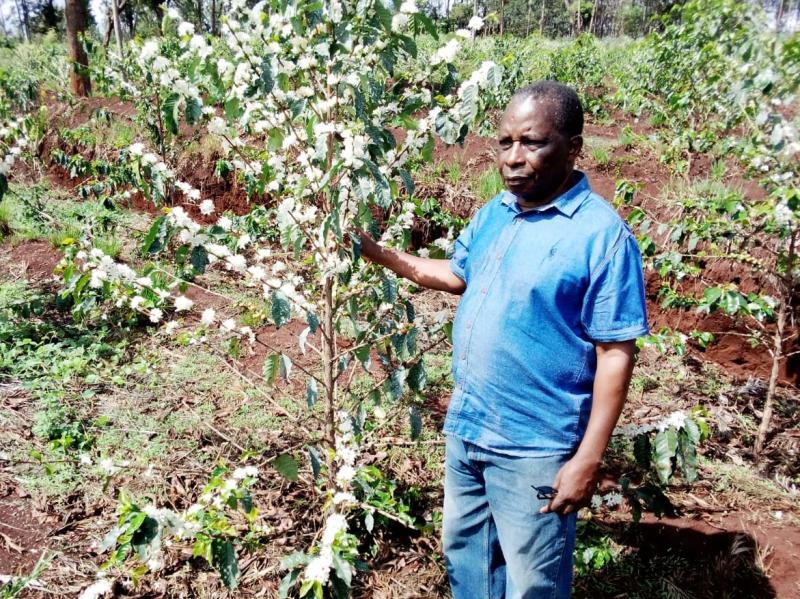 When in 2016 President Uhuru Kenyatta announced plans to promote coffee farming by introducing an insurance scheme to cushion farmers against adverse weather, a couple from Embu grabbed the chance.
Hamilton Karugendo and his wife Priscilla Marigu not only planted Arabica variety, but went a step further and invested in a massive coffee nursery that has 90,000 seedlings in Ena, Embu County. Though the business has thorns, three years down the line, the couple is a major supplier of coffee seedlings.
Major suppliers
They have mastered agronomy skills in coffee management and share lessons with Smart Harvest. While starting, they sourced for seeds from certified suppliers and germinated them in seedbeds.
Karugendo says they sourced for red volcanic soil ideal for coffee germination from the slopes of Mt Kenya forest.
"Transporting the soil up to the farm was costly but we were determined to go for the best. We engaged workers to insert the soil in polythene bags and plant the seeds," Karugendo says.
For proper growth, he says the beds should remain wet throughout so that the seeds do not dry up and crack before germination. When the seedlings had firmed up well and were ready for transplanting, the couple opted for the single stem farming system.
In this system, a farmer allows one stem per bush and controls the number of branches per stem.
"You allow only one stem with a single taproot per hole," explains Marigu.
This is different from conventional farming where a farmer allows two stems. Karugendo observes that many coffee farmers lose out on good yields because of poor practice.
Major suppliers
"Farmers have been losing out because they just plant seedlings and leave them to produce many stems and branches. The problem is that it costs the farmer a lot of inputs while output is little," he says.
For high yields, Karugendo says they control a stem to produce only 40 branches. In addition, he also controls the nodes per branch. The head is trimmed when it attains the desired height to stop further vertical growth.
"This makes the stem healthy and it consumes little water. If each branch is well taken care of, it will produce about 30 nodes and each node should hold at least 30 berries," shares Karugendo.
This means a well fed stem can yield 36,000 berries (40 branchesX30nodesX 30berries). Since 300 berries make up one kilo, a farmer can harvest 120kgs from a stem under optimum conditions.
Due to other factors, the highest the couple has attained from one stem is 100kgs, which is still high production compared to conventional farming practised by many farmers in the area where as stem is expected to yield 10kgs.
Major suppliers
To maximise returns, the couple advises farmers to pursue quality output not just large coffee volumes. Best quality coffee sells at a premium translating to better pay for a cooperative society.
So what are the thorns they have encountered?
According to Marigu, they control diseases using chemicals which costs them Sh50,000 annually.
She says presence of counterfeit chemical sprays adds up to the cost as one might be forced to respray the right chemical on realising they used fake ones.
A reliable market is also a challenge.
Coffee expert James Kariuki from Mt Kenya Organic Coffee farmers advises farmers to observe spray programmes and desist from sharing secateurs to avoid spreading bacteria from one farm to another.
He points out that prevalent diseases in the zone include Coffee Berry Disease, coffee leaf rust and fungal diseases.
Due to wide price fluctuations, the couple decided to spread their revenue stream through germinating seedlings.
Karugendo describes seedlings germination as a risky business because buyers are not guaranteed.
Currently, they have 90,000 seedlings ready for transplanting but the number of buyers is low.
Marigu says keeping the seedling well-watered and disease free is costly.
She reveals they spent over Sh700,000 to grow the seedlings to their current state.
She calls on the government to help her find market or buy the seedlings to supply to budding youthful farmers.
Coffee is a leading foreign income earner for Kenya. The crop has of late been earning farmers meagre income with many neglecting it or switching to other types of farming.
Government officials have been urging small scale farmers to stop uprooting their coffee.