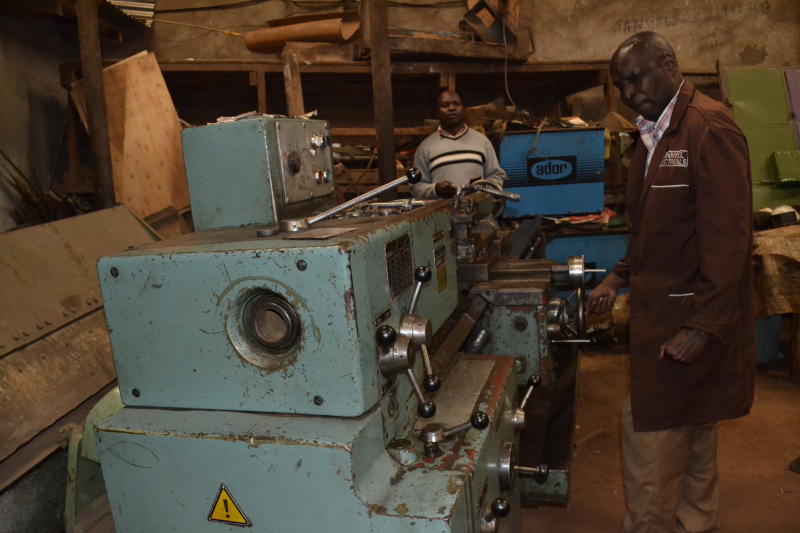 They say when life gives you lemon make lemonade.
ALSO READ: How to spot Newcastle disease in chicken
That is what David Tanui did when life dealt him a hard blow and he lost his sight. Instead of wallowing in self-pity and bitterness, like a phoenix he bounced back.
Before the accident 15 years ago that led to his loss of vision, he was a senior captain in an established firm.
Prior to the accident, he used to fly tourists to Masai Mara, Nanyuki, Nyeri, Samburu and the Mau among others.
When the accident happened in 2004, it was a day like any other for Tanui.
Chopper accident
"I was busy fixing something on the aircraft at Wilson when I accidentally slipped from the stairs and fell. I felt a sharp pain in my head but I never imagined that it would lead to loss of my sight," recalls Tanui, a qualified Commercial pilot from ACME School of Aeronautics in the United States.
Long story short, after the accident he developed pain in his eyes that slowly went from bad to worse finally going totally blind.
ALSO READ: Lumpy skin disease in cattle
Instead of wallowing in pity, he picked up the pieces and now he runs a farm machinery - Tinderet Engineering - in Kapsabet town.
"When the accident happened, I opted for early retirement and took a golden handshake to start a machines assembly workshop. I approached the Kenya Industrial Estates and secured a Sh326,000 loan from a commercial institution and bought machinery for fabrication," says Tanui.
Machine by machine, he launched his business. He now receives orders, makes spare parts for farm machinery like trailers and tractors, shellers, disc ploughs and furrow wheels among others.
Stiff competition
"My goal is to use my mechanical engineering skills to generate income, create employment and demonstrate to persons living with disability that with God all things are possible...," Tanui says.
Mark Kogo, the manager Tinderet Engineering, says they get most orders from tea and sugarcane firms, institutions and individual farmers in Nandi and Uasin Gishu.
"Most orders are from individual farmers and tea companies. Competition is however stiff due to existence of many of such enterprises," says Kogo.
ALSO READ: Yes, too much water can kill your calf!
At the moment, they are working on an innovation that will help large scale tea farmers in their operations.
"We are working on a pressure drier that will improve processing of tea," he says.
Once done a trailer costs between Sh250,000 and Sh300,000.
Trusted assistant
"We have capacity to build three to five trailers a month but due to the harsh economic times, the orders are very few," says the agriprenuer.
But how does he do all this given that he is visually impaired?
Tanui works closely with Moses Otieno his guide, since he lost his eyesight. He also uses a white stroke to move around and has mastered the art of identifying his staff through their voices.
His guide Mr Otieno drives him everyday to and fro work which is about 60 kilometres away. Additionally, he has seven employees in the workshop and what we generate is adequate to pay them.
To make work easier, the workshop is fully equipped with facilities including lathe (a machine tool that rotates a workpiece about an axis of rotation to perform various operations such as cutting, sanding, knurling, drilling, deformation), welding drilling and rolling machines.
To supplement his income, Tanui has also invested in tree planting for commercial purposes.
He has planted more than 2,000 eucalyptus trees seedlings and he targets to have over 400,000.
"I have a dream and if it works, I will use proceeds from the trees to register a local charter flights company," he says.
Though he has broken even, he confesses that the journey has not been a walk in the park.
"It has been rough trying to adjust to my condition but I am now getting used to it and adopting well," said Tanui.
Tanui, a father of four says he has seen better days.
'No funds in sight'
"Despite the adversity I am facing, there are good things happening in my life. Recently, I got a grandson named Kipchumba. He is a blessing," he says.
Tanui's dream is to expand his business but funds are hard to come by.
It is sad to note that despite being blind, Mr Tanui has not benefited from the 30 per cent tender awards through Government's Affirmative Action for the physically challenged, youth and women.
The pilot reveals that although he had applied several times for the loan, he has not been considered for any financial support.
When we sought a comment from Nandi CEC member for Trade, Jacob Tanui on the procedure for awarding of loans and contracts to special groups, he said the finance department was better placed to explain the issue.
"It is an open and transparentprocess. Awarding contracts and empowerment support is given as per provisions of the law," he said.
Tanui also referred Smart Harvest to his Agriculture counterpart Dr Kiplimo Lagat but he could not be reached on phone for comment.
Despite these hurdles, Tanui is ever optimistic. He advises youth to form cooperative societies and venture into the jua kali sector instead of waiting for white-collar jobs.
Other remarkable farmers
Like Tanui, there are a number of farmers who have disability who have defied many odd to shine in farming. Another remarkable farmer is Charles Osawa is an award winning horticulture farmer at the heart of Kware village in Kisumu County.
Osawa has established himself as a successful mixed farmer who grows vegetables and also keeps dairy goats. His impressive farming activities against many odds earned him the 2017 Farmer of the Year Award.
He beat more than 84,000 farmers registered under the African Farmers Club (AFC).
Despite being in a wheel chair, he does most of the farm duties by himself from plating to weeding and harvesting.
Self reliant
"I do most things by myself from digging to weeding and watering, but at times my wife helps me. Given that farming requires one to be hands-on, I learnt from an early age to be self-reliant," the father of four told Smart Harvest.
Osawa, 52, suffered a polio attack when he was five months old. Accepting his fate from an early age, he vowed not to rely on handouts. After high school, he tried his hand at numerous jobs, but finally settled on farming in Muhoroni.
"Like all young people, I tried my hand in various businesses from a cobbler to other odd jobs but they all flopped, so I quit and settled on farming," says Osawa.