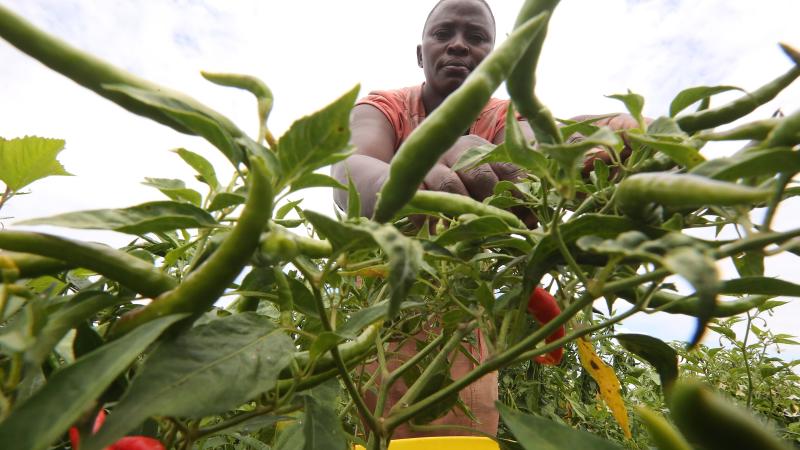 George Obwanga and his wife Dorice Akinyi had tried several business ventures from boda boda to fishing and hawking in vain. Then they embraced hot pepper or chilli farming which they do on an acre in Kadhiambo village, Nyando Sub County.
Though they have had bitter days, the couple says red pepper has brought them nothing but sweetness for the last five years.
"These plants are god-sent. They have brought us good money. And they are not prone to attacks by pests and diseases," says Akinyi.
The couple was introduced to pepper farming by a friend who noticed their frustrations with vegetables, which were performing poorly in the market.
"The friend gave us some seeds and taught us a few basics about the crop," says Obwanga.
To start off, they planted them in a nursery bed, and within one month, they were ready for transplanting.
During transplanting, they applied DAP fertiliser and three weeks later, they did top dressing with urea fertiliser. Upon maturity, they harvested between 300 to 350 kilos of the pepper. The harvesting continued for three to four months before they are uprooted and new crops are planted.
The planting
When they were ready, they took them to Kibuye market, although at first the reception was poor.
"Slowly, people started warming up to them and we got more orders. One trader once approached me to supply her a certain amount and this order boosted the project," says Akinyi.
Depending on market demands, Akinyi sells a kilo for between Sh60 to Sh150.
Their biggest challenge is the unstable market, which has seen prices fluctuate.
"When you ferry the produce to Kibuye which is over 20km away, and then you get poor prices, you have no choice but to take the money to avoid total loss," says Akinyi.
Another big challenge is lack of seeds. To counter this, they pick ripe pepper, which they dry and extract seeds which are used in subsequent planting.
But this, they admit leads to loss of quality as the genes get weaker.
"But we have no option. We once bought some seeds from the nearby agrovets, and when we took them to the market, our customers complained that they were of low quality, compared to the ones we get from the recycled seedlings. So we chose to stick to ours," she says.
With proceeds from the pepper, they educate their daughter who is in high school and also a permanent residential home. The pepper business has created jobs and the couple occasionally hire casuals especially during planting, weeding and harvesting.
According to an agronomist Paul Tana of Kenya Agricultural and Livestock Research Organisation, chilli has great nutritional value.
''They are a great source of vitamin C, Vitamin A, Vitamin B, iron, potassium and magnesium,'' explains Tana.
Despite the potential of the chili plant, the expert notes that few farmers have embraced it.
Agronomist Eric Wachira, says large scale production should be done in collaboration with the buyer so that the produce can be collected immediately after drying.
''Farmers can grow chillies for export and/or sell it on the outside market through the numerous chilli export marketers,'' says Wachira.
Created jobs
For those interested, Wachira says the tropical climatic conditions of Kenya, is ideal for chilies farming, and the warmer the growing conditions the hotter the chili.
The seeds can be bought at Simlaw which sells 10g at Sh50 and 25g at Sh85.
Chilli Wachira points out, does not need too much water. It requires enough sunlight to grow well. With enough sunlight it easily flowers and propagate at the right time.
Dr Paul Omanga an agronomist says chillies require minimum rainfall of about 600-1200 milimetres annually.
But excess rain or water this may result in shedding of green chilli leaves which leads to rotting.
Chillies do well in well drained soils, slightly loamy and non-acidic red sandy soils. However, chillies perform well in a number of soil types. They are Red and black cotton soils. Wachira, Tana and Omanga explains that like any other plant chillies are prone to pests and diseases.
Wachira says the most common pests are thrips, mites, Aphids and white flies.
These attacks can be prevented using recommended insecticides, soil treatment and weeding.
Wachira explains that pepper are first produced in the nursery before they are transplanted in the main field. Seedlings should be raised at least 45 days before they are transplanted.
Proper nursery management including spacing is key to ensure strong seedlings. Farmers should also use sticks and strings to keep the plant upright and keep the fruits away from the soil.