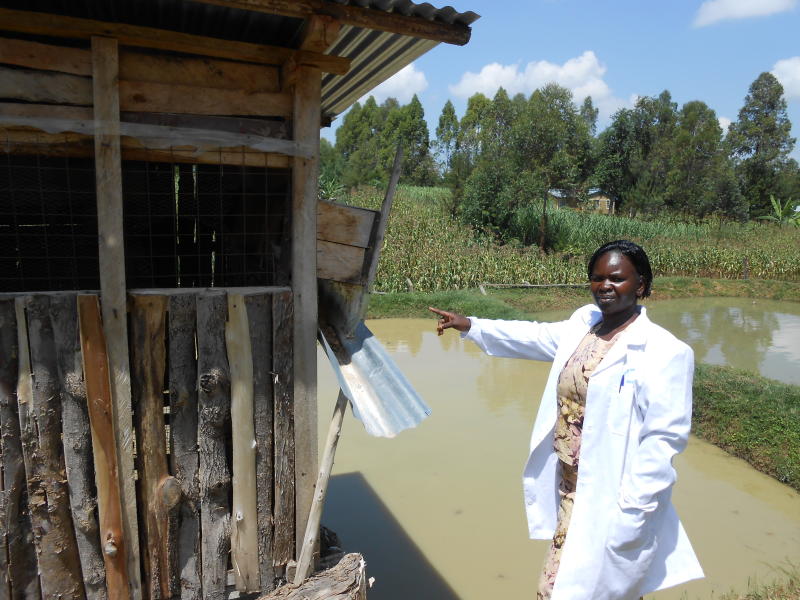 The honking of geese welcomes visitors at Penina Mwanzo poultry farm in Malava sub-county, Kakamega.
Apart from the geese, Mwanzo also rears turkeys, guinea fowl, chicken, ducks and doves.
Most chicken were sold in November and she is preparing the coops for restocking.
"I have 250 chicken now. They were more but customers have bought many ahead of the festive season," says Mwanzo who has been in the business for five years.
On the day of this visit, the couple is busy cleaning chicken coops and spraying them with recommended chemicals to kill fleas.
"I have to do it because if we leave them dirty, the other turkeys, geese, doves and the ducks could contract diseases or be invaded with fleas occasioning losses," she explains.
Having been a chicken farmer for a while, she says the trick is timing.
Supply demand
While some farmers find market for their birds a major challenge because of poor timing, Mwanzo does not struggle with market.
"Timing is everything in this business. I have learnt when is the best time to take my chicken to the market," says Mwanzo.
For maximum returns, she starts rearing chicks between June and August and sells them towards end of November and beginning of December when demand is high.
The farmer sells a mature cock at Sh1,000 while the hens between Sh650 and Sh800 depending on size and weight.
Demo farm
Records on her farm shows Penina sold more than 1,000 birds between November and early December.
After selling the chicken, he reinvests the money in the business.
"I spend part of the money I make to buy feeds for the remaining flock. I have realised it is cheaper and more efficient to run the farm that way."
Mwanzo rears improved and pure Kienyeji chicken, cherished for their tasty meat.
Since the cost of feeds is prohibitive, the farmer supplements the feed rations with fish remains.
Occasionally, the couple invites villagers on the farm to learn best practice.
"It is one way of giving back to the society and making them realise how easy it is to rear poultry on minimal space."
Additionally, involving the community guarantees their farm security because neighbours treat business as their own.
She invites a vet to vaccinate her birds every after three months against common poultry diseases.
The expert offers services at a fee but Mwanzo says it is worth it.
According to her, respiratory diseases almost cost her entire flock two years ago, but thanks to quick intervention by poultry experts from Malava sub-county offices, the situation was salvaged.
George Mbakaya, an agriculture expert says most small scale poultry farmers are overwhelmed with poultry respiratory diseases.
"All they need to do is observe cleanliness and feed their birds on highly nutritive feed ration," said Mbakaya.
Ms Mwanzo confesses that managing poultry calls for commitment because the birds require a lot of attention.
"Anything could happen when the birds are left on their own, so a farmer must be on high alert and notify a vet in case of any eventuality. However, there are things a farmer can handle on the farm without involving experts such as maintaining cleanliness."
Mwanzo says she is always disappointed when a farm hand is assigned to manage the poultry and fails to deliver.
"There are days I return home and find that a farm hand forgot to give the birds clean water or clean the coops which is routine practice. This can lead to infections and needless deaths."
The farmer keeps geese, turkeys and the doves for aesthetic value.
Farmers visiting the fish farm have added advantage of viewing the birds.
"Since our farm is a demo plot, we treat our visitors to everything they would wish to see at a small fee."
At the farm, nothing goes to waste.
Chicken droppings
The poultry droppings are used to reclaim soil fertility on the five-acre farm where she grows traditional vegetables, sukuma wiki, sweat potatoes, bananas and arrow roots.
Mwanzo plans to expand the poultry farm and be a major indigenous chicken and egg supplier in the county.