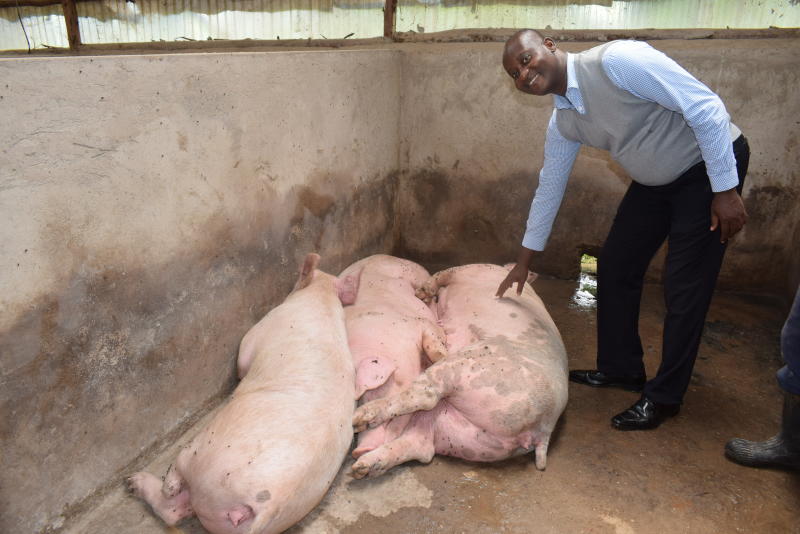 What do you do when you need extra income to run a project close to your heart? Simple. Think agribusiness.
ALSO READ: How to spot Newcastle disease in chicken
Mr John Baidoo and his wife Mercy, desired to run a charitable organisation but funds were not forthcoming.
"My wife and I were looking for extra source of income to run a charitable organisation that takes care of vulnerable children. We settled on pig farming because we are sure it would bring us returns in good time," says Baidoo.
The couple run a thriving pig farm in Imenti North, Meru County, where they rear 250 pigs and sell to Farmers Choice. They settled on pigs because of the high reproduction rates which translates to more income within a short while.
Baidoo says in a year each of the pigs reproduces twice and gives at least 24 piglets, meaning the farm gets 240 piglets in a year.
A truck from Farmers Choice collects the pigs when they have attained 80 kilos.
A team from Farmers Choice visit the farm to buy the pigs, at Sh147 per kilo of dead weight, with the farm making at least Sh750,000 on each visit.
"We have a contract, and they come to collect after every six months. There are other buyers who offer better prices but we want to stick to Farmers Choice, because we have a rapport and ready market with them. They collect up to 25 pigs on each visit," Baidoo reveals.
ALSO READ: Bulgaria to cull almost 200 rare pigs in African swine fever outbreak
With each animal using Sh10,000 for feeds to achieve the 80kg mark, to avoid making losses the couple secured a contract with a ready buyer before starting the venture.
Best practice
"These animals are heavy feeders, which is costly. We feed them on maize jam, sunflower seed, soya and other feeds from the market. We give the sows dry feeds, to minimise diseases," says Baidoo.
One thing that stands out from this farm is how they have adapted simple technology for efficiency on the farm.
To make their farm modern, the couple sunk a borehole at Sh2 million and fitted it with a solar system.
"We try to reduce greenhouse emissions. Everything we use in the farm is green energy," Baidoo says.
Water is critical for the growth of the animals.
ALSO READ: Lumpy skin disease in cattle
"The water from the borehole is pumped using solar energy which has a capacity to pump 30,000 litres daily. The pigs and the young-ones drink straight from small taps on the walls of their respective sties. This significantly reduces chances of contamination which happens when animals share a common container," Baidoo says.
They also invested in water drinkers because pigs are likely to pee and defecate in water sources, increasing the risk of contamination.
Another common best practise is that the moment a pig gives birth, the piglets teeth are clipped.
"A piglet has sharp teeth yet they tend to fight a lot. We clip the teeth to prevent them from biting off each others ears and tails," Baidoo says.
The males also are castrated at one month to stop the pungent smell they produce and reduce sexual aggression.
At three days, the young ones are injected with iron to avert iron deficiency.
"Pigs are born with little iron, so we give the piglets two ml of iron. It costs Sh450 to buy 100ml," the farmer explains.
To maintain high hygiene standards, the pig houses are cleaned twice a day. We take great steps to prevent African swine flu, which has potential to wipe out all the entire herd, because it spreads from one pig to the other very fast."
Biosafety measures
To keep diseases at bay, visitors have to step into disinfectant solution before entering the farm.
Overfeeding
The workers are also required to give right quantities of feeds to prevent stunted growth and obesity.
"Over-feeding causes obesity, especially in mothers. This affects their ability to move around," says Baidoo. Instead of artificial insemination, for reproduction they use two boars, to mate the sows when they are ready.
"We were using artificial insemination but we found it not suitable because we have to transport the semen from Nairobi and store it in ideal conditions, waiting for the sows to go on heat. It is easier to have the boars around, because they can serve the sows at the right time," he notes.
Each boar serves up to 10 females.
"We are planning to build our own feeds mill, to reduce costs," he says.