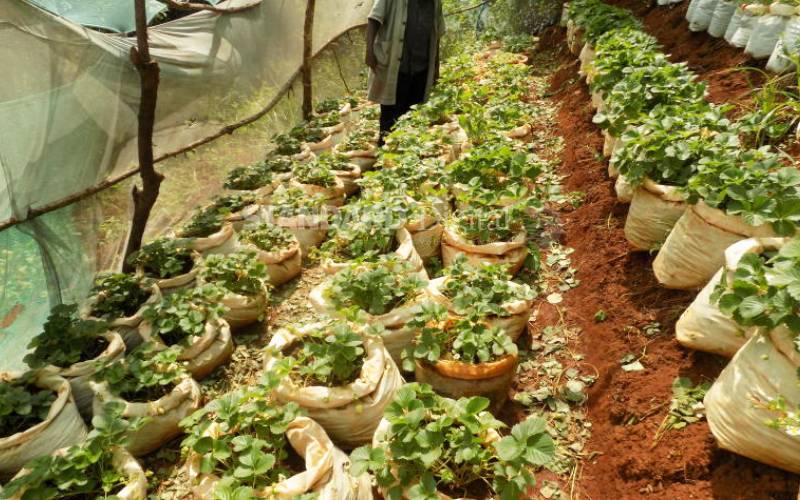 The Kenya National Farmers' Federation (Kenaff ) is promoting Brachiaria fodder among smallholder dairy farmers in Machakos and Kirinyaga counties.
Kenaff is in a consortium with the Kenya Agricultural and Livestock Organisation (KALRO) and the Biosciences Eastern and Central Africa (BecA—ILRI) funded by the European Union (EU) under the EU Horizon 2020 Programme.
Kenaff CEO Mwenda Mailutha said they are implementing a four year (2017—2021) project, Innovations in Technology, Institutional and Extension Approaches towards Sustainable Agriculture and Enhanced Food and Nutrition Security in Africa (InnovAfrica).
Dr Mailutha said by providing dairy farmers with better, highly nutritious and climate resilient fodder crop, the project is contributing to the Big Four Agenda.
Bracharia has been proven better than napier grass and is more digestible and with denser and deeper root systems.
It is also reducing release of methane, a greenhouse gas.
He said alternative animal feed, climate-friendly grasses and the use of fodder trees are among the examples providing farmers resilience and leading to benefits such as more productive livestock and new business opportunities.
Mailutha said as unpredictable weather and natural disasters hamper food security across the globe, innovation will be paramount for the world's food producers, from smallholder farmers to industrial operations.
He said some brachiara varieties can survive harsh conditions, such as drought and low fertile soils, while helping to reduce the environmental impacts of livestock production.
Citing a study done in October 2016, by the International Centre for Tropical Agriculture (CIAT) found that farmers in East Africa stood to produce 15–40 per cent more milk and generate tens of millions of dollars in additional revenue by using the drought-tolerant grass.