Not all heroes wear capes. Others, closer to home, are saving the world, one pet adoption at a time.
On May 27, 2017, the Nyingi family rehomed a rescued one-and-half-year-old Jack Russel-cross. King was found roaming around King's Kids Village and rescued by animal welfare organisation, TNR Trust Nairobi.
New leash on life
As your family gathers together for the holidays this season, do you have space for one more?
Every cage's occupant has the potential to be a best friend to someone, to change someone's life with his or her company, but the sheer number of rescue animals means the odds of a happy ending are devastatingly low.
"Most pets end up homeless through no fault of their own. Moving out and landlord issues are the top reasons many relinquish their pets. Other shocking reasons include 'barking' or the dog 'didn't stay the size of a puppy', or it's no longer has 'cute factor' it's bewildering," says Ian Kiringa, Welfare Officer at Kenya Society for the Protection and Care of Animals (KSPCA).
Every month, scores of dogs and cats are brought to KSPCA, protecting them from neglect and abuse. The society relies on the help of volunteers, voluntary fundraising and donations to carry out their important work, so your support is invaluable to them. Since its formation 100 years ago, it has grown and is well known for animal rescue and rehabilitation. With a focus on domestic animals, they currently home around 150 dogs, 90 cats as well as donkeys. In a good month, they rehome around 45 to 50 dogs and 20 cats.
Most of these pets belonged to a family. Some are brought in as strays or the owner surrenders. Some are rescued from abusive or neglectful situations as a case early this year where field officers rescued puppies left to die in a pit latrine. And others are picked up simply as missing pets. The bleakness of the situation is almost too much to bear.
The plight of the strays
Have you thought about adopting a new pet for Christmas? Animal welfare groups and animal lovers have for a long time fought against the idea, making the slogan 'A dog is for life, not just for Christmas' a global anthem, however, if done the right way, gifting a pet a new home this Christmas would be the ultimate gift to our furry friends.
"A pet is a big commitment of both time and money. And while people have more awareness, welfare-wise, adoptions in some cases are ruled out either due to lack of space or incompatibility. We are working on a campaign to mobilise the real estate community to put up more pet-friendly housing. It will go a long way in reducing the numbers at the shelter," adds Mr. Kiringa.
While awareness has gone up, these societies are fighting an even bigger fight with possible adoptees whose eyes are glazed with breed-based canine discrimination glasses.
"Adoption rate is low currently we have a lot of what people call kienyeji dogs, thus prospective pet owners are opting to find breeders with specific breeds. It is not wrong to want a pure breed pooch, however, do not rule out the local breeds. They're amazing dogs, and yet, they are the most neglected. We should never penalise animals because of their breed," remarks Kiringa.
The slogan 'adopt don't shop' advocates rescuing and never purchasing a pet. However, this negates focus from the cause, which in the end does more harm than good. Yes, puppy mills are awful and need to be shut down, however, the lines should not be blurred when breeders come into play. Dog breeders spend hours checking bloodlines in order to decrease genetic abnormalities in their lineage.
Pets adopted from shelters or rescue groups typically cost less than pets purchased or even acquired. In fact, it is quite the bargain once you add in the cost of vaccinations, spay/neuter surgery, dewormer and other extras included in the adoption fee, which for KSPCA and TNR Trust is SH8,000.
"Our mission is to enhance community health through a manageable healthy pet population by means of neutering/spaying and rabies campaigns, community education and enforced legal frameworks," says Amy Rapp, founder, TNR Trust.
Through their spay-neuter program, the TNR with support of Kenya Veterinary Board, Kenya Veterinary Association and Kenya Small and Companion Animal Veterinary Association, has facilitated the prevention of an estimated 100,000 dogs from being born over the next five years.
The Trust's mobile clinic, only one of its kind in Kenya has overseen over 5,000 vaccinations and 600 spay/neuters since March 2019.
Rabies kills about 2,000 lives in Kenya every year, according to the World Health Organisation (WHO) and the State agency Zootonic Disease Unit.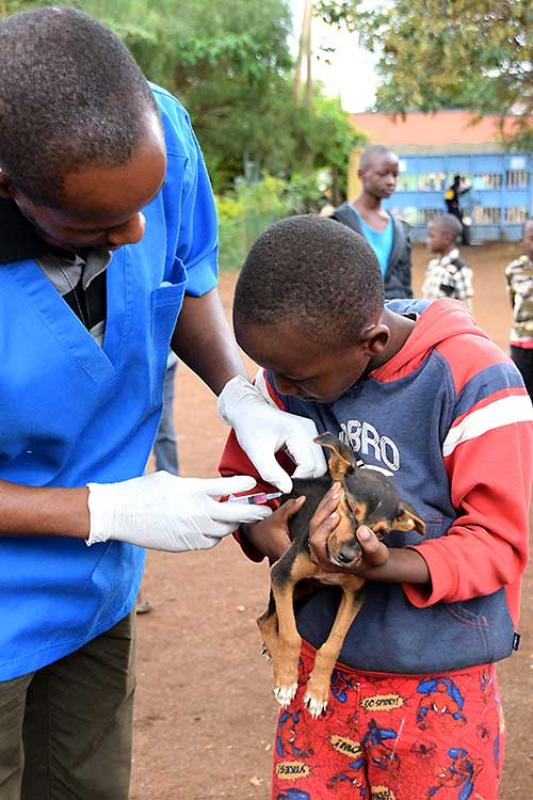 "Post-exposure treatment is not accessible to many and costs about Sh10,000," shares TNR vet, Desmond Tutu.
Of the 2,000 people who die of rabies, the majority are children. Thus the Trust conducts an education program focusing on six to 12-year-olds, teaching them about the need to visit a clinic if they are bitten by a dog or cat to ensure they get rabies vaccinations as soon as possible. They are also educated on the basics of caring for a pet.
The number of dogs and cats in Nairobi, whether owned or stray, is presently unknown. However, statistics show that a cat and its offspring can produce 30,000 cats in five years if none die. Dogs can produce 2,900 offspring in the same time numbers that lead to overwhelmed rescuers and facilities that can barely handle the numbers coming in.