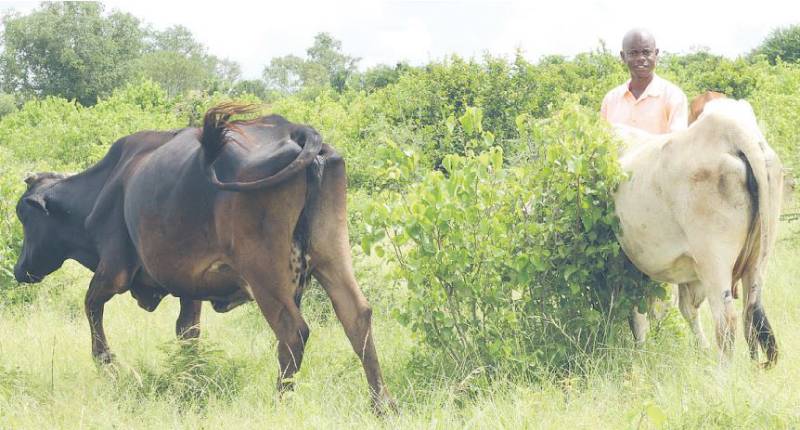 Safari ya Bamba ni machero (The journey to Bamba is tomorrow) is an old Giriama childhood song, sang when they gather in the evening as they wait for their mothers to cook.
Though innocently sang, it tells that if you want to travel to Bamba, you must be adequately prepared both psychologically and physically because going there is not a journey for the faint-hearted. It requires both stamina and determination.
Though times have changed since Author Mudogo Kemeli released it in 1989, not much has changed and dairy farmers in this small village in Kilifi County have their tales about the times, and more on Bamba Dairy farming, a local cooperative society that collects and markets milk from farmers in Kilifi County.
"Bamba Dairy was started in 1969 by our grandfathers, closed down in 2000 due to various challenges, we revived it in 2014, but no one believed we can do it. Disdainers could ask us if our fathers couldn't make it, how can we? explains Suleiman Ali Jefwa, the chairperson Bamba Dairy Cooperative Society.
The society currently with 30 active members and a total of 128 registered ones receive up to 200 liters of milk daily from local farmers. Out of the proceeds from this adventure, members have been able to save enough to buy a plot to build their own milk processing plant.
"We have been able to buy a plot where we will build a processing plant. Currently, we have rented a shop that acts as a collection and storage center. However, resources are not adequate since a local investor who used to buy our milk stopped. Farmers are demoralized but we have to continue because if we stop, farmers will have nowhere through which to market the milk. We have no option because poverty will kill us if we give up," Suleiman said.
Records seen by the Standard team indicate that Pwani Fresh Diaries owe these local farmers Sh1.83 million dating back in 2017.
"The fall of Pwani Fresh Dairies not only left us in debt but went down with our money totaling to 1.8 million. It was also our main market for our fresh milk. We lost both money and a market," laments Suleiman.
Desperate and in debt, the cooperative society members have been seeking support from local leaders to get justice for lost efforts. The county government had promised to help them in developing a plant on the plot they have purchased, however, construction materials deployed for the development have since been moved and the contractor abandoned the site.
However, all is not lost, the cooperative society members have vowed not to give up on their cause. They are now banking on improving local breeds and adopting modern farming methods to improve productivity.
In 2015, Joseph Kharisa Khamisi had 37 indigenous cows out of the 27 milk-producing ones, he could only manage to get 5 liters a day. Nevertheless, it's at this time when he joined the society. Unfortunately, devastating drought swept the area and cleared all his stock even after traveling to Malindi for feeds.
"The local zebus have little value in terms of milk production, from my 27, I only managed to 5 liters a day. When famine came and cleared all of them, I gave up," explained Khamisi.
Through the intervention of development partners by training and installation of a cooling plant at Bamba, Khamisi has changed his mind. Today, he owns only three cows from which he gets 20 liters daily.
Thanks to professional and financial interventions by a local microenterprise organization, the future now looks brighter.
"Micro Enterprises Support Programme Trust (MESPT) came to our aid, they trained us and facilitated us to bench making trips in addition to supporting our efforts at the cooperative society. Ever since, farmers have adopted cross breeds which have high production, and are adaptive to the local climate. From my three cows, I am guaranteed of 20 liters, which I take to Bamba daily," says Khamisi.
According to Ann Ngugi, the MESPT corporate and communication manager, the entire Coast region requires consultative efforts to uplift farming.
"We have intervened in three dairy cooperative societies, the challenges are the same, farmers need training and exposure to modern farming methods, they also need education on value addition on their produce, storage equipment facilitation to prolong shelf life, and market linkage so that they can sell the products, and that is what we are exactly doing around here," she explained.
"Through training and capacity building on good agricultural practices, group dynamics, food security and safety standards among other interventions, productivity is gradually improving in the entire Coast region," she noted.