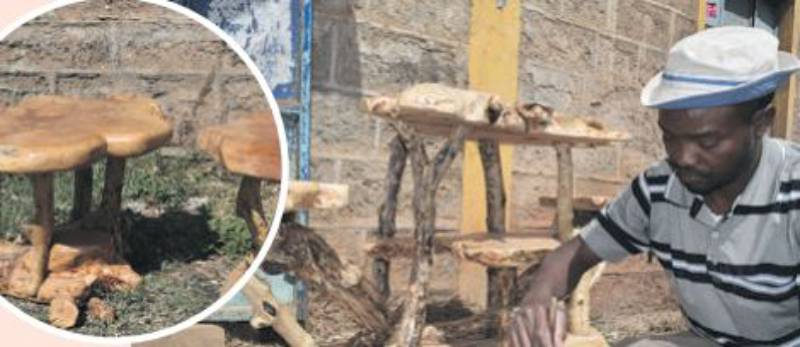 Are you wondering what to do with those tree stumps after you have harvested your forest to clear the ground for farming? Worry no more as Nyahururu man is willing to uproot them, and he does it for free.
The only condition that he will give you is that you allow him to leave with the tree stumps without seeking compensation or any kind of payment.
Some years ago, Nyahururu was hit by mushrooming of workshops making furniture which made it survival for the fittest in the business.
Only the ingenious survived the competition. One of them is 45-year-old Daniel Maina whose decision to come up with unique products saw him remain many steps ahead of the competition.
Today, he has seen his clientele grow. He has sold pieces to people who came from as far as Gilgil, Naivasha and Nairobi, as his "natural design furniture" products attract those who want their sitting rooms to look unique.
"My products are natural because I don't interfere with the natural shape of the wood when making furniture. This makes the products unique and attractive," he explained at his workshop located near the Mary Immaculate Catholic Cathedral in Nyahururu town.
He makes the usual home furniture like tables, stools, bed, and chairs but as much as possible retain the natural curves and rough shape of the wood.
Unlike carpentry that relies on wood harvested from forests, Maina goes for stumps left after trees are cut down in peoples' farms.
"I am normally invited by people who want tree stumps uprooted from their farms to pave way for cultivation. The stumps form the top surfaces of the tables, stools, chairs and other furniture like the TV set desks," he said.
The stumps and tree branch joints make his workshop look like a place where firewood is kept.
According to him, the cost of sourcing for the raw material for the natural designs is low compared to using sawed timber to make ordinary furniture.
Because of the good profit margin, he gets from the natural designs, Maina has fully dedicated his time to making unique products and only makes the ordinary furniture on order only.
He admits that had it not been for his venture into making the exceptional furniture, he would have been rendered irrelevant by the competition that came with the mushrooming of many businesses that made the same ordinary products.
"Some, me included, diversified to making coffins but that did not salvage many because the coffins also flooded the market," he said. He has built a big bed for a restaurant in the emerging hospitality hubs like Naivasha and Gilgil. He was in the process of completing two small coffee tables that were to be sent via courier service to a client in Nairobi.
With the increased demand for the unique furniture, as most big hotels opt for the products, Maina says he is prepared and can handle any big order.
He attended Kihuri primary and Kenyatta Mahiga secondary schools in Othaya, Nyeri County before learning joinery course at a village polytechnic in the same County. He says there is a difference between a carpenter and joinery.
He says the former is a person who makes wooden structures including houses while the latter specializes in making furniture like tables and beds that consist of connecting joints.
Maina is thankful that he left his village saying going out gave him the exposure that has enabled him to up his game in the competitive the business of furniture making.
"When I go back to the village and meet those we went to the polytechnic with, I feel I made the right decision to go out since it has given me exposure that has made me improve on my furniture making skills," the father of four said.