Ray of hope for Kariuki's sunflower oil production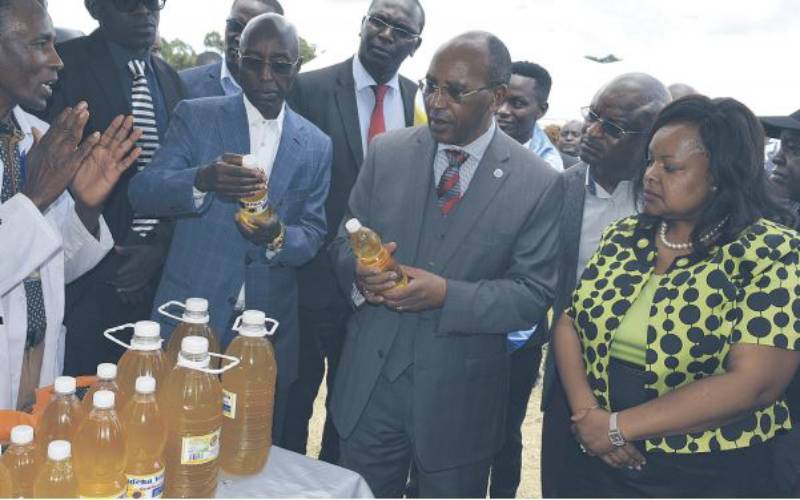 Gideon Kariuki narrates the journey he has travelled in his bid to have farmers in Nyandarua embrace sunflower farming. However, what strikes you most is his resolute will to keep going even when the odds appear stuck against his venture.
Some years ago, he blew away upward of Sh100,000 buying his neighbours seeds with the hope that they would grow Makoboki (sunflowers) to supply his oil-making cottage factory with much needed raw material.
In his mind, he thought the good price he offered them for their produce would inspire them to embrace sunflower farming as an alternative to maize and potato farming. He was wrong.
"They planted the crop from the free seeds I gave them. The crop did very well and I bought the produce at Sh35 per kilo. I hoped this will inspire them to plant sunflowers but unfortunately they expected that I would be giving then free seeds always," Kariuki said.
He decided that instead of spending his money to buy free seeds for the farmers, he better source sunflowers seeds from wherever for his small factory located in Gwa-Kung'u trading centre on the Nyeri-Nyahururu highway.
Today, he grows his own sunflowers on a three-acre piece of land and also sources the sunflower seeds from Western and Nyanza regions where he gets a kilo at Sh21.
Despite that, he still believes one-day sunflower farming will be a major activity in Nyandarua and his oil making business will grow into a regional giant known beyond Nyandarua, Laikipia and Nyeri counties.
"I still believe one-day people in Nyandarua will realise that sunflower farming is beneficial since it needs less attention than the potatoes. The prices don't fluctuate like those of potatoes," Kariuki said.
He takes every opportunity to sensitise people on the benefits of sunflower farming.
He says four kilos of sunflower seeds give one litre of oil which he sells at Sh320. He also gets seed cake which is used for fortifying animal feeds.
He also grows Canola and Chia plants and uses the seeds to make canola and chia oils.
He terms Nyandarua weather as the best to grow sunflower, canola and chia crops. He said Canola and Chia plants do very well in areas of the County with more rain and cold weather while sunflowers do well in the warmer parts.
Kariuki dreams for a day when each farmer in Nyandarua will plant sunflowers where he can take the seeds to the factory to either sell or have them processed into oil for home use.
"If a person brings the seeds to our factory, we can make oil for them at Sh10 for every kilo of seeds we press," he said urging people to shift to use sunflower oil which he said is free of additives.
Small beginning
Kariuki's small factory is located at GwaKung'u shopping centre. In a tiny and congested room is where you find Ndeka Agro Processors, which Kariuki hopes to turn into a huge factory one day. In the room are three machines that he uses to press cooking oil from sunflower seeds some of which comes from his three acres' piece of land nearby.
"I have been doing this for more than a decade now with a view of feeding Kenyans with pure natural oil, free from additives and chemicals," said Kariuki.
He says that he learnt the art from a company he was working for in Nairobi.
"After clearing my secondary school education, I joined a perfumes manufacturing company in Nairobi where I worked for some years. While working with the company I learnt the art of extracting oils from seeds," he says.
Kariuki resigned from formal employment in 2003 and returned home where he tried his hand in several businesses including a photo studio and dairy farming.
"I would also venture into dairy and vegetable farming as I ran the photo studio. But due to the proliferation of digital cameras and smartphones I closed the photo studio in 2010 and decided to venture into sunflowers farming," he recalls.
He later sold his three cows to enable him to purchase a secondhand seed pressing machines at a cost of Sh40,000 and set up a shop at the shopping centre where he began crushing sunflower seeds to extract oil.
He started by making between four and six litres of oil a day. The process that was partly manual was labour intensive, slow and was disadvantaged for commercial production.
Six years ago he secured a Sh450,000 bank loan which enabled him to buy better machines that increased his production from six litres per day to 60 litres per hour.
The clean and dry sunflower seeds are put into a high power-driven electronic grinder. The machine grinds and presses the seeds, separating the crude oil from seed cake.
The crude oil, usually black in colour, is then put in a pressure machine that purifies it into a golden smooth-flowing liquid that is ready for packaging and use.
"The Kenya Bureau of Standards has given me a mark of quality and it regularly inspects my product for quality. The oil has a shelf-life of one year," says Kariuki.
He sells his oil in Nyandarua, Laikipia and Nyeri counties but in future, he hopes to extend networks to other counties.
Want to get latest farming tips and videos?
Join Us