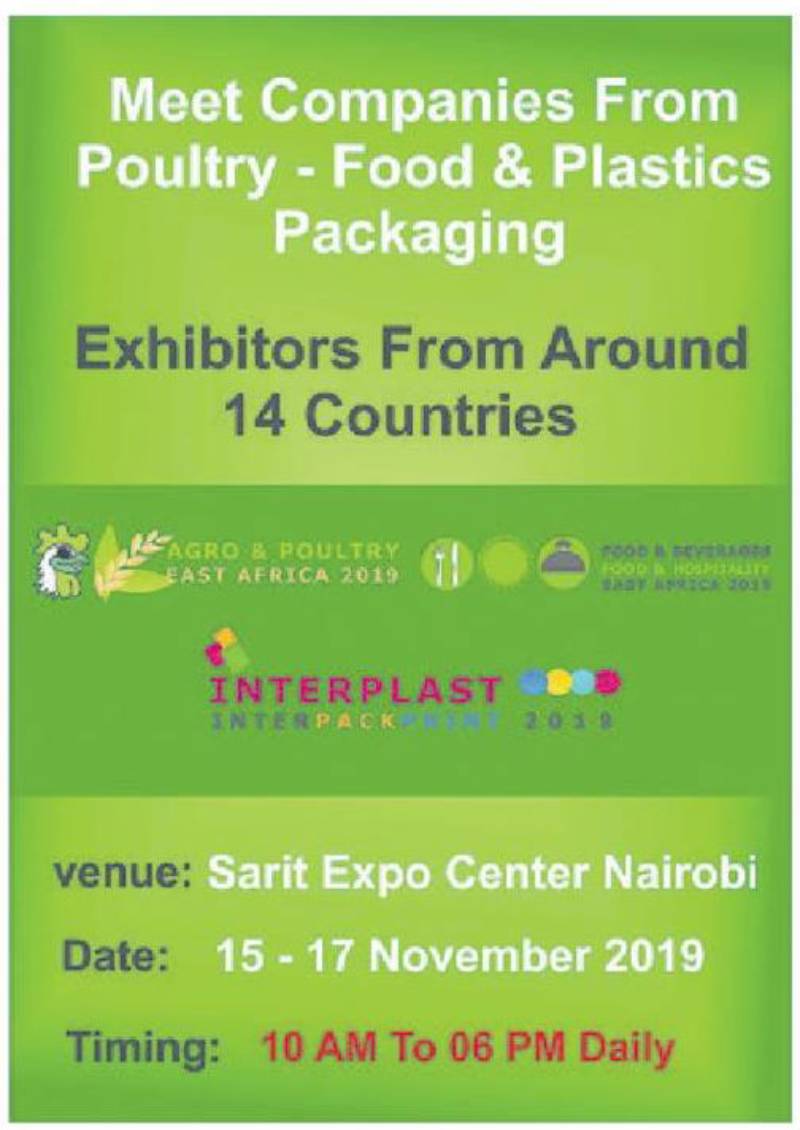 Kenyan farmers have the opportunity to learn and interact with their international counterparts, experts, suppliers, and manufacturers during the East Africa Agro and Poultry, International Trade Show on Agriculture, Farming, Poultry and Equipment taking place in Nairobi.
The exhibition, dubbed Food pack starts today at the Sarit Expo Centre and ends on Sunday.
Organised under the theme "Connecting farmers to Poultry Food agriculture, poultry, and veterinary expo is organized by export-oriented international exhibitors MXM exhibitions which operates in the Middle East and Africa.
Speaking to the Standard, the firm's consultant Mohammed Mudasir said the event has attracted sixteen exhibitors from all over the world.
"The event has exhibitors from around 14 countries including Bangladesh, Czech Republic, Egypt, Hong Kong, Kenya, Oman, Poland, Pakistan, Russia and Spain and Saudi Arabia Agro. It is the best and unique opportunity for farmers to learn and share experiences," explained Mudasir.
The expo gives producers and manufacturers an opportunity to present their products, services and innovative technologies in the East African market.
The public will benefit from valuable information on the topics of livestock, poultry, disease control, animal health, animal feed and much more. Experts will also give valuable tips for improving the quality and productivity of farms and views on future challenges.
Highly regarded brands like Lacostena, Agromonte, Arrow Juices & Bottling, B.A.R.D, Intermag, Jokey, Howel Sham, Pak Petrochemicals, JSC Factory for Medicines, Oman Flour Mills, TAN NHAT among others, are some of the brands which have pitched camp at the three-day event.
MXM exhibitions have challenged local farmers and importers to take advantage of the exhibition on international packaging standards that can help them boost productivity.
"The food and beverage industry in Kenya and East Africa region at large has grown over the years but what they now require is to understand the international standards when it comes to the packaging of processed food and fresh products that are meant for export. The East Africa Agro & Poultry International Trade is an ideal opportunity to learn from the best in the market," he explained.
According to the World Food Organization (FAO) report of 2017, Kenya has an estimated poultry population of 31 million birds. Of these, 75 percent consists of indigenous chicken, 22 percent of broilers and layers and one percent of breeding stock.