How contract farming is slowly taking a new shape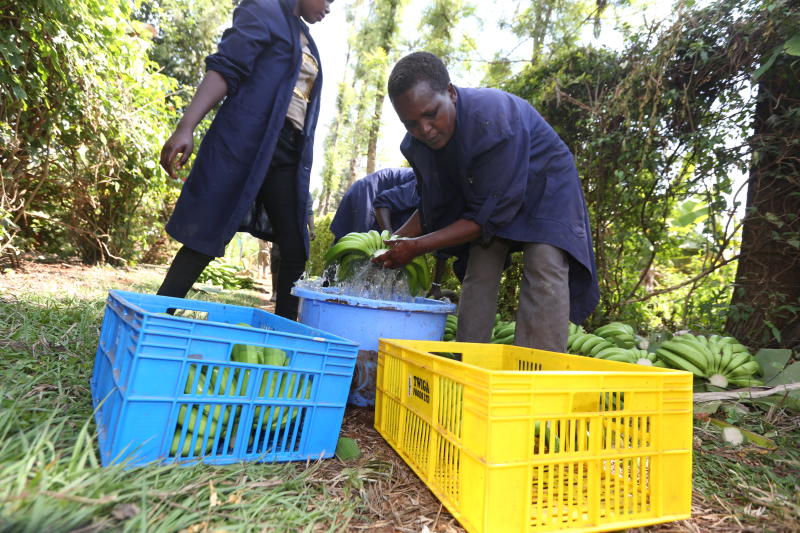 Farmers specialising in fruits and vegetables have for the past two weeks been applying for a call to supply their produce to Twiga Foods, a retail company linking farmers and vendors to markets.
The exercise that ended yesterday on the retail company's website was open for farmers who proved they had capacity to trade more than 10 tonnes of a particular type of fruit and vegetables weekly. Applicants were also required to have access to a smartphone and internet connectivity.
"Twiga Foods is growing and here is your opportunity to join us in our mission! If you or anyone meet the following criteria, please send an email to [email protected] by 8 November 2019," read the advert that listed the criteria for application on the company's Facebook page.
The application was also open to vendors interested in picking produce from the company's collection points spread across the country.
To some farmers, however, the deal sounded too good to be true.
"Hii haitaki uamuzi wa haraka!! (This (opportunity) needs one to take their time before they decide)" wrote Mary Akumu, commenting on the advert shared widely in different farming platforms.
"You are right Mary," responded Pharell Wachira. "Most people are only thinking of the money but don't think of the repercussions."
Positive feedback
But those who had traded with Twiga Foods before were quick to give their positive feedback.
"I would recommend them (Twiga Foods) for bananas if you are willing to sell them at the farm. They are better than brokers and buy bananas per kilo unlike others who will insist on per piece. Bananas farmers in my home area are very happy," said Alice Makena.
Twiga Foods entrance in the agricultural supply chain some four years ago has transformed farmers' access to markets and availability of farm produce on the market. The company buys produce from a network of farmers and delivers it to thousands of informal vendors.
The model of business Twiga is using, ushers in new approaches to contract farming.
Unlike traditional contract farming charactersed by signed contracts, agreements between farmers and the Twiga Foods is neither formal nor legally binding.
"What Twiga does isn't what I would call a full legal contract. In my case, I just gave my phone number and ID and I was issued with membership number after registration," says Robert Mwangi who explained his experience with Twiga Foods.
He added: "Say it is bananas you are growing. You just call them when they are mature. After cutting and weighing, you receive a confirmation message. Next day you receive your payment."
Dr Robert Mbeche, a Social Economist specialising in Agriculture, Environment and Development at Jomo Kenyatta University of Agriculture and Technology (JKUAT) says Twiga Foods has cut a niche for itself in tackling distribution challenges.
"What Twiga Foods has come up with is a distribution innovation to address challenges of market accessibility and availability. The biggest challenge that has for long existed in the agricultural value chain isn't availability but accessibility," says Dr Mbeche.
He adds: "Sometimes we face a shortage of mangoes in Nairobi when the fruits are off-season in Ukambani yet available in Kilifi. The challenge is usually making the mangoes in Kilifi available to people in Nairobi. This is the challenge that the company has come up to address in a way that will satisfy farmers as well as consumers of agricultural produce."
It is a new idea in contract farming, according to the JKUAT economist.
In other innovative ways of contract farming, more buyers are opting to deal with a single farmer unlike traditional contract farming where one buyer goes to the ground to look for many farmers of a particular product. Here, a farmer with a large piece of land, farming equipment and expertise is approached by buyers who request that the famer grows a particular crop for them.
"In this reversed way of agreements, the farmer benefits by eliminating players along the supply chain. The farmer also has more people to sell to incase one buyer opts out of the agreement," says Dr Mbeche.
He observes that real estate companies are also incorporating contract farming in the packages they sell to land buyers.
"Companies that used to solely sell land before are now also offering packages for agribusiness. After buying your parcel of land, they may ask you to pay Sh400,000 or so to have a greenhouse and an irrigation system mounted at your farm as you wait to settle on it," says Dr Mbeche.
Mbeche has seen real estate companies headhunt for graduates at the university to manage agribusiness activities on sold-out land.
As the economy grows, the JKUAT economist foresees an increase in the number of people with high disposable income and consciousness about quality and health who will demand food products of certain specifications.
How to spot a con
Even with the novelties, contract farming can still be a nightmare both to contracting firms and farmers. Tales of farmers left in the cold after a contract went sour, have been all over social media, making this type of farming one of the biggest scams that some farmers have had to deal with.
Choosing to be loyal to a contract also means losing linkages with former buyers.
Contracting firms, on the other hand, mainly have to deal with unreliable farmers who sometimes don't deliver their end of the bargain. Some farmers, Mbeche says, sell to other buyers not in the contract.
"This breach of contract is the biggest challenge facing the avocado export market in Kenya at the moment. Local export markets dealing in avocados have been complaining that they go to harvest avocados only to find the farmers have already sold to middlemen," says Mbeche.
It is the same challenge that a leading dairy producer faced in Murang'a County.
"We all know of a dairy firm that contracted dairy farmers in Murang'a to be supplying milk at Sh45 a litre. The farmers instead went ahead to sell their milk to local manufacturers willing to pay them Sh50 a litre," he says.
The JKUAT economist says contracting firms are equally not immune to challenges facing the industry.
"Some contracting firms, especially smaller export firms only deal with agents in countries where they operate. Sometimes, these agents in Europe, the Middle East and other importing countries shortchange them. Other times, they just fail to secure buyers even after the agreement has been signed. They in turn pass their losses to contracted farmers," he says.
Additionally, contracting firms bear the risks of fluctuating market prices, says Benson Maina who works at Jaick Agricultural Farming that does strawberries contract farming.
"We sign contracts with farmers depending on the current market prices. Whether these prices rise or fall on the market, it is only the price in the contract that holds," he says.
He adds: "What we have in our contract at the moment is Sh330 per kilo of strawberries. It is possible that the price may fall to Sh250 by the time farmers are harvesting in February next year. The farmers will however require us to honour the Sh330 agreement."
Maina urges contracting firms to establish trust with their farmers to be able to negotiate with them changes in the contract concerning fluctuating market prices.
Want to get latest farming tips and videos?
Join Us