Sour episode turned into sweet honey making affair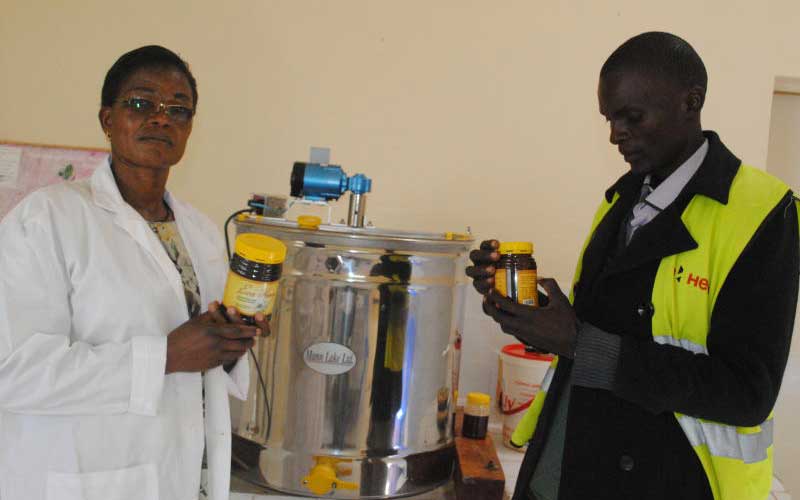 When you visit Agrippina Khakabo's bee-keeping farm on the outskirts of Kakamega forest, you will notice that she has stored litres of honey in white buckets.
The mother of two decided to do that after experts from International Centre of Insect Physiology and Ecology (Icipe) warned that there will be a shortage of the same in the coming months because of a drop in production.
"I thought it wise to keep large stock so as to cushion myself from the likely honey scarcity. Icipe had earlier warned of severe cold originating from South Africa that would affect honey production in Western, Eastern and Coast regions," says Khakabo.
Khakabo has set up a thriving bee keeping enterprise and sells honey under the brand Eco Honey, to locals and individuals from neigbouring counties.
To keep abreast with trends, she has invested in electrical and manual honey extracting machines. The beekeeper developed passion in bee farming after her father's bees attacked people in 2006.
Protective gear
"I was stung several times and left with a swollen face and legs. I was so annoyed I decided to research more on bees to avoid such incidences in future," she says.
Lucky for her, location was ideal and this helped jump start the venture.
"Knowing that this area (Kakamega forest) is good for bee-keeping, I decided to invest in the same so that we I can do proper bee-keeping without causing accidents," she says.
Along her journey, she was selected for training by Icipe in apiculture and sericulture. Beneficiaries were facilitated with honey-processing machines and bee hives to start them off.
The farmer's determination has started paying dividends. In a good week, Khakabo takes home at least Sh150, 000.
"Sometimes, I open the shop late and find people waiting to buy my honey. I have many clients because my honey is pure," Khakabo says.
She sells 500 grammes of stingless bee honey at Sh1,000 and similar quantity of honey bee at Sh500. The former is expensive because it has high medicinal value compared to the latter, she points out.
Consumers also buy it to treat other health related complications including constipation, ulcers, skin diseases and erectile dysfunction according to Khakabo.
The business has enabled her to pay her two children school fees right from primary school to college, besides, she is able to fend for her family with easy.
Paying it forward
To ensure sustainable supply of honey, Khakabo has trained farmers in Malava sub-county, Shinyalu, Navakholo, Lurambi and Ikolomani on best practice.
"Usually, I go around inspecting what the farmers are doing and help them harvest the honey before I buy it from them at a modest fee," she says.
Quality honey is everything.
Khakabo uses a portable refractometer to detect the level of water in the honey.
"Anything beyond 21 per cent means the honey quality has been compromised. All bees produce quality honey until it lands in the hands of unscrupulous individuals who put additives."
Experts says all bee species produce natural honey be it honey bee or the stingless bees but the quality could vary depending on the climatic conditions and general handling of the commodity.
Patrick Wandera, a bee and food expert working at the county government of Kakamega says farmers must observe certain measures for quality honey.
First, they need to conduct the harvesting when there are no rains and when the relative humidity is low to reduce the possibility of getting honey that has increased moisture. Wandera says farmers must use recommended equipment such as a smoker to disperse the bees as opposed to chemicals which could contaminate the honey.
Hygiene matters
Hygiene must be observed during harvesting and transportation of honey. Wandera advises farmers to use clean containers and one that cannot destroy the honeycombs.
He says the methods used for extracting, processing and storing honey determine the quality of end product. During extraction, small scale bee-keepers are expected to use a strainer while those handing large volumes of honey will use electric extractors.
"A bee-keeper will cut the honeycombs and strain them to squeeze out honey and that calls for proper hygiene but where the extractor is used, this are faster and easy," Wandera says.
Want to get latest farming tips and videos?
Join Us