There is treasure in farming quarry land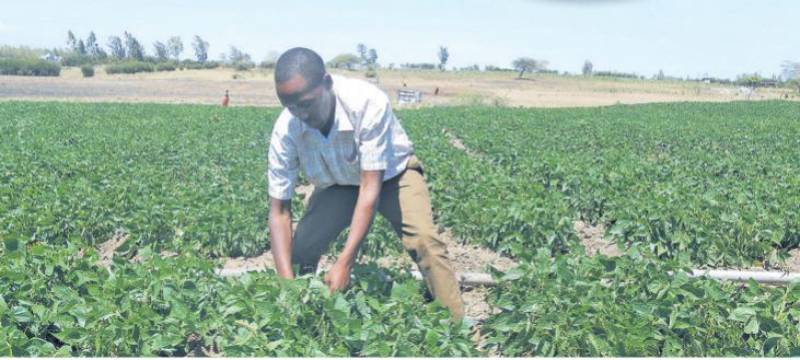 Sitting on twelve acres are tomatoes, French beans and as well as chilies. At Joska, Machakos County, Samson Ng'ang'a also grows cabbages and leek onions.
The area is largely dominated by quarry activities, but for Samson, venturing into horticultural farming in a semi-arid region is a golden treasure.
If you happen to visit the area, you would not miss seeing lorries ferrying sand and other building materials harvested. Samson is among the few pace-setters determined to transform the region, to be that of farming.
Initially, he was working at a telecommunication company and says that he does not regret quitting it for farming. The journey took off­ in 2010, through a friend who inspired him.
"He earned a lot, and we decided to partner to cultivate courgette in a two-acre piece of land," he says. Each contributed an initial capital of Sh25,000.
Courgetti also known as zucchini, matures in about 60 days' time and Samson says they got Sh140, 000 in return excluding expenses, which they shared equally. "I leased some two acres, grew tomatoes and chilies," notes the farmer.
He gradually advanced by introducing French beans, cabbages and leek onions, to the current twelve acres. Leasing an acre goes for Sh20,000 per year.
However, he has subdivided his land into pieces of two acres to accommodate each crop.
Samson says French beans, tomatoes and cabbages are his major cash crops. He cultivates French beans on contracts with foreign companies.
According to the farmer, French beans earns him pretty good cash, as an acre yields over 7, 000 kilos with each going for Sh45. French beans mature in 45 days' time after sowing.
As the crop is rich in nitrogen, categorized in legumes family, Samson uses it to practice crop rotation in portions grown tomatoes, cabbages, chilies and leek onions.
His main source of water is Athi River, the second-longest river in Kenya, and with the ongoing release of chemicals and sewage effluents from companies and institutions upstream threatens to shutter his efforts. Nairobi and Machakos counties have been closing down factories polluting the river, a move that the farmer applauds.
"The dirty water comes with diseases which a­ffect crops. I am now forced to rely on borehole water, which I fetch from far," he explains. He has a tractor which helps him in ferrying.
Samson is also a dairy and sheep farmer. He has drastically reduced the cost of buying manure, as he relies on his cattle.
Want to get latest farming tips and videos?
Join Us