Rivatex revival: What's in store for cotton farmers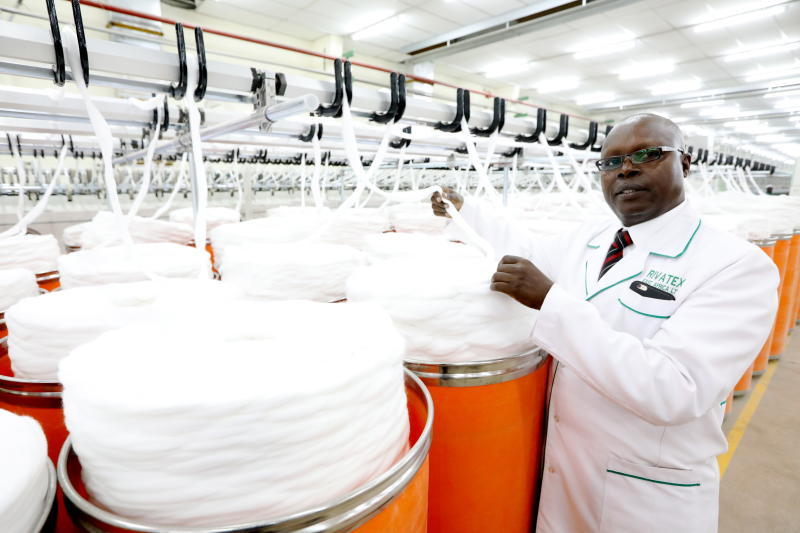 Eldoret-based textile manufacturer Rift Valley Textiles (Rivatex) has undergone a major facelift. The Managing Director (MD) Prof Thomas Kipkurgat speaks on new opportunities for local cotton farmers and other investors.
1.Rift Valley Textile Factory (Rivatex) was established in 1976 but collapsed in the 1990s due to mismanagement and corruption. Now that it has roared back to life, what strides and achievements has it made?
Yes, it has been a long journey for us. Before acquisition of Rivatex by Moi University in 2007, machinery at the factory was dilapidated and obsolete facilities.
The traditional ring spinning technology had low productivity and longer production chain.But things are now looking up.
With government support, modernisation of the factory which has seen installation of state-of-the-art machinery, we have seen positive change and an increase in turnover.
Fabric production of diversified market range has increased in production from 4,000 metres daily to 40,000.
2. Cotton is the main agricultural raw product for the you, but the bulk of your raw material is still sourced from outside the country. What strategies are in place to change this and support local cotton farmers?
Yes this is a real concern and we are working to change that. As it is, with new machinery, an average capacity of 100 bales of cotton can now be processed daily up from the previous eight to 10 bales.
It translates to an annual requirement of 60,000 yet the country currently produces a paltry 18,680 bales per year, prompting us to import from Uganda and Tanzania at high costs.
The good news is that a memorandum of understanding has been signed between the company and eight counties to see how we can support local farmers. We have programmes in place to sensitise farmers on new opportunities in cotton farming. We also have seed and fertiliser distribution programmes.
3.For those interested in commercial cotton farming, what do they need to know?
Cotton grows well in arid and semi-arid areas. It thrives in Elgeyo Marakwet, Baringo, West Pokot in North Rift and also Kwale, Lamu, Tana River, Kitui, Makueni, Meru, Isiolo, entire Western and Nyanza regions among others. It thrives well at altitudes not exceeding 1,500 metres above sea level with its season taking six months.
Harvesting can start from the fourth month. A farmer can harvest over 600 kilos per acre with a kilo costing over Sh46.
We have partnered with key players to ensure farmers in producing counties get the right pesticides for their crops.
4. What is the current operation capacity after President Uhuru Kenyatta commissioned the Sh3 billion modernisation PROJECT?
Yes with the help of the State, Rivatex factory has expanded its spinning department and modernised all production sections with the state-of-the-art machinery to maximise on production. Thanks to Government support, we have upped from the initial 500 spindles to 16,800 for yarn production, increasing daily production of quality textiles from the previous 4,000 meters of cloth to 40,000 meters.
5. With the need for more raw products, are there programmes to support farmers on cotton cultivation?
Yes there are. As Rivatex, we are guaranteeing local cotton farmers a ready market at competitive price.
One of the flagship projects envisaged in Vision 2030 is development of ASAL regions through cotton farming as a priority enterprise.
It is a potential source of employment, income generation and food security. Rivatex is working closely with government and other stakeholders to promote cotton growing through field days, farm and factory visits.
We are reviving cotton seed production and ginning so that textile factories can access consistent supply of quality cotton lint.
7. As a State corporation, what is the contribution of Rivatex to the national economy under the Big Four Agenda?
Vision 2030 blueprint considers the textile sector as a major employer of the youth and women.
Our firm adds value to cotton which is a great boost in manufacturing sector under the Big Four Agenda.
From cultivation to fabric manufacturing, cotton is labour intensive, an ideal opportunity for job creation. In the textile industry, SMEs run the garments sector and are also strongly represented in knitting.
8. Moi University, the mother institution of Rivatex through an innovation by former Vice Chancellor Professor Richard Mibey made a discovery of TAMI Dye, which is effective for the colouration of fabrics to address high costs of imported dyes. Are you planning on mass production?
Rivatex has offered an opportunity to numerous researchers to conduct extensive and practical research thus leading to the innovation of Tami-dye from Merigold (Tagetes Minutas).
Successful innovation has led to the production of natural dyes. The dye has significantly reduced our cost of production by reducing importation of dyes.
9. President Uhuru Kenyatta made proposals to public and private institutions to consider having a Friday dress code with locally manufactured products. What's your plan with regard to this?
The pronouncements by President Uhuru has opened numerous doors for most institutions and individuals to appreciate and don locally made apparels.
Already, we have started supplying fabrics to public and private institutions and we are confident that we are best placed to meet any growing demand.
We have the capacity to produce volumes and evidence of this is police uniforms which we were tasked to produce in bulk. It is worth noting that President Uhuru and other leaders have picked the queue and are putting on shirts made from Rivatex on Fridays.
10. What partnerships have you undertaken to push the company's agenda?
We have partnered with various county governments to see how to make a difference in the cotton sub sector.
We are also working closely with North Rift Economic Bloc to boost cotton production and to source for raw materials for Rivatex.
Some of the interventions we are looking at include bulk purchases and distribution of farm inputs, deployment of extension officers to cotton producing areas and allocation of demonstration plots.
Our intention is to support cotton farmers in ploughing, reviving collapsed irrigation schemes, provision of irrigation equipment and supporting creation of cooperative societies that can give credit to farmers.
We are also working with Kenya Plant and Health Inspectorate Services and Kenya Agricultural and Livestock Research Organisations and the Kenya Bureau of Standards for certification of cotton seed for mass multiplication and distribution to farmers.
Want to get latest farming tips and videos?
Join Us