Coffee payment plan comes to a standstill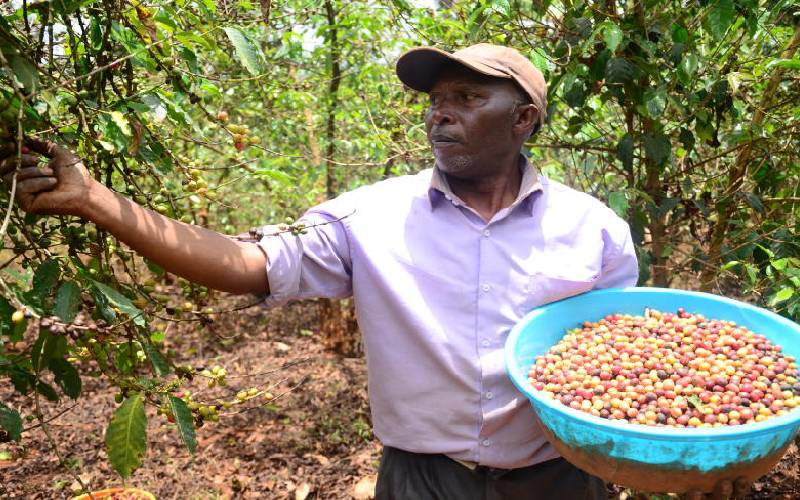 A three billion shillings pilot project for quicker coffee payments has run into headwinds after millers insisted that farmers must pay interest for amounts advanced to them.
More than 80,000 coffee farmers in the county had been invited to join the pilot phase of the program launched at Nkubu in May 2018 dubbed Cherry Advance Scheme.
The scheme was modeled on the Ethiopian practice where farmers are paid for coffee delivered to their factories at the end of every month.
Under the scheme, farmers were paid an advance of Sh20 per kilogram for deliveries made by the tenth day of the subsequent month while their factories received three shillings per kilogram of cherry received within the month to run their operations.
The program was seen as key in reversing dwindling production and attracted 70 coffee factories spread across 35 cooperative societies as well as 60 large scale farmers.
Interest payments
But a number of co-operative society leaders now say they are pulling out of the scheme after Meru County Coffee Millers Union shifted the burden of interest payments to farmers.
"The millers informed us that societies would begin to pay interest for the advances drawn from the Co-operative Bank of Kenya this year which we found it untenable," said Genson Mbaabu, the chairman of Gikongoro Coffee Farmers Co-operative Society in South Imenti.
According to Mbaabu, the model was well-intended but came with a cost burden on societies with officials spending a lot of time following up on payments.
But Meru Coffee Millers Union general manager, Duncan Marete defended the plan to pass on interest for the advance payments to farmers, saying at five percent per annum, it was lower than normal bank rates.
"This interest is only charged on the exposure period and comparative rates outside the scheme are as high as 14 percent," said Marete
Want to get latest farming tips and videos?
Join Us