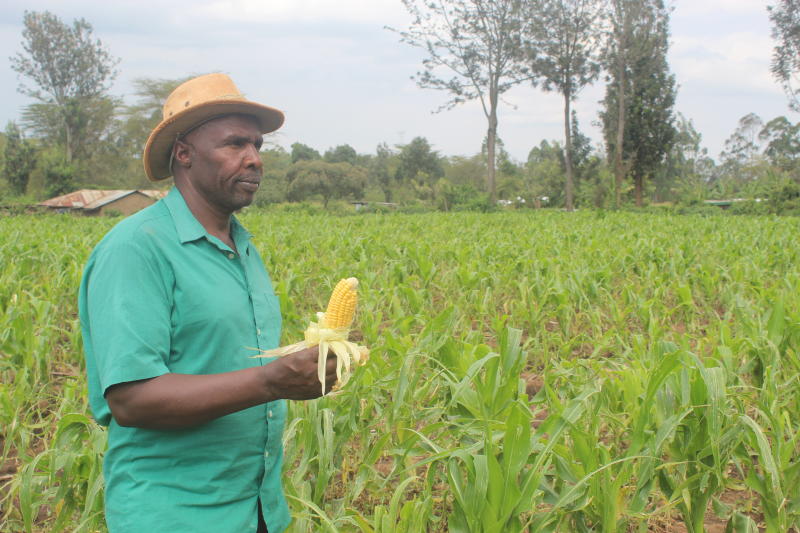 Agriculture has over the years remained the backbone of Kenya's economy earning the country billions of shillings in taxes and foreign exchange.
Middlemen and brokers who have easier access to local and international markets have however remained a major challenge to farmers growing any marketable crop as they are mercilessly fleeced of their hard-earned income.
Contract farming, however, has proved a successful way of eliminating this among other challenges, a case in point being a section of farmers contracted by Njoro Canners for the supply of different agricultural produce.
Among the contracted farmers is Bernard Maina from Lare village in Njoro who specialises in sweet corn and cabbage farming on contract with the company.
"I have been engaging in contract farming with Njoro Canners for the two decades. This has greatly assisted me and other farmers to beat market forces that make agriculture economically unviable," said Maina.
For his sweet corn farm, Maina starts by obtaining quality seeds from the company at the beginning of every season to ensure maximum returns and a ready market for his produce.
"The company sources for quality seeds on behalf of farmers. A kilo of sweet corn seeds retails at Sh7,000. For my 2.75 acres, I plant 12 kilos. It is a costly venture but with guaranteed returns if weather permits," said Maina. Unlike the common varieties which take up to one year to mature, under average weather conditions, sweet corn is usually ready for harvest within 75 days.
"Before planting I harrow the farm after which I dig shallow holes. The seeds should not be buried over two inches deep. For every acre, I apply 75 kilos of fertiliser. With this done, I am assured of 90 per cent germination," he said.
Five days after planting, Maina gets back to the farm and sprays herbicides to kill weeds which when allowed to grow leads to an increase in labour costs.
The seeds germinate within eight days and a month later Maina does top dressing with the conventional fertiliser or sprays foliar fertiliser.
"Within one and a half months the crop starts to flower. During this time one has to scout for pests and diseases. The company provides field officers who assist us in early detection and response," he said.
When the crop matures, the farmer has to be vigilant as the variety attracts animals more due to its taste and maturity ahead of other crops.
"Dogs love this variety and they eat it raw. Once they know it has matured they can cause serious destruction. It matures ahead of other crops thus becomes a target by other animals and birds," he said.
The variety is highly perishable as it is only harvested while green. When the grains lose water, the produce can only be fed to animals as fodder, a reason why many farmers shy away from engaging in its production.
"The maize is harvested green and cannot be stored. They cannot stay on the farm beyond three months. It is at this point where the contract comes in handy to avoid post-harvest losses," said Maina. "Depending on how well one has taken care of the crop, the harvest can be seven to eight tonnes per acre. This year the weather wasn't favourable but I harvested 30 tonnes which I sold at Sh27 per kilo," he added.
On his other two-acre farm, Maina had been contracted to grow cabbages.
"I normally harvest 40 tonnes per harvest which I do once a year. I sell the produce to the same company at Sh7 per kilo. The contract cushions me against the losses made by other farmers," he said.
At the Njoro factory, the sweet corn is cooked under high temperatures and mixed with beans before it is canned.
For the cabbages, the company shreds and mixes them with other vegetables after which the mixture is dried or frozen to allow for proper storage and canning.
"We have engaged nearly 3,000 farmers on contract to supply us with sweet corn, peas, cabbages, potatoes, tomatoes, chili pepper, carrots among others. We add value to the products and market them as canned food," said the company's General Manager Karan Grover.
On contract farming, Karan pointed out that this not only benefits farmers but the company too.
"Having an agreement with the farmers assures us of supply for the various crops. It also allows us to get the best quality products as we provide them with the right seeds and field officers for routine inspection on the farms," said Karan.
To ensure brokers do not infiltrate their chain, the company keeps close contact with the farmers.
"In most cases, 20 per cent of the farmers breach the contract. We contract more farmers to compensate for such losses. We however don't pursue the matter beyond their words since they will have paid for the inputs," he added.
The company is coming up with a new programme where farmers who have not been contracted will have their products added value for proper storage and sale at a later date.
"We intend to start processing different crops on behalf of farmers at a fee. This shall mainly be for crops that can be frozen or converted into powder for later use. The farmer can then look for a market with the produce safe from going bad," said Karan.