Dogs, cats vaccinated to reduce rabies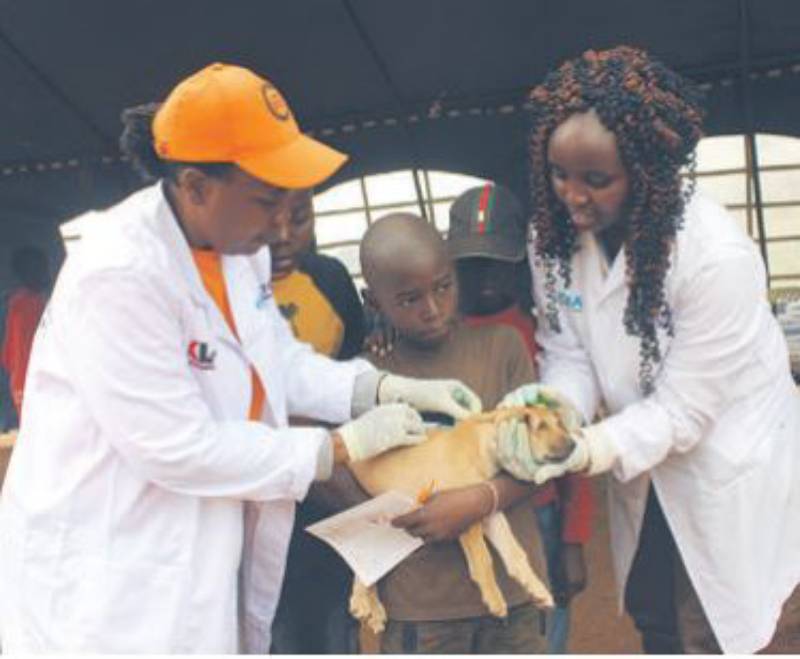 After playing with his friends James Otieno was bitten by a dog on his way home, early last year. And since the dog had no known owner, his parents resolved to pay for his treatment at Mbagathi Hospital.
"We know dog bites are dangerous and decided to take him for treatment since we didn't know the owner of the dog," says Alfred Onyango who lives in Makina area of Kibra Sub County.
Otieno, a class five pupil is one of many victims of dog bites in the slum area.
Isaiah Oyoo, Public Health Officer, Kibra Sub-County says almost every day there is a reported dog bite, posing danger to residents with the spread of deadly rabies disease.
"In the first two weeks in June, we recorded 56 dog bites in various facilities. It is a bigger problem, he begins, adding the number excludes many unreported cases," said Oyoo.
The officer reveals the area has many dogs both owned and roaming, especially on dumpsites.
It is for these reasons that World Animal Protection (WAP), jointly with TNR Trust and Kenya, Kenya Society for the Protection & Care of Animals (KSPCA) and Nairobi County organized for a free vaccination and sterilization campaign to prevent rabies in the area.
Rabies is one of the neglected tropical diseases that predominantly affect poor and vulnerable populations who live in remote rural locations.
Statistics from the Ministry of Health and Ministry of Agriculture, Livestock, and Fisheries show 2,000 people die in Kenya every year due to rabies. And, over 40 percent of those are children below 15 years. Yet, rabies can be prevented through vaccination.
According to the World Health Organisation (WHO), rabies is an infectious viral disease that is almost always fatal following the onset of clinical symptoms.
The organisation says dogs are the main source of human rabies deaths, contributing up to 99 percent of all rabies transmissions to humans, which usually spread to people through bites or scratches.
"Vaccinating of dogs is the most cost-effective way of preventing rabies in people," explains Dr. Emily Mudoga, Animal in Community Campaign Manager at WAP.
In her survey, 'Exploring attitudes and behavior of community towards roaming dogs in Nairobi September 2018' Dr. Mudoga says the main problem is the knowledge gap.
It says many are unsure about how to care for dogs, the importance of sterilization and vaccination and how to deal with dog attacks, he assured.
Want to get latest farming tips and videos?
Join Us