Handmade hand tools help farmers cut costs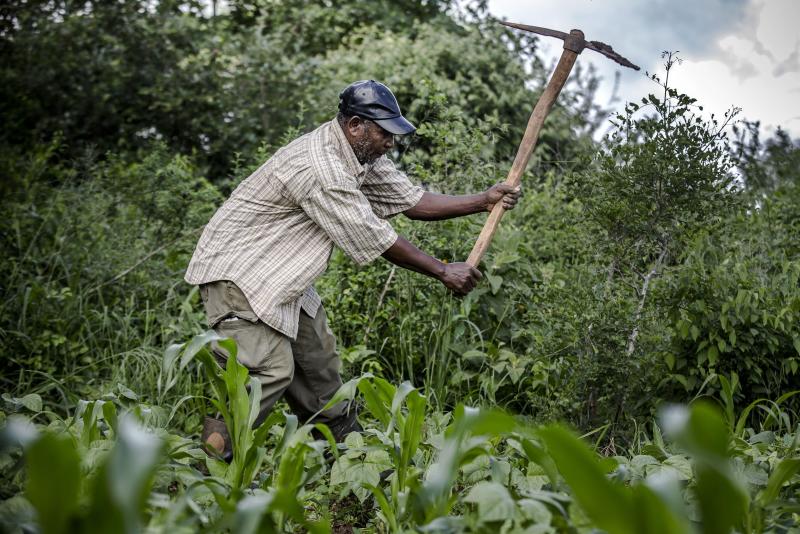 Ms Janet Chuma, Mr Austin Vita Mzee and Mr Peter Kahui have two things in common. They are all farmers practising conservation agriculture and reaping its benefits.
The farmers have fabricated tools such as planters and weeders with no prior experience or knowledge in metalwork.
"When I started, I borrowed the first ox-driven ripper used by the Food and Agriculture Organisation (FAO) officials to train us on conservation agriculture. Having gotten the concept, I bought raw materials and took them to a blacksmith. I guided him on how to make me the tools. To date, I still use the original ripper I made in my farm,' said Chuma when the FAO team visited her farm.
Last year, Chuma sold eight pieces of the ox-driven ripper to farmers. Having made three planters in 2016 and 2017, she was confident the tools she made are working, and opened herself up for business.
She sells each ox-driven ripper at Sh4,500. Those bought from the stores cost Sh6,500.
In addition to the planter, Chuma has also made two shallow weeders, which she uses in her 4-acre farm.
On her farm, she grows mangoes, okra, watermelon, eggplant, zucchini, pumpkin (different types), black beans, sunflower and sorghum, pigeon peas as well as feed for cattle.
In addition, Janet sells hematic bags to farmers. In 2017, she sold 50 pieces. Last year, she sold 1,600 pieces making a profit of Sh112,000.
Kahui also saw the possibility of mechanising the tools. Having farmed in Laikipia County for many years before, he already owned an ox-driven harrow. "An ox-driven planter is expensive to maintain. First, you have to use two bulls. Secondly, one has to feed them and allow them to rest, making it time-consuming and expensive to plant per acre. After the planting season is over, the cows still have to be fed and treated for diseases while waiting for the next season. A tractor is way cheaper to maintain," said Peter. He says that to use an ox-driven ripper and planter, which he modified to be two in one, will require two animals and will take two days per acre.
However, with the hand tractor, he now plants an acre in two hours and can do up to 6 acres per day at Sh1,500 per acre.
The seed and fertiliser are provided for by the farmer. During the just-concluded March-April-May rains, he covered 70 acres, giving him an income of Sh105,000.
This is not even half the demand. Kahui is well on his way to break even on his hand tractor investment of Sh200,000, which he is confident he will meet by the end of the October-November-December rainy season.
Meanwhile, Mzee from Taita Taveta County, who is relatively new to the conservation farming concept, was quick to see the gap and realised he could fill it.
"We were first taught about conservation farming last year November, and there are not enough tools to go around. I watched the teaching videos, and looked at the tools drawn on the manuals, and thought that perhaps they were simple enough to make," said Austin.
Austin went in search of old vehicle springs and old jembes and made a ripper, which he tried on his farm to first see how it works alongside the tools they had used during the demonstration.
He has since sold rippers to 20 farmers at Sh350 a piece. The old vehicle springs are sold to him at Sh200, and from one he can make two to three rippers.
Just like Chuma and Kahiu, Mzee has his 2-acre farm under conservation agriculture, and their motivation is to ensure the farmers fully adopt this methodology to increase their farms' output per acre.
Want to get latest farming tips and videos?
Join Us