Farmers urged to adopt new farming methods, technology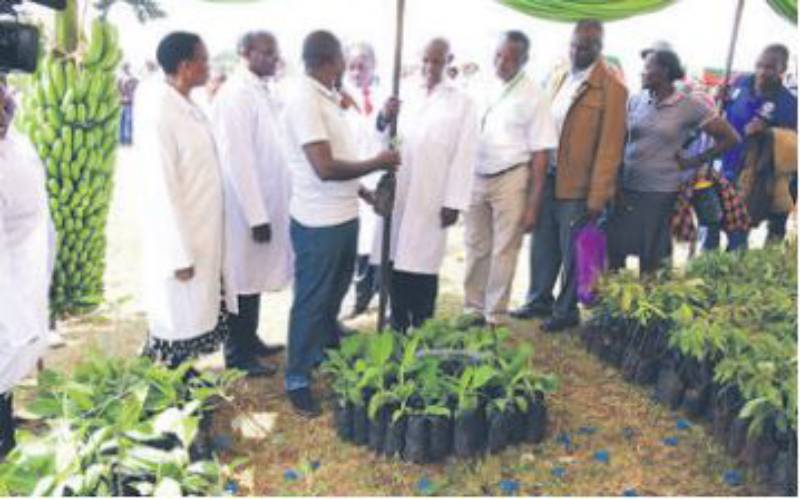 Farmers in Nyeri have been challenged to embrace technology and modern-day farming methods to boost productivity, profitability as well as make the county food secure.
Governor Mutahi Kahiga said the solution to challenges facing agriculture ranging from shrinking land size as a result of population explosion, poor yields, and food insecurity lay in the adoption of modern farming trends.
"It is high time as a county we embrace technology in agriculture and modern-day farming methods," said Governor Kahiga as he encouraged farmers to also adopt a broader variety of crops to maximize their income.
Speaking after a three-day farmer's field day at Wambugu Agricultural Training College (WATC), Kahiga said with proper techniques, even small landholders could make full utilization of the dwindling land resources with improved returns.
Together with new farming techniques, the governor asked farmers to also make a transition from rain-fed agriculture to irrigated farming in light of erratic climate changes characterized by late-onset and early cessation of rainfall.
He assured farmers that the government was doing everything possible in ensuring the provision of irrigation water to all farmers through the sinking of boreholes and construction of water pans.
To supplement these efforts, the governor called on farmers to practice water harvesting and storage technologies for use during dry spells which would go a long way in improving crop yields and production reliably.
To further cope with these changes that have led to the county becoming food deficient, Kahiga said there was a need for farmers to make a shift to drought-resistant and early maturing crops as well as diversification to avoid over-reliance on a few crops that increase the risk of drought.
Want to get latest farming tips and videos?
Join Us