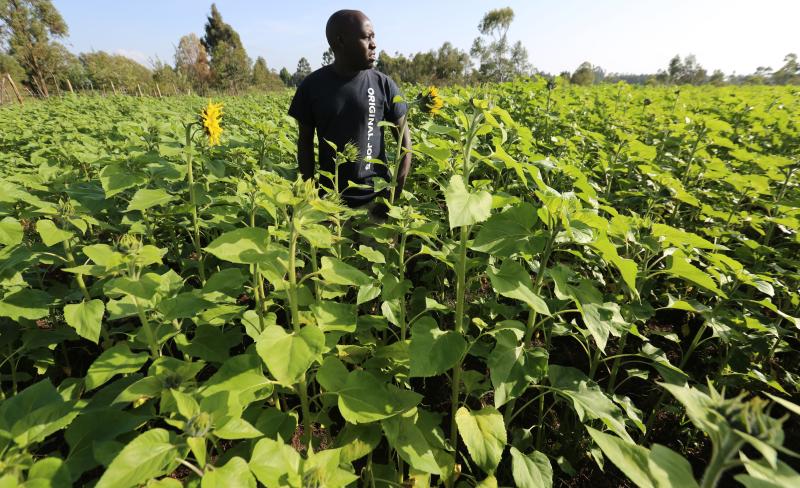 It is 7:30 am at Kiprotich Mutai's farm in Chepkanga, eight kilometres away from Eldoret town and the youthful farmer is already busy.
Mr Mutai, 33, was two years ago an accountant at Syngenta Kenya, a leading crop solutions company but quit to venture into farming.
After leaving work, Mutai decided to settle on a five-acre farm he inherited from his father and began following his passion for farming.
With two cows he got from his father, he resolved to venture into silage production.
Most important and unique in his animal feed production business is sunflower silage business. Apart from maize stalk, he also uses sunflower to get high-quality silage.
The sunflower is planted between a vegetable unit and a maize plantation. The maize crop that is averagely a metre tall is purely for silage and will be cut later in August.
His two-month-old sunflower crop was beginning to develop the fine-looking yellow flowers when we visited his farm. For him, the beauty of the flowers and seeds were not as important as the silage.
"I always wanted to venture into farming and I am happy I did. There is a huge market for animal products and vegetables in this region which works to my advantage," adds Mutai.
Mutai says half of the inherited land which had been idle for years was swampy and recalls how he spent close to a year reclaiming it in preparation for crop production.
"I will be harvesting the sunflower crop when it turns three and a half months for silage. I also use the silage for my cows and sell the surplus to other farmers," said Mutai.
He said he learnt about the sunflower silage making from a farmer in Kitale.
"Sunflower is a critical component in animal feeds and this has substantially brought down my expenditure on feed. It is also very nutritious," he explains. Sunflower is a good source of calcium, phosphorus and B vitamins. and apart from dairy cows, sunflower can be fed to rabbits, pigs and chickens.
Nothing in his farm goes to waste, on one section, he also grows peas and vegetables which are also used in the silage.
"I ensure that nothing goes to waste on the farm. I have dug a water pan because I don't believe in rain fed agriculture. Luckily, the water table here is shallow and I have adequate water supply to irrigate my farm throughout the year," he says.
According to Mutai, 20,000 litres can be pumped to the farm daily during the dry season from the 13 feet water pan.
From the two cows he currently milks, he is able to get around 36 litres of milk which is sold to neighbours.
Mutai says to succeed in farming, one has to figure out what their market is as most farmers grow crops and only start looking for markets during harvesting. " I grow a variety of vegetables but I grow them when no one else is doing it to make sure I have a ready market," he adds. "Things were not rosy at the onset but today I no longer dig deeper into my pocket to buy inputs and pay workers. I have learnt a lot through the journey, I am happy my venture is now able to sustain itself," he notes.
Sunflower provides high-quality feed for livestock. Most dairy farmers may not know the value of sunflower as feed for dairy cows and even chickens as the main source of feed for dairy cows is napier grass, maize stalks and hay.
However, giving animals feed that is balanced both in nutrients and in adequate quantities ensures good milk production all year round. Also, making feeds at home not only cuts the cost of buying, but it also ensures a farmer has good quality feed. The quality of feeds in the market is not assured, nowadays millers have devised ways of constituting poor quality feeds which are then sold to unsuspecting farmers.
One good characteristic of sunflower is that it does not have any ingredients that affect nutrition in livestock, although its high fibre and lignin (the hard, woody part of the sunflower plant) tend to affect its digestibility.
The quality of sunflower fed to livestock depends on the way it has been processed. For example, sunflower that is milled without removing the outer cover (also called husk or hull) has high fibre (between 27-31 per cent) but low protein content (about 23 per cent); but in highly processed sunflower where the husks are completely extracted, protein content can be as high as 40 per cent.
Dairy cows produce more milk when fed on sunflower meal that is partially or fully dehulled. For rabbits, pigs and poultry, a sunflower meal that is high on fibre and lignin would be suitable since they require feed with less energy.
But what farmers need to know is that sunflower is still nutritious even when fed to animals without much processing.