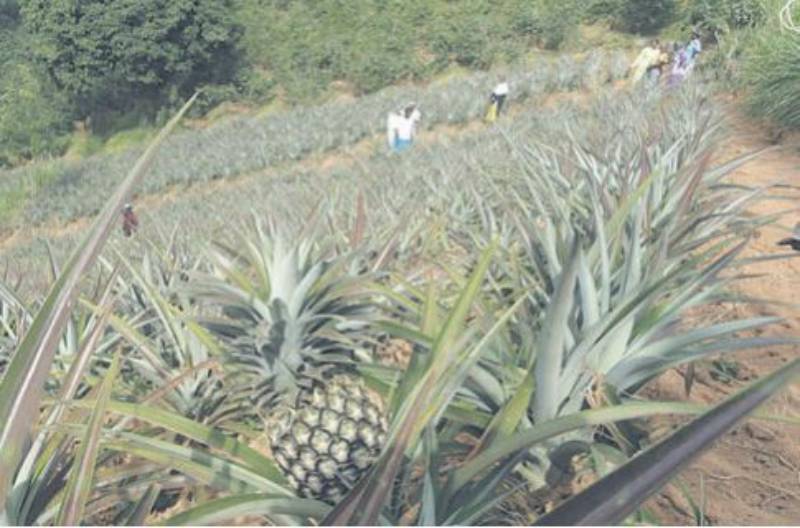 The County Government of Nyeri has supplied Mukurwe-ini Sub-County farmers with 49,000 pineapple seedlings as part of enabling them to diversify into various commercially viable crops.
The farmers who have befitted are members of Gathanji Self Help Group in the lower part of Mukurwe-ini in Ngamwa area, which has well drained soils and the climate makes it favourable for pineapple farming.
"The County Government of Nyeri assists these farmers by providing them with extension officers who offer training and extension services that will help yield more produce and help increase their income," noted a statement from the governor's office.
"This type of farming is beneficial as it's less labour intensive and the demand for pineapples is ever high which will help eradicate poverty for the farmers and boost food production. The farmers have reported that pineapple farming is bringing good returns compared to coffee and other crops that they were initially growing," the statement added.
Pineapples are tropical fruits that have a wide range of benefits, among these benefits include; Pineapples are fruits that are rich in vitamins, enzymes and antioxidants, contains dietary fiber which helps in digestion of food and in addition to these, they contain minerals such as manganese that help maintain strong bones and connective tissues.
Meanwhile, several dairy cooperative societies have been given a total of 17 coolers to help preserve fresh milk before it is collected by the processors. The coolers can store the milk for up to two days. The coolers have also enabled farmers to sell both the morning and the evening milk enhancing the quality of milk and an extra shilling per litre by their buyer.
There are 25 dairy cooperative societies in Nyeri County spread out in all sub counties. Kieni East sub county leads with eight followed by Kieni West seven, Tetu four, Mukurwe-ini two, Othaya one, Mathira two and Nyeri Central one.
Nyeri County has got several milk agro processors namely; Wakulima Dairy, Nairutia chilling plant and Kieni Farmers Dairy Cooperative.
Among the beneficiaries include Nairutia Dairy Cooperative Society which was started in 1964 with a small number of farmers and was revived in the year 2012. Before the installation of the cooler, Nairutia used to receive 800 litres of milk per day and the operation cost of Sh7 per litre.
Now, since the installation of the cooler which has a capacity of 3,200 litres, the Dairy Society receives 1,800 litres of milk and the cost of operation has reduced to Sh2 per litre. This has also translated to an increased number of farmers joining the dairy from 190 members to 250 members.