Ngobit duo excels in semi-arid farming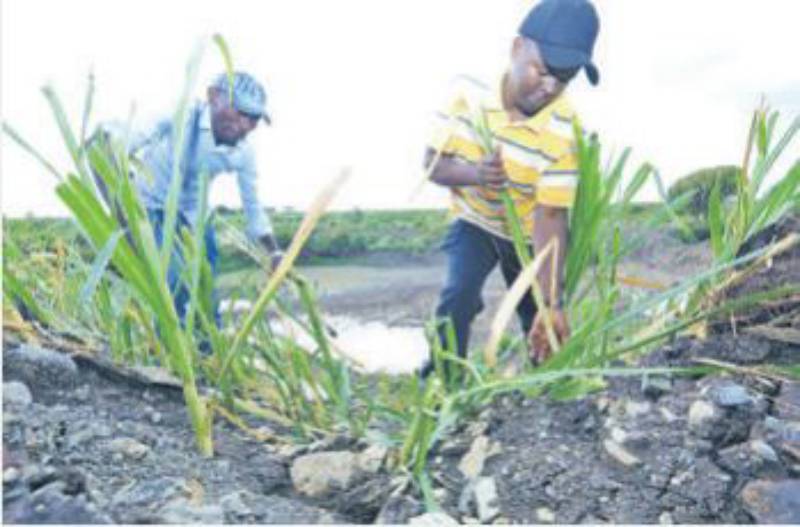 Before Robert Kiama left his Dental Technologist job, he wanted to try his hand in business and eventually get into farming.
A one-month leave in 2014 which he spent in selling farm produce in Nairobi paved the way for the career path he would follow if he left his job at a Nairobi hospital.
The 35-year-old tried his luck in potato business where he used to procure potatoes from Narok and selling them in Marigiti market in Nairobi.
He says he made his first Sh20, 000 two weeks into the business and excited by the good proceeds, he wanted to diversify to selling vegetables.
He says the returns were higher than he expected and immediately after returning to work, he tendered his resignation.
"I could not continue working for Sh60, 000 salary yet I could earn Sh100, 000 in a month. I quit the dentist job and started selling vegetables in different parts of Nairobi," he said.
The bold move to quit formal employment did not frustrate the father of two as he had to employ two other people to help him vendor vegetables as demand for vegetables and clients seeking for physical deliveries.
At some point he stopped selling potatoes and concentrated on the vegetables business. Six months into the hawking business, he resolved to maximize profits by capitalizing on value chain in the business by growing the vegetables himself.
"It is more profitable to sell vegetables from the farm because the demand of fresh vegetables in Nairobi was high. I decided to lease 12 acres in Ngobit, within Laikipia County in 2015 from the savings I had from employment and selling vegetables," he said.
Kiama's farming journey however could not have been complete without his friend Zachary Wanjau who he said were brought together by the common interest in farming. Wanjau is a banker based in Nairobi.
Transforming the grazing fields to a productive area was a major task they had to deal with as it was all dry and dotted with shrubs.
"The first job was to clear the bushes and erect a fence to bar livestock from getting into the farm because most locals here are pastoralists.
" After researching on the best crops that would do well in the area, the duo settle for vegetable sand green grams to kick o? with their farming project. They first planted spinach, lettuce, amaranth, courgettes, and kales.
"We dug a small water pan at a cost of Sh400, 000 for irrigation. We used to transport vegetables from the farm to Nairobi and the business was doing so well. We could make sh6000 in a day."
Changing climatic conditions due to drought and water scarcity water were major hurdles that saw the duo move to planting adaptive crops.
"Vegetables did well but the green grams adapted better to the weather and I later diversified to other varieties including lentil, chick peas, green grams, black beans and giant beans.
" However their rewarding farming journey have not come without challenges. Ngobit is in a semi-arid area of Laikipia and water scarcity was a major hitch Kiama and his partner faced especially when drought hit hard.
As a result, they consulted geologists from the agriculture ministry to help them identify a location they could sink a borehole for irrigation.
"They gave us a go ahead after assuring that we could get water. We sunk 300 meters at Sh2.7 million but there was no water," Wanjau said.
Unbowed by the huge surprise loss, they hired other water experts from Water Resource Management and sunk another 300 meters at a cost of Sh2.3 million. Their worst fear again hit them after the second investment "sunk with" the borehole. Yet again, no water underground.
Want to get latest farming tips and videos?
Join Us