Tobacco farmers find an option in making insecticide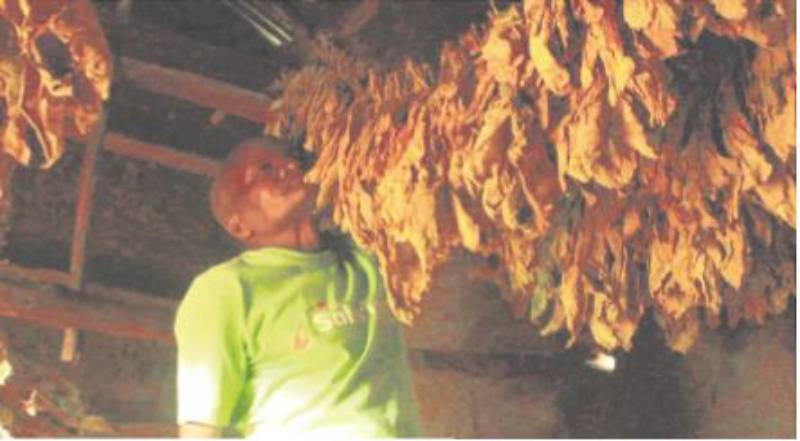 Getting into Severino Thitima's home located in Gatituri village of Nthawa Ward, Mbeere North Sub-County in Embu County we find him inspecting his drying tobacco leaves in the barn.
He is an old tobacco farmer who started growing the crop in 1969.
When the British American Tobacco (BAT) stopped buying tobacco harvests about two decades ago, he was confused wondering where he will be selling his produce.
He said many people abandoned the crop and ventured into growing Miraa among other crops which does well in the area.
But, he didn't get rid of this old crop completely. Today, Thitima cannot regret his decision to continue growing the crop.
The demand of the crop has continued growing not only in the county but also in many other places where maize among other crops of the same species are grown.
Farmers have been buying dry tobacco leaves which they grind before mixing with red pepper and ashes to make pesticides.
The pesticide has been helpful in the ?ght against insects such as fall army worms which have been ravaging crops prompting losses to farmers.
"Smashed dry-tobacco leaves are mixed with some other ingredients to make a strong pesticide that is used to ?ght pests which affect crops like maize. After BAT stopped purchasing our produce, few farmers who grow it here sell to farmers and business people who make pesticides," he said.
Some farmers in Embu have been using Tobacco widely to combat ferocious fall army worm.
Dorothy Nyaguthii, the chairlady of Mwirutiri self-help group that uses concoction of red pepper, ash and tobacco to tame the pests said the concoction has been helpful to them.
Nyaguthii said tobacco enables the concoction to stick on the maize crop while the ash emits an aroma that attracts the pests.
"When the army worm gets into contact with red pepper, the resulting burning sensation kills it," she said.
Thitima said growing of this crop has helped him foot bill for his family including paying school fee for his children who are now grownups.
"For about ?ve decades I have been growing tobacco and the reason why I have not yet abandoned it is because it has been so helpful to me. It helped me pay fee for my children, construct a permanent house and venture into dairy farming among other things," he said.
Charles Kinyua, another farmer noted that the crop has many advantages compared to some other crops grown in the area.
"We plant this crop once per year and I harvest at least 500 kilos then I sell each kilo at Sh300 in the local market therefore making Sh150, 000," he said.
The duo said when the area records low rainfall, tobacco crop does not thrive.
Thitima noted that if the government can provide irrigation water and provide affordable farm inputs, their lives would change for the better since tobacco demand is high.
Kinyua said, "Provision of water for irrigation in the area would see farmers turning the area into food basket. It will not only help tobacco farmers but also those who grow other crops which thrive in the area."
Want to get latest farming tips and videos?
Join Us