Researcher bets on new vaccine to kick out Newcastle disease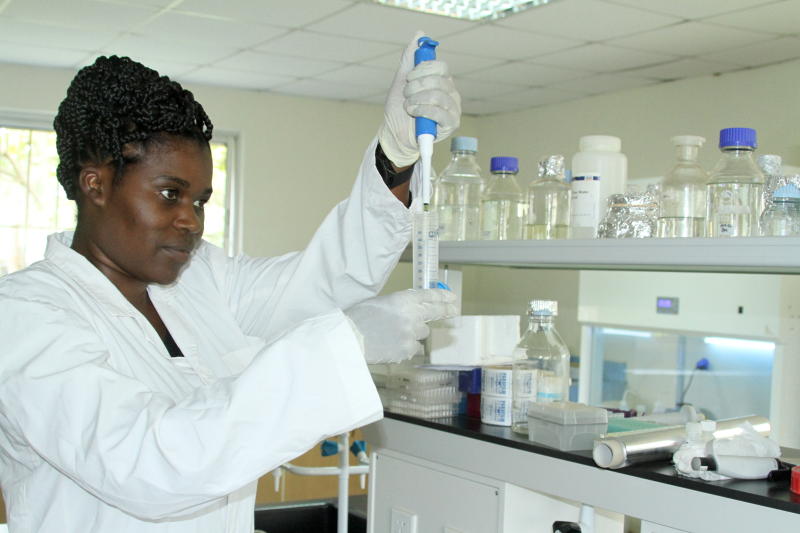 A distressing video of chicken supposedly infected with Newcastle disease left poultry farmers with many unanswered questions about the disease.
In the video widely shared among farmers on social media, dozens of chicken feeding in a dimly lit room suddenly start arching their heads backwards as they uncontrollably move back and forth. Others hysterically throw themselves on the ground and writhe for a while, trying desperately to tuck their restless heads in their wings before they fall silent.
A supposed farmhand, speaking in the background miserably urges the birds to hold on to life.
"Wake up," he says in Swahili.
But the chickens remain unresponsive.
"I'll slaughter all these (chicken) tomorrow. I'll inform the owners when they come," says the farmhand in a shaky voice.
It was a video which Okuta Ngura, who describes himself as a poultry enthusiast, shared on social media to warn poultry farmers of the dangerous disease.
"A case encountered today of neurotropic velogenic form of Newcastle disease in chicken. The farmer lost 1,000 birds out of 3,500," wrote Okuta.
Reacting on the post, Faith Muthoni said the disease was at her doorstep.
"I am experiencing the same. About 10 growers are affected but I've isolated them. Can I feed them to my dogs? And what can I give to the other birds to avoid the spread please?" inquired Muthoni.
It was clear from the chain of messages that many farmers continue to grapple with Newcastle disease, a highly contagious viral infection that affects domestic and wild birds.
The Ministry of Livestock and Development estimates that some Sh450 million is lost annually in Kenya's poultry farming due to Newcastle disease that farmers grapple with every April and between September and December.
And Irene Ogali, a PhD student at Jomo Kenyatta University of Agriculture and Technology (JKuat) says the disease has devastating results when it attacks birds.
"Farmers can experience up to 100 per cent losses when Newcastle disease attacks their birds because the condition spreads so fast," says Ms Ogali.
But the biggest challenge that poultry farmers face, according to Ms Ogali, is overreliance on obsolete vaccines that do not respond to the disease-causing virus which has, with years, evolved locally.
"The effectiveness of available vaccines is based on strengths of a virus that was isolated more than 50 years ago. This is unfortunate because the virus causing Newcastle disease keeps evolving over time because of a number of factors," says Ms Ogali, also a researcher at the Kenya Agricultural & Livestock Research Organisation (Kalro).
She underscores the need to develop a vaccine based on current strengths of the Newcastle-disease-causing virus.
She adds: "We also need a genotyped-matched vaccine that matches strengths of local viruses. The problem is that imported vaccines that poultry farmers still rely on were made in countries that have different ecological conditions and they may not match the strengths of the virus we have here in Kenya."
Ogali blames the endless tribulations of local poultry farmers to weaknesses of available Newcastle vaccines.
Such are the Agnes Dsaro, a farmer in Gedi who has been keeping broilers for four years.
Ms Dsaro says she has on countless occasions endured massive losses when her chicken were attacked by Newcastle disease even after she vaccinated them against the disease. Some two months ago, Dsaro registered one of her worst losses ever when she lost 90 out of 200 chicken to the disease.
"I buy the vaccines from veterinary shops, mix them with water and give them to the chicks according to instructions I get from vets. I also ensure that their brooding space is ever clean. But the disease still attacks," says Ms Dsaro.
After disposing off the birds, Dsaro cleans the coop and leaves the rooms unoccupied for up to four weeks to ensure that all the viruses and other disease-causing organisms die before she brings in a new stock of chicks. But sometimes, non on these measures work.
Again, lack of knowledge on the strengths and genetic composition of the Newcastle disease causing virus in Kenya has for a long time stood in the way of developing an effective vaccine.
Recognising this gap, the JKuat researcher is undertaking a preliminary study that will inform development of a vaccine that will match the genetic composition of local birds.
The study that has been conducted on small, medium and large poultry farms in the western highlands, along the Lake Victoria basin, eastern province and in the metropolitan Nairobi, among other objectives, seeks to identify factors exposing birds to Newcastle disease.
Tissue samples that were drawn from birds in all these regions, according to the researcher, indicated that the birds had a similar genetic composition. This finding, Ogali says will inform a more effective vaccine.
"We found out that the genetic compositions of the virus causing the Newcastle disease are closely related in the birds from all these regions. This means that we only need one vaccine to effectively tackle the disease causing virus," says Ogali.
She warns that different vaccines can cause the virus to evolve and become expensive to manage.
But there is also need to control imports of poultry products from other countries for the vaccine to work, according to the JKuat researcher.
"We need to look at what we get from other countries to avoid introducing new viruses that our vaccine won't be able to manage. Though the virus in Kenya is closely related to what Ugandans are grappling with at the moment, it may be difficult for us to control who Uganda chooses to trade with," she says.
The researcher is also looking at the possibility of developing a vaccine that will prevent vaccinated birds from passing the virus to unvaccinated birds. She explains that available vaccines can only protect a vaccinated bird from getting the disease but they cannot prevent the bird from transmitting the virus to other birds.
It has been reported that well-vaccinated birds may not show any signs of being infected except for a decrease in egg production. But these birds shed the virus that may cause the disease in unvaccinated birds.
Ms Ogali says poultry farmers still grapple with understanding the Newcastle-disease-causing virus. She says the disease is most likely to be confused with the infectious bursal disease or the gumboro and other poultry conditions with similar signs.
Framers who encountered Newcastle disease narrate that the chicken develop this 'yawning' behaviour, foam on nostrils, have this croaking sound and try to tuck their heads in their wings. They also have a greenish diarrhea.
Other reported signs include tremors, paralysed wings and legs, twisted necks, circling, clonic spasms, and complete paralysis.
According to the Jkuat researcher, onset of the Newcastle disease is rapid, and signs appear throughout the flock within two to 12 days after exposure to the virus. Birds that show these symptoms die within four days from the disease which has no treatment.
She says infected birds shed virus in exhaled air and in all parts of the carcass during acute infections. Chickens are readily infected by ingesting contaminated water or food.
Poor disposal of carcasses of infected birds has been found to be a leading factor in transmission of the virus.
"In some cases, people slaughter infected birds for meat. They then throw intestines and other parts they don't. Healthy birds that eat this poorly disposed parts get infected with the disease," says Ogali.
She recommends that carcasses of infected birds be buried in places where they can't be dug up by dogs.
Additionally, she advises farmers to restrict movement of their healthy chicken by keeping them in a confined area.
Chicken bought as new stock should also be isolated from the rest for their health to be monitored before they are mixed with the flock at home. Farmers have for long reported making losses when they mixed an infected chicken direct from the market with their healthy chicken,
Ogali warns farmers to be suspicious of chicken sold at throw a way prices on the market.
Supervising the study, Dr Sheila Ommeh, a molecular geneticist at JKuat's Institute of Biotechnology Research (IBR) says desperate poultry farmers do the unthinkable to manage the devastating effects of Newcastle disease.
"The farmers we have are those I describe as impatient optimists. They are farmers who will do everything but sit and watch their chicken die. I have seen farmers who gave their sick chicken paracetamol and other pain killers when they saw signs of Newcastle disease in their birds," says the Jkuat researcher.
Dr Ommeh who focuses on poultry and emerging livestock species at the expansive research institution says Ogali's study is timely.
"Every season, the country spends a lot of money managing Newcastle disease using ineffective vaccines. But we have never as scientists tried to find out why available imported vaccines are not working. But with this study and with support from policy makers and sponsors, we are edging closer to a vaccine that will match challenges of local poultry farmers," says Dr Ommeh.
Want to get latest farming tips and videos?
Join Us