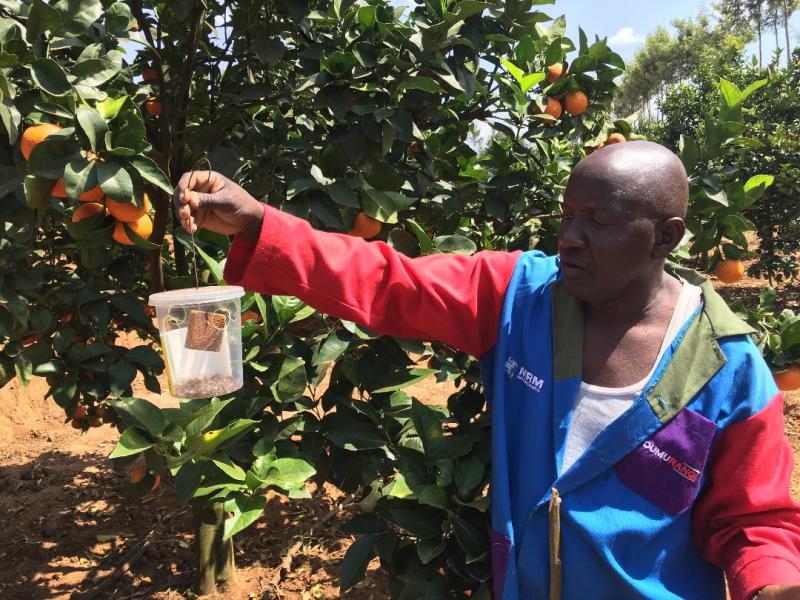 When Justus Kimeu, 45, quit his job as a legal clerk in 2003, he wanted to concentrate more on his charcoal business which was booming by then. But six years down the line, he closed the business to venture into farming.
Kimeu who hails from Kathiani village in Makueni County knew what he wanted to do. He had set his mind on citrus farming.
"I started citrus farming in 2007 when I was still running my charcoal business but in small scale because I was not sure whether this can be a source of income on itself," he says.
He started by collecting seeds from mature lemons, drying them and putting them into a seed bed and after two weeks the sprouting emerged. Three weeks later, he transferred them to seedling pots and when the seedlings outgrew those pots he transplanted to the farm.
Five months down the line, he grafted his citrus onto a different root stock of sweet oranges, pixie and tangerine and this is how Lotta agri-farm was born. Eighteen months after the transplant, he was ready for his first harvest, however he only managed three kilos per tree.
"I started with 150 trees and I planted this in a half acre piece of land. This means that I only managed 450 kilos and since there was no ready market I had to sell them locally," he says.
Season after season his yields kept increasing and in 2009 he closed his business to concentrate more on farming. He even increased the acreage to three acres. He started harvesting two to three tones per season but his trees were not meeting his target of 70 kgs per tree.
"I tried putting more fertiliser to my plants to see whether I will increase my yield but no, this didn't bear any fruit. My harvest remained the same year in year out, he recalled.
Lady Luck knocked on his door in 2012 when Participatory Approaches for Integrated Development (PAFID), an organisation that trains farmers about climate smart agriculture approached him.
At first, he was reluctant but since he wanted a solution, he bought the idea. One year after undergoing the training, he increased his acreage to five acres and later to seven which he farm tangerine, sweet oranges and pixie oranges. He is also grafting seedlings for sale.
"My yields have been increasing drastically and I am currently harvesting over 20 tonnes from 2,000 trees. I would recommend climate smart agriculture to any farmer," he notes.
Apart from increased yield, Kimeu says this kind of farming increases the fruits shelf life from one month to around five months. To ensure his fruits are pesticide free, he uses special traps to keep the pests at bay.
Another benefit is that one can incorporate cover crops such as beans, green peas and pigeon peas and water melon which help in weed management, preventing direct sunlight to the soil, soil erosion, maintaining soil moisture and fixing nitrogen into the soil.
"A shift to climate –smart agriculture will not only help shield farmers from the adverse effects of climate change and offer a way to reduce greenhouses gas emissions, but can also improve farm yields and household incomes, leading to stronger, more resilient communities," he adds.