These mobile apps will tell you how far the rains are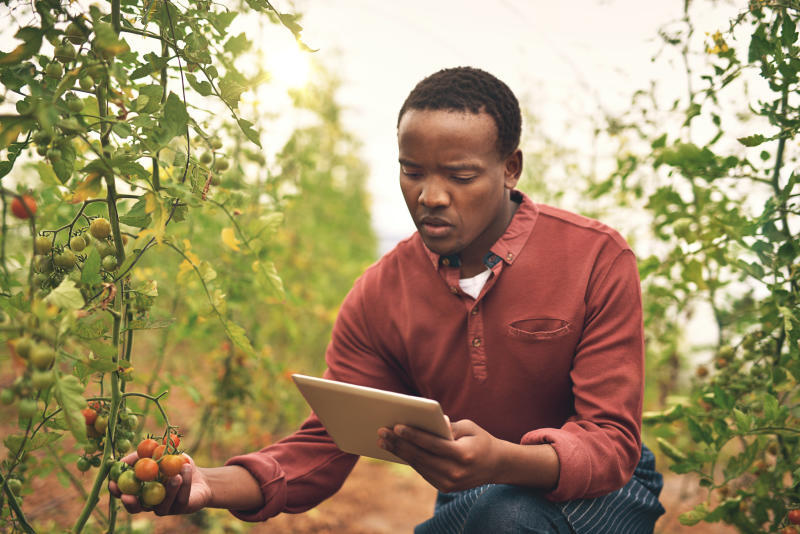 Farmers across the country are on the edge over late onset of the long rains which were expected in mid-March.
In the face of changing weather patterns, lack of a reliable weather forecast data has made farmers unable to plan for when to plant and when not to.
Each year, farmers are in a dilemma over whether to plant their crops in anticipation of the rainfall since their activities are informed by traditional methods of predicting weather.
The rains, which ordinarily start in mid-March have delayed, and the forecast from the weatherman remains bleak.
According to a forecast released earlier in the month by the Kenya Meteorological Department, rainfall was expected in the Central highlands from last week of March to the start of April and cease at the end of May 2019.
To shield farmers from the economic shocks of unpredictable weather patterns, a number of agritech social enterprises have come up with technology to predict weather patterns so farmers can prepare for the planting seasons.
UjuziKilimo is one such platform employing digital technologies in the agricultural sector to help farmers make wise decisions. Others include M-Shamba, Farm App, M farm and Cropmon.
Each of these applications, despite working at cross-purposes, is designed to help farmers predict reliable rain onset days and reduced risk of failure.
For instance, UjuziKilimo delivers weather updates tailored to the farm location and provides advice on crop management based on weather variations.
Take a quick survey and help us improve our website
Take a survey
Farmers can get the weather report using their mobile phones by sending a free SMS to a short code. To accurately provide the data, UjuziKilimo must have conducted an analysis of your farm.
By using their GPS and internet-enabled device mounted sensors, UjuziKilimo is able to monitor levels of soil macro nutrients, weather, pH and moisture content and provides tailored recommendations on planting, crop breeds, pest control, the current market value of crops, tools required and where to find them via text message to farmers.
Similarly, Cropmon provides weather forecast and advice text messages to farmers. The system delivers weather forecasts and monitors current weather conditions for this service.
Farmers also receive text messages based on satellite imagery informing them of the growth and health status of their crops. This information is then used to make recommendations for farmer practices, which are returned to the farmers via SMS or a mobile app.
The project focuses on coffee, maize, wheat, grass and sugarcane in the southwestern part of Kenya in the counties of Bomet, Busia, Bungoma, Elgeyo-Marakwet, Embu, Kakamega, Kericho, Kiambu, Kirinyaga, Kisii, Kisumu, Machakos, Meru, Migori, Muranga, Nandi, Nakuru, Narok, Nyeri, Trans-Nzoia, Uasin Gishu.
M-Shamba, a platform created in 2011 by Calvince Okello, a Jomo Kenyatta University of Agriculture and Technology Biomechanical and Processing Engineering graduate, broadcasts short messages on weather forecast and climate change adaptation through an SMS service.
M Shamba is a cross-platform application available in smart and low end phones and SMS. Besides, weather and climate, it also provides information on production, harvesting and marketing of farm produce.
Farmers can post their products and query for other products using SMS, android app and web platforms.
While apps such as M - Shamba cater to a variety of crops, others like Farm App is designed to cater for maize farmers in Uasin Gishu County only.
The app provides rain onset and cessation days, aware that the rains patterns have a big impact on the crop.
"A good example is the year 2017 where the rains delayed resulting in many farmers having to replant due to crop failure and the 2018 where the rains came early and in abundance finding the farmers unprepared to plant with some having not even prepared their farms. All these have an impact to the yield and translate to food security issues," the developer, Kibii Joshua said in the release notes.
The application analyses the rainfall in Uasin Gishu County by taking into account daily rainfall for six weather stations; Eldoret Meteorological station, Eldoret international Airport Meteorological station, Turbo weather station, Moiben Weather station, Timboroa weather station and Moi University weather station.
This application, depending on the strategy selected by a farmer is able to indicate the probability of experiencing dry spells in each of the seasons; initial, development, middle and final stage. A dry spell is defined as a period of ten consecutive days with no rain.
The app calculates the possible end of rains for the season of the different respective onset strategy selected. This is defined as the cessation.
Yet, despite the existence of technology to predict rainfall, farmers still have faith in traditional methods.
Charles Kanyoro from Riamukurwe in Nyeri County said he predicts arrival of rain by observing density of clouds and a shift in wind patterns.
However, as rainfall is becoming unpredictable by the day and Kenya still heavily reliant on rain-fed agriculture, some farmers have gone ahead to "dry plant" in anticipation of the rains, which the weatherman says should be expected anytime this week.
Kanyoro is among those who have already planted. He is however wary of incurring losses should the rains delay further.
"I planted a few weeks ago. We prepared our farms but did not plant when we realised the rains were delayed but when it rained once we planted hoping the rains would continue," he said.
As the rain patterns shift each year, some farmers are mulling changing the maize seeds they plant.
"We usually plant maize that mature in six months but we will have to go for a variety that matures in three months and requires little rainfall," Kanyoro said, observing that delayed rains also cost farmers the previous year. Charles Maina, a farmer from Micha in Nyeri, had also preempted the rains and planted Irish potatoes.