Mobile app links farmers with service providers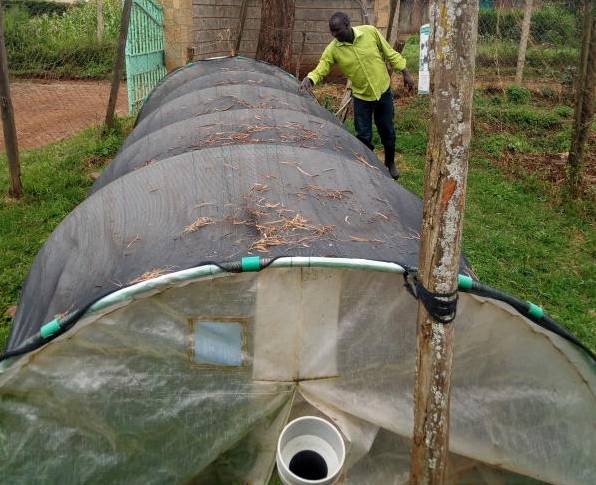 Martha Muthoni, a dairy farmer in Kirinyaga is a trained environmentalist. For Long, Muthoni has been using a wood-burning stove at her simple processing unit to pasteurise milk. She says firewood is her only option.
"It hurts that I must look for a lot of wood to heat milk when I should be at the forefront of championing preservation of our trees. But I have been trying to access options for green energy," says Muthoni.
Simple process
Muthoni gets 120 litres of milk daily which she sells at the nearby Kagio town. She also makes yoghurt from unsold milk in a simple process that involves pasteurising and cooling the milk. She says the process requires a lot of energy. Recently, Muthoni needed a biogas system to be installed at her home.
She came across EBAgroPamoja, a farming app that links farmers to a variety of agribusiness services.
"I was looking for an expert to construct a biodigester at my farm. The app linked me to someone," she says.
It was the first time that Muthoni went into a contract with a real supplier through a mobile app.
EBAgroPamoja founder Steffie Maingi, 22, says the app stands out from others as it provides a wide range of services.
"Most farming apps available on mobile and web platforms only address a specific aspect in farming. But farming is a whole process. It requires technology that connects all dots across the value chain from the farms all the way to the market," says Maingi.
Ms Maingi who studied Marketing at KCA University says EBAgroPamoja links farmers with everyone in the value chain including suppliers of farm inputs, trainers and experts, policy makers and markets.
Take a quick survey and help us improve our website
Take a survey
Wealth creation
She worked on the app with Gideon Kitili, a technologist. Developed only last year, the app has attracted about 200 farmers in Africa, most of them Kenyans looking for green energy solutions.
The platform links them to suppliers of solar driers and biodigesters and facilitates all the necessary logistics until they get the products.
Farmers access the platform either as a web or android application downloaded on the Google Play store.
They are then required to register after which they access a variety of services.
"Registration is a serious process that involves vetting and a lot of due diligence. We only allow serious individuals on our platforms," explains Maingi.
All transactions on the platforms are tailor-made depending on the requirements of each farmer.
It is for this interest in helping farmers access green energy that EBAgroPamoja partnered with the United Nations through the organisation's Innovative Volunteerism programme.
Dr Richard Munang, UN Environment regional climate change coordinator says the innovative volunteerism programme supports innovations that bridge a given gap of interest along the agro-value chains through approaches that do not destroy the environment.
He says the app not only seeks to solve challenges along the agro-value chain but it has also opened up employment opportunities for youth.
"The EBAgroPamoja app is the first ever app to have been developed that connect the dots across the entire agro-value chain. This is great for youth wealth creation as a young person in any part of Kenya can now through a computer or mobile phone use this app to start his or her own enterprise and get free guidance," says Dr Munang.