County official speaks on hurdles facing farmers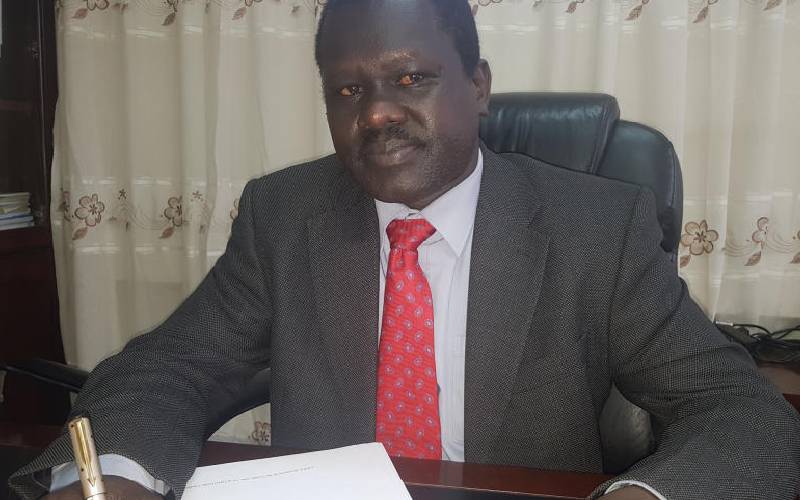 Uasin Gishu County Executive member for Agriculture, Samuel Yego on subsidised fertiliser programme, market challenges and upcoming ASK Show
1: There is a big debate in the agricultural sector on the role of extension services and the need to revive them. What is your take on this?
Policy on extension services has changed. Initially, officers used to move from farm to farm but it is now farmer-driven. In Uasin Gishu County, we have facilitated extension officers with 60 motorcycles to monitor and assist farmers when they need services.
When need be, we visit individual farmers to offer advise on crop and animal husbandry. To make our work easier, we are collecting data through an electronic data system.
Our region is mainly maize and wheat producer and farmers have relied heavily on government through Strategic Food Reserve (SFR) programme to procure produce through National Cereals and Produce Board (NCPB). Whenever their produce is not bought, they feel let down.
2: Speaking of farmers feeling let down, what are you doing to address the perennial marketing problem facing maize farmers?
Uasin Gishu is one of the surplus grain producing areas. National government buys substantial quantities under Strategic Food Reserves programme. We encourage producers to venture into value addition which involve construction of stores for grain storage, invest in grain mills. We also encourage millers to work with cooperative societies to value add all stored produce to enhance its market and earnings too.
3: The private sector including millers and the Export Trading Group (ETG) have offered to buy produce from farmers. What impact will this move have on government's Strategic Food Reserves?
A: The government through SFR only buys 328,000 bags of maize each of 90 kgs from Uasin Gishu farmers for last season's harvests. It is a small percentage compared to what farmers produce. We are urging government to increase allocation to at least 1 million bags since the county produces an average of about 4 million bags each season. Private sector and millers should be able to access the grain from farmers but should also offer reasonable prices.
4: Lets talk about the elephant in the room. This year's planting season starts next month and the government has indicated that subsidised fertiliser will not be available for farmers. What next for farmers?
Yes, planting starts at the onset of long rain season from mid-March. The government has traditionally provided subsidised inputs particularly fertiliser. Cabinet had allocated funds for procurement of the input and we urge the State to fastrack procurement otherwise commercial fertiliser might be expensive for farmers hence lowering production. The Subsidy Fertiliser Programme is still confined to the Ministry of Agriculture in the national government. As a county, we only provide logistics to ensure only genuine farmers access it and also cooperatives it deliver to their stores.
5: The present stringent vetting measures including demand for title deeds, KRA pin numbers, lease agreements set to curb brokers and cartels in maize supply to NCPB is not attainable by most farmers. What is the county doing so that genuine producers are not frustrated?
Vetting committees have been set at two levels: 1) ward level and 2) sub-county level. The stringent requirements are there to ensure only genuine farmers access the government-subsidised funding in maize procurement and fertiliser distribution.
6: There have been diverse views over campaigns to encourage farmers diversify their activities. Most farmers have protested against introduction of avocado, what is the county administration advocating?
Achieving food security is one of the country's big agendas. This cannot be achieved if we focus on production of only one crop. The market requires all types of food including avocado that is rich in various nutrients.
This is why we are encouraging farmers to embrace diversification. As expected, there is always resistance to change. Diversification is not meant to frustrate maize production.
7: A fertiliser blending plant has been established in Uasin Gishu to provide specific variety of inputs to various zones in the region. Has the initiative been beneficial to farmers?
Toyota Tsusho Company has invested in a blending plant that blend fertiliser suitable for soil in the region. This is in attempt to mitigate the highly acidic fertiliser that have lowered soil pH in the region, which has in turn affected crop yields. Those who have used the fertiliser have seen a marked increase in crop production per acre. Some of the blended stocks have previously been sold through government subsidy program.
8: There are entrepreneurs in cereals, dairy and horticulture in Uasin Gishu County. How are you supporting them?
We are pleased to report that we have young entrepreneurs in Uasin Gishu county who are engaged in cereals, dairy and horticulture sub-sectors. They are using smart technologies like precision agriculture, zero grazing and high value crops.
We support them by offering extension officers from various stakeholders like seed companies, agri-chemical companies and farm machinery companies. These synergy has yielded increase in production in their farms according to recent surveys. Some are using modern machines like combined harvesting in maize production. We train them on machine calibration. We urge institutions of higher learning to also give their support in extension services alongside our staff.
9: Eldoret Agricultural Society of Kenya show is next month. What should farmers expect?
Uasin Gishu county always invests in equipping stands and demonstration farms. For farmers to have variety, we are calling on more stakeholders to participate and other counties.
10: What agricultural potentials exist in Uasin Gishu but have not been exploited?
Good soils and perfect environment and ecological conditions. Uasin Gishu county is taking advantage of good soils, weather and various water sources.
We are desilting all major dams and encouraging farmers to embrace irrigation given that rain fed agriculture is becoming more unsustainable.
We are also encouraging farmers to embrace crop diversification programs and export market. We now have the well equipped Eldoret International Airport and the African Economic Zone under construction. Farmers should take advantage of the huge market openings in these areas.
We have various experts at the county level and private sector who can help farmers tap into such potential.
We are encouraging farmers to embrace high value crops like avocado, coffee, macadamia, flowers and vegetables which can really do well in the county and have a huge export potential.
Want to get latest farming tips and videos?
Join Us