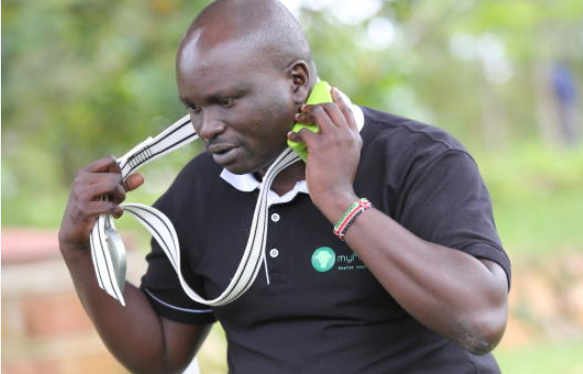 Fredrick Odero is a happy dairy farmer. He says, everything on his dairy unit is now running smoothly. All loopholes that previously made his farm run at a loss have been sealed.
"I can now monitor everything on my farm. I can track whether I am making profits or losses and how each of my dairy cows is doing. Better still, I know when my cows are on heat and need Artificial Insemination thanks to a smart cow device. Previously, I was dependent on my farmhand 100 per cent and the info was not adding up," says Mr Odero who keeps several dairy cows in his Rongo farm, Migori County.
When things changed
But now things have changed on his farm. His secret? MyFugo app. Mr Odero a member of the Rongo Dairy Farmers Cooperative, says since he started using the app in July this year, he has is able to keep daily record of milk production unlike in the past when he would just take what he was told by his farmhands.
"…this app has brought a whole load of difference on my farm. In the past, I used to accept what I was paid after supplying milk but with the app I am able to counter check my milk record and what is registered at our cooperative society," says Odero.
With the app, he gets notification when his cows require vaccination and when his cows are on heat.
Inspiration behind it
Allan Tollo, who developed the app says MyFugo is a SaaS based enterprise solution that allows livestock farmers to capture and record livestock data to improve yield and profitability through selective breed. With the app, the farmer is able to increase milk productivity by reducing calving period by more than six months. But how does it work?
"Simple. Our app helps a farmer monitor every cow round the clock. Key among them, it tells you when the cow will be on heat so that you can serve it at the right time. Most farmers guess this and end up missing on important fertility dates," Tollo explains.
All this is made possible thanks to the Smart Cow Collar device that enables the farmer to know exactly when they are on heat for Artificial Insemination to be done.
"Most cows in Kenya have calves after every two years, but with the use of the Smart Cow Caller device it ensures that cows have calves every year thereby increasing milk production," says Tollo who has been nominated for the Total Startup of the Year.
More about Smart neck collars
Smart neck caller tags are common in established dairy farms in developed countries where breeders use them to detect and send health and heat patterns to a dairy farmer's PC, laptop, phone or tablet device.
Large scale dairy breeders in Britain, Netherlands, New Zealand and the US use it and it saves them a lot in terms of losses accrued from failed Artificial Insemination.
The tags which are not supposed to be removed once neatly placed on the cow's neck, monitor dairy cows 24 hours a day, 365 days a year recording critical fertility information.
According to expert reports, the highly accurate technology is based on research carried out that measured a combination of behaviour patterns (activity, rumination, and eating) that could be linked to early identification of health problems.
The collar-based sensor also monitors movement linked to heat patterns so that dairy farmers can more accurately detect when their cows are in heat. The cloud-based data is updated in real-time, sending immediate alerts to changes in animal health and heat patterns to a dairy farmer's PC, laptop, phone or tablet.
This translates to optimum fertilisation times, early health interventions, and maximum milking production.
Mr Tollo says the gadget which goes for Sh15,000 in Kenya, helps a farmer to have their cows calving once every year.
Additionally, MyFugo ensures dairy farmers access ready market, keep accurate records, monitor their breeds and have early disease detection and intervention.
The inspiration
Tollo, an IT expert from University of Nairobi says the idea to develop the app came up when he wanted to set up a dairy farm and realised he needed a management solution system.
He had realised there was no comprehensive dairy management system in Africa and decided to put into use his 20 years experience in Enterprise Resources Planning skills to set up something that would help dairy farmers operate from an informed viewpoint.
To get the app, all the farmer needs is register in their website: www.myfugo.com where they can create their accounts.
"Once an account is created one will key in the farm name, his email address, password, animal's name, milk record, vaccination schedules and they are ready to go," explains Tollo.
What about other apps
But how different is the app from others in the market?
He says the app ensures data about dairy animals is captured with ease by having online farm records that boosts farming results and it helps identify problems in time thus invoking appropriate intervention.
"Feeds, milk yields, birth and genetics are closely monitored with farm performance and profitability being boosted while realising a better return on investments," says Tollo.
In addition, MyFugo generates a unique lifetime identification number which allows animal movement traceability from one farmer to another with disease traceability being boosted because one is able to tell where diseased and at-risk animals are, where they have been, and when, thus ensuring a rapid response.
Tollo says when animal disease events occurs, a notification is immediately sent to the farmer, veterinary doctor or selling party when an animal falls sick within a defined period after it was received at the farm.
He says by sharing online health data with a veterinary doctor, early disease intervention is actualised without the need for physical presence.
Farmers' experiences
Though the app has many benefits, one dairy farmer pointed out an area that needs to be addressed.
Moses Odhiambo, says though the app is a good idea, most dairy farmers do not have smart phones, therefore they cannot use it.
"Most of our members are old people who are not well versed with modern technology, we need a simpler version where we can receive the notifications in our ordinary phones in the form of short text messages," says Odhiambo.
Anne Anyango, another dairy farmer says by using the app she's been able to find a market for some of her dairy cows that she had previously struggled to sell.
"From the comfort of my home I was able to sell my two Friesian cows at a good price just by using the MyFugo app," says Anyango.
For Dennis Omondi, the Smart Cow Collar device has saved him losses incurred during Artificial Insemination.
"With the use of the Smart Cow Collar Device, I am able to accurately know when my cows are on heat. In the past, since I had no way of telling exactly when the cow is on heat, I relied on guesswork and it was costly. Now this device is able to tell exactly when the cow is on heat," says Omondi.
Smart cow
Tollo was introduced to the Rongo Dairy Farmers Cooperative by officials of PUM a Netherlands based NGO.
Currently, they are not charging farmers any fees for using the app as its still on pilot basis.
Once the pilot is done, the project will be rolled out in Uasin Gishu, Trans Nzoia, Kakamega, Bomet and Meru Counties in 2019. Tollo says, there target with the app, is to help farmers move from the 10 litres per cow average to 20 litres.