New cassava variety that promises higher yields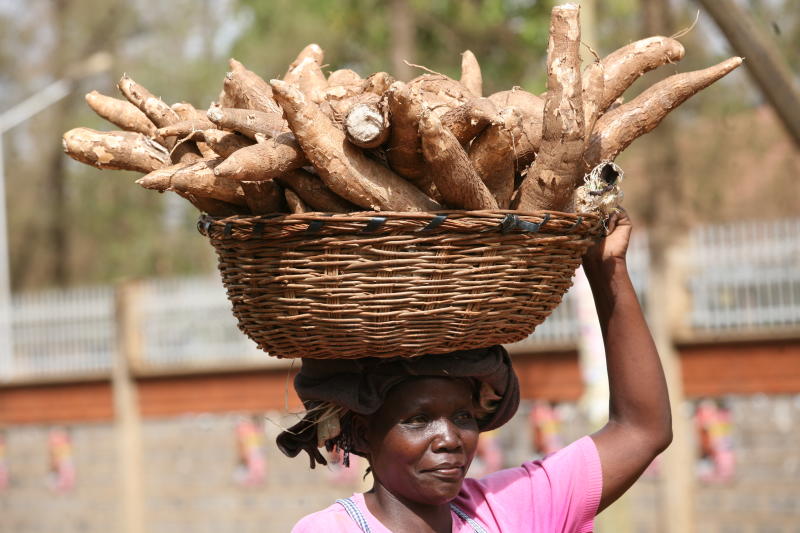 Kenya Agriculture Livestock Research Organisation (KALRO) has developed genetically modified cassava to help fight food insecurity.
Cassava has potential to boost the Government's Food Security Agenda under Big Four because the crop can be grown in most parts of the country including the Arid and Semi-Arid areas unlike maize that thrives in specific areas.
The new variety — Tajirika — has been genetically improved to withstand attacks from Cassava Brown stick Disease (CBSD) and Cassava Mosaic Disease (CMD) which are the major threat to the crop.
Speaking at KARLO Mtwapa during a cassava stakeholder meeting and study tour of genetically modified cassava Field Trials Dr Theresia Munga, a cassava breeder said the improved variety is resistant to common diseases and guarantees high yields from a small piece of land.
"The indigenous cassava that we are used to planting is prone to pest and diseases attacks and cannot withstand drought. This has led to poor yields. But our new variety like Tajirika can give a farmer 26 tonnes from an acre," said Dr Munga.
Resistant to diseases
Dr Munga said the six varieties released are for Coast.
Other KARLO stations country wide have also released their region-specific varieties.
The varieties are Tajirika, Shibe, Siri, Dzalauka, Karibuni na Karembo. Before 2008, they had released Kidanda meno, Kaleso and Guzo.
Compared to conventional breeding which takes a minimum of up to 9 years, the new technology uses the shortest time to produce the modified cassavas.
"We generate the seedlings and then conduct seedling trial. We then do clonal trial and preliminary yield trial and adverse yield trial where we try the cassava at three different stages so how the cassava will be planted and thereafter we present the variety to farmers who will give us their views. We then go to the National performance trial before we come up with a cassava variety with special features" she explained.
Though this is a milestone, there still a hurdle.
The modern technology has not been authorised by the National Bio-safety Authority.There is still controversy around GMO foods over their safety.
Though GMOs have been linked to cancer, Kenyatta University senior lecturer in Biotechnology and Biosafety Dr Richard Oduor has refuted claims that genetically modified or improvised food has negative side effects when consumed by human beings.
"There has been fear that cancer is caused by eating genetically modified food. But these concerns are baseless. Cancer was there even before GMO came in place. The first improvised food was in market in 1996, GMO was banned in 2012 and we have children who are below 4 years and have cancer. There is no documented reason why someone should say GMO causes cancer," said Dr Odour.
But, Dr Odour noted that there are technical challenges in the technology which does not affect quality of the food produced.
ISAAA Director Margaret Karembo called upon the government to work on important policies to help address the many misconceptions about genetic engeneering.
It is hoped that the GMO versions will address the disease menace.
Initially there was one strain of the East African Cassava Mosaic disease but today it has developed to 11 strains of the disease.
In Western Kenya there is East African cassava mosaic and Uganda mosaic virus which are high breed and severely affect the crop leading to zero yields.
Want to get latest farming tips and videos?
Join Us