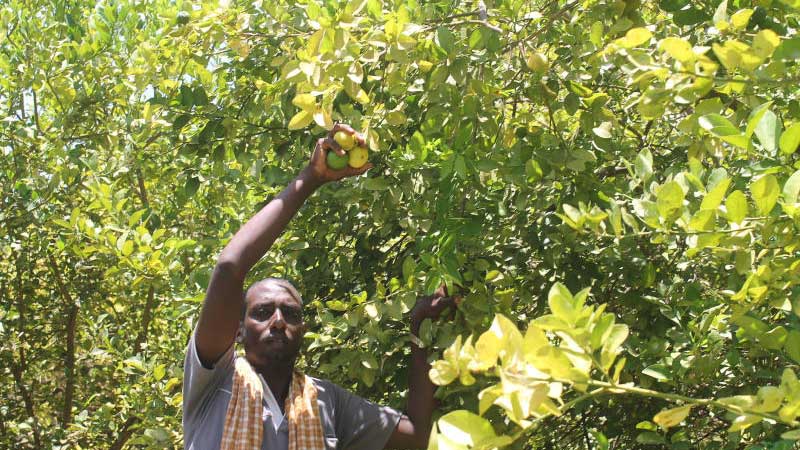 That favourite perfume could be having its primary ingredient drawn from a most unlikely source, County number 9, Mandera.
Here, on the banks of River Dawa that forms the natural frontier between Kenya and Ethiopia are lime fruit plantations that thrive in the heat atmosphere, watered by irrigation. The bulk of the citrus crop is dried to preserve it and exported to Dubai in the United Arab Emirates where it is used to manufacture a variety of popular perfumes and deodorants.
They include brands such as Royal Lyme Bermuda, Virgin Mojito, Lime Tiare Zara, Lime Mint, Lime Demetter Fragrance and many others. Lime is also a key component of universal beverage, Coca Cola. Besides limes, farmers in Mandera County better known for its camels, sheep, goats and quarries often hit by Al Shabaab in bloody raids produce some of Kenya's largest water melons with unmatched succulence and tastiness. Onions are too are galore in the torrid climate.
For a glimpse of Mandera's hidden agricultural potential, Smart Harvest recently toured some of the farms along the River Dawa where dairy cattle are also reared for milk.
Billow Dakone, 33, was busy sun drying lime fruits at his two acre farm nudging the river in Fiqo location north of Mandera town when we breezed in, led by County Director of Agriculture Bernard Ogutu.
Succulent watermelons
"I have been a lime farmer for close to eight years and the going has been good until the recent deluge when unusually heavy rains caused the river to burst its banks occasioning heavy flooding that drenched our farms. The harvest has been compromised this time round," he laments.
"That is what it has become since an industry in Dubai started manufacturing perfumes and other products from it. Wastage after sun drying is minimal and returns are good," explains Dakote.
"I have 100 trees that in a good season produce between 30 to 40 fifty kilo bags of lime fruits every two months. The yield is much less this time round, but thanks to the export market, I am able to make ends meet," says Dakone, a father of four. He says the local market for fresh limes is often saturated by produce from neighbouring Somalia and Ethiopia, lowering prices to as little as Sh400 for a 20 litre jerrican of fruits.
"Dry limes have the advantage of selling in bulk to agents who pay cash as they collect them from different farmers for road transport to Nairobi from where they are airlifted to Dubai. Those of us who are strong enough hire trucks to ferry their crop," he says. Ali Noor Hassan is a water melon farmer who makes about Sh600, 000 profit from the crop every season.
"I have 10 hectares under the crop from which I harvest about 10 tonnes per season earning me roughly ShI million. Of this, Sh400,000 goes to costs inclusive of labour and chemicals, leaving me with roughly Sh600,000," says 61-year-old Mr Noor, a father of several children by his six wives.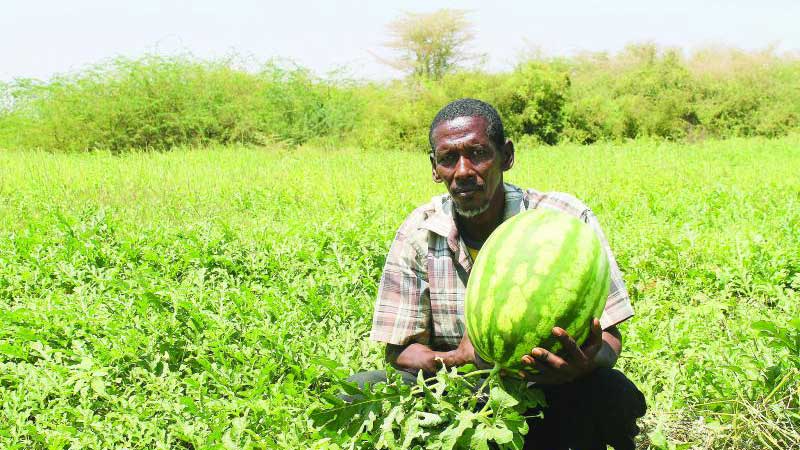 He says melons take approximately 70 days to mature in hot areas like Mandera and he harvests twice a year. A track load to Nairobi 100 kilometres away costs him between Sh70, 000 and Sh80, 000. But floods like happened recently is a nightmare, according to Mr Noor because of foliar and fruit fungal diseases that follow in the wake. Equally a nightmare is the menace caused by porcupines that eat melons before they mature. Mature melons have to be shielded from direct sun using dry grass and leaves lest they crack open and spoil.
Profits per year
"I harvest 3,000 healthy pieces, but a substantial percentage has been affected by diseases this time round even after spending much money in fungicides and insecticides," he says.
Onions are less affected by diseases and are preferred by Mandera farmers in spite of their cost intensive nature. Like water melons, most of the crop is transported to Nairobi, Mombasa and other major towns where they are preferred by big hotels for their quality. The County has introduced dairy farming on experimental basis by starting a demonstration farm where farmers learn best practiceare learning latest techniques in the industry. Mr Ogutu says the demonstration farm grows a variety of fodder by irrigation and has successfully crossed Friesian and Sahiwal breeds into hybrids tolerant to drought and diseases inherent in the region.
"Our target are farmers in areas close to water, more so along the river's banks who are willing to swap their traditional breeds with the crossed ones. The few who have done so are already supplying Mandera with milk," says Mr Ogutu.
"Other farmers have taken to growing hay such as Sudan and Napier grass for fodder that they sell to herders after learning the skills from the demonstration farm," he says.