For your own safety, vaccinate that dog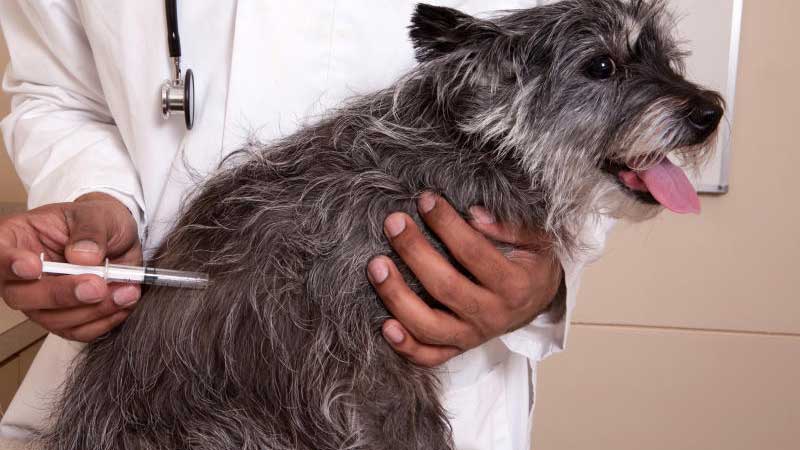 Some months ago I received a question from a distressed farmer. His contention was that their area chief was forcing them to vaccinate their dogs against their wishes.
According to the farmer, the chief was supposed to educate them on the need to vaccinate their livestock and not dogs. The farmer wanted to get it from me whether it was a legal requirement for people to vaccinate their dogs.
Believe it or not, the farmer didn't think that dog bites caused rabies and he claimed that what people called rabies was actually witchcraft.
Yesterday, was World Rabies Day and what a better day to address this concern.
World Rabies Day is set aside by the World Organisation for Animal Health (OIE) to create awareness on this preventable disease that claims over 60,000 lives annually. Rabies is preventable through affordable annual vaccinations of dogs.
Unfortunately, we aren't vaccinating our dogs and this possesses a risk not only to us but to our livestock as well. In Kenya the day was celebrated in Kwale County.
The event was presided over by the Principal Secretary in the State Department of Livestock Mr Harry Kimutati, the Kenya Veterinary Association carried out vaccinations and held a public baraza to educate the masses on rabies.
What is rabies?
Rabies is a viral zoonotic disease – meaning it is transmissible between animals and human beings. Bites from infected dogs account for 95 per cent of human cases. Dogs infected by rabies will develop a tendency to bite any moving objects and beings.
The closeness of dogs to human beings further increases chances of transmission. Rabies viruses are found in the saliva of infected animals and it is transmitted following bites or scratches from infected animals.
Rabid dogs will show nervous symptoms which range from walking disorders, production of excess saliva, aggression and vocalisation. Wild animals like foxes, jackals and mongoose can also be infected with rabies and will not fear people. When a farmer spots such wild animals in their farms, it is time to raise the red flag.
Why the dog?
Rabies prevention measures are normally focused on the dog. This is in an effort to cut the transmission cycle. Where there is responsible dog ownership for example in Europe; rabies vaccination is strictly adhered to and such regions have almost eradicated rabies. However, in Africa and parts of Asia where there are many stray dogs and most farmers don't vaccinate their dogs annually, the 70 per cent coverage required to declare the disease eradicated hasn't been attained and hence high prevalence of rabies.
Tormenting human disease
In human beings, rabies is a tormenting disease. In man, rabies manifests as a terrible disease of the nervous system. People infected lose speech, develop fear for water, become paralysed and talk in a scary way. It is advisable to vaccinate at risk populations. If someone has been bitten by a suspected rabid dog, wash the bite site with lots of clean water and some disinfectant as first aid and rush them to the nearest health facility for further medical attention.
Livestock not spared?
Livestock aren't spared either. Livestock bitten by rabid dogs will contract rabies and die. If you have a dog on your farm get them vaccinated to prevent rabies from being spread to livestock through bites.
Proper fencing of your farm will also protect your previous cow from getting in contact with stray dogs.
Clinical signs of rabies in cows include lack of appetite, altered vocalisation, excess salivation, incoordination of hind legs and difficulties in swallowing. Farmers or veterinary may be tempted to examine the mouth cavity when they observe this. This is a fatal mistake that can get you infected with the disease.
Prevention
Rabies can be prevented and eventually eradicated through vaccination. Responsible dog ownership requires that as a farmer vaccinates his dogs annually against rabies and controls their movement. Awareness creation on the fatality of this preventable disease among farmers to encourage vaccination.
The Rabies Act 365 which the above farmer was referring to actually requires every dog owner to get it vaccinated against rabies, exercise control over its movement. The public is required to notify veterinary authorities of any suspected cases. Infected dogs are normally euthanised. Try and minimise contact with stray dogs.
As we celebrate world Rabies Day purpose to get your dog vaccinated against rabies if it is not yet vaccinated.
[The writer was the Vet of the Year Award winner in 2016 and works with the Kenya Tsetse and Trypanosomiasis Eradication Council – KENTTEC, [email protected]]
Want to get latest farming tips and videos?
Join Us